Hi everyone!

I am Skeenee, a Madrid based artist who for the moment focuses on drawing skulls, birds, the human figure,...

My favourite tools for drawing are fountain pens, Sumi Ink, & watercolors. I also paint with oil and acrylic but haven't done it in a while.  I am feeling the urge to go back to painting on canvas again, so I might start again soon.  

I draw, paint, tattoo and animate. My focus lately has been to study human & animal anatomy. In 2018, in order to improve my anatomy drawing and study composition & contrast, I started an ink painting series on animal skulls and skeletons.
Here are a few examples of my work:

   
I have just started producing a new series called "Birds on Gold", involving colorful little birds and gold sheets, a medium I am starting to experiment with. Here is the test piece for this new series. I will post my progress here.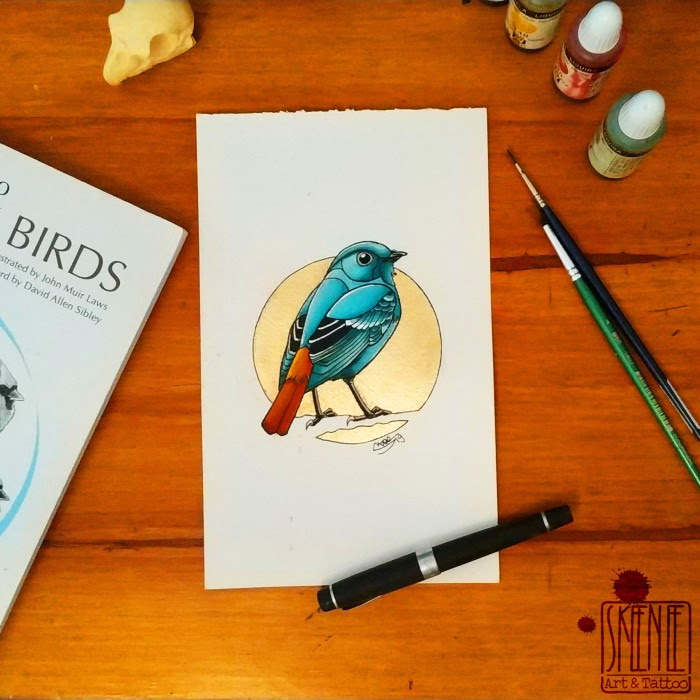 The good people at Makersplace recently approached me and introduced me to CryptoArt & NFTs. I discovered a new world of possibilities in this growing Art movement and I am starting to delve deep into it. I am also currently developing a series of pieces related to cryptoArt, in the meantime, you can already find tokens of my classical pieces on Makersplace.

I also have a website on which you can find example of my art & tattoos and an online shop offering Framed prints, Originals, & T-shirts of my work. Talking about T-shirts, here is a little picture of myself and my lovely daughter promoting some T-shirts I recently designed.

 
A lot of people helped me improve my artistic skills along the way, and I have learned a lot watching other people´s draw. I think it´s time for me to pay it forward. I started making time-lapses of my drawings and will write here about my process, answer your questions, & help you improve your drawing skills. Here are a couple of videos of my inking process & a few quick bird sketches.



That´s it for my introduction, I hope you will enjoy my content & that I will be able to help some of you improve their artistic skills! Happy to be part of this community:)

Have a nice day!





my site | instagram | twitter | virtual gallery | makersplace