DeFi Dominating The Market And Why? - Dapp.com Q2 market report
1. Jun is the month of DeFi, starting from $COMP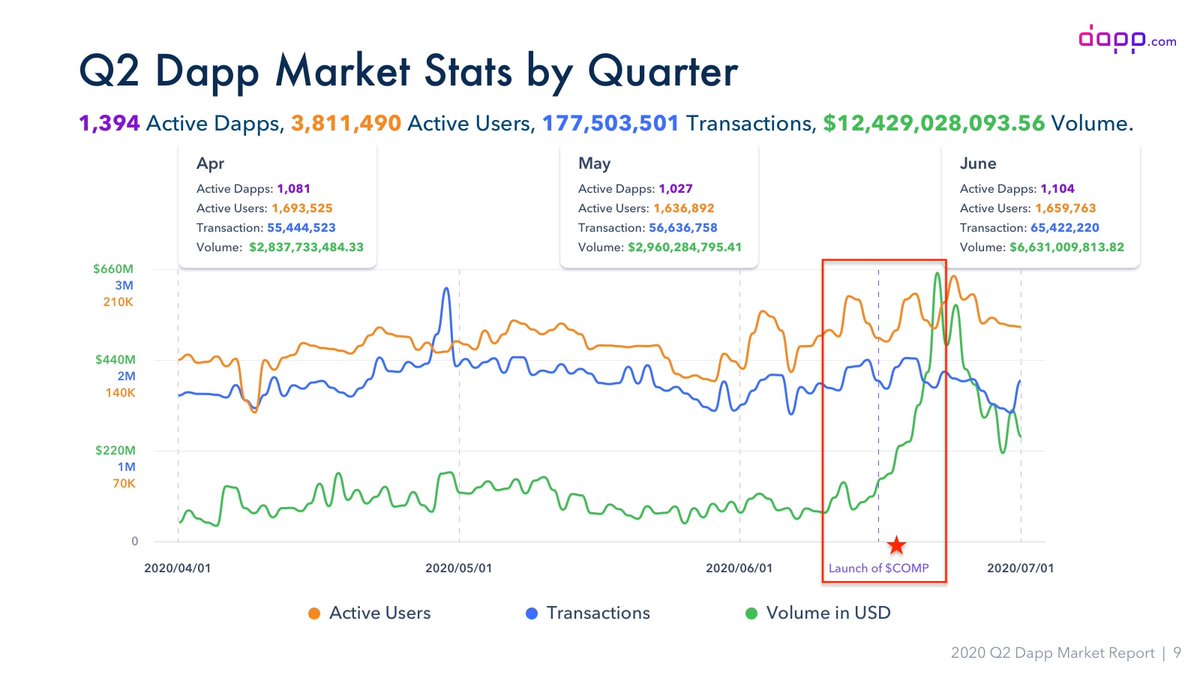 - The transaction volume in June reached $6.63B, which was double that of May.
- Among them, the DeFi transaction volume of Ethereum was $5.7B in June, accounting for 86% of all transaction volume from the 12 blockchains; and 97.5% of all dapp transaction volume of Ethereum. Especially since the issuance of COMP tokens on June 15, the transaction volume has soared.
- When we call 2020 the year of DeFi, we should call June 2020 "the month of DeFi". The transaction volume of ETH DeFi dapps has reached $5.7 billion USD in June, counted 97.5% of the whole dapp volume of the Ethereum network.  
- The transaction volume of DeFi dapps has reached its ATH at $608,230,230.58 on 21 June 2020. On the same date, the price of COMP, governance token of Compound, also hit ATH of $372.79 USD.
- After the distribution of $COMP, Compound's volume has increased from $131 Million in the first half of the month to $3.3 Billion in the second half of the month - 24 times increased. It's user also increased from 2,629 to 11,879 - 3.5 times increased.
More insights to help you master the blockchain market👉: https://www.dapp.com/article/q2-2020-dapp-market-report