Bored With Bitcoin? This BTC Price Level Is Key for a Big Breakout;
More South Korean Banks May Look to Start Crypto Operations;
Germany Takes Over FATF Presidency With New Guidance on Crypto Standards;
Gemini Chose to Wade Regulation In New York, Weighs in on Conditional BitLicense;
Personal Data of 250,000 People From 20 Countries Leaked by Bitcoin Scam;
🗞 Daily Crypto Calendar, July, 5th 💰
Welcome to the Daily Crypto News: A complete Press Review, Coin Calendar and Trading Analysis. Enjoy!
The price of Bitcoin (BTC), the top-ranked cryptocurrency by market capitalization, has been ranging between $8,600 and $10,500 since the halving. During the two-months' sideways action, the market started to heat up and altcoins entered the spotlight.
Additionally, traders and investors are constantly debating whether BTC price is still in bull or bear territory. Let's take a closer look at the charts to where Bitcoin may be headed next.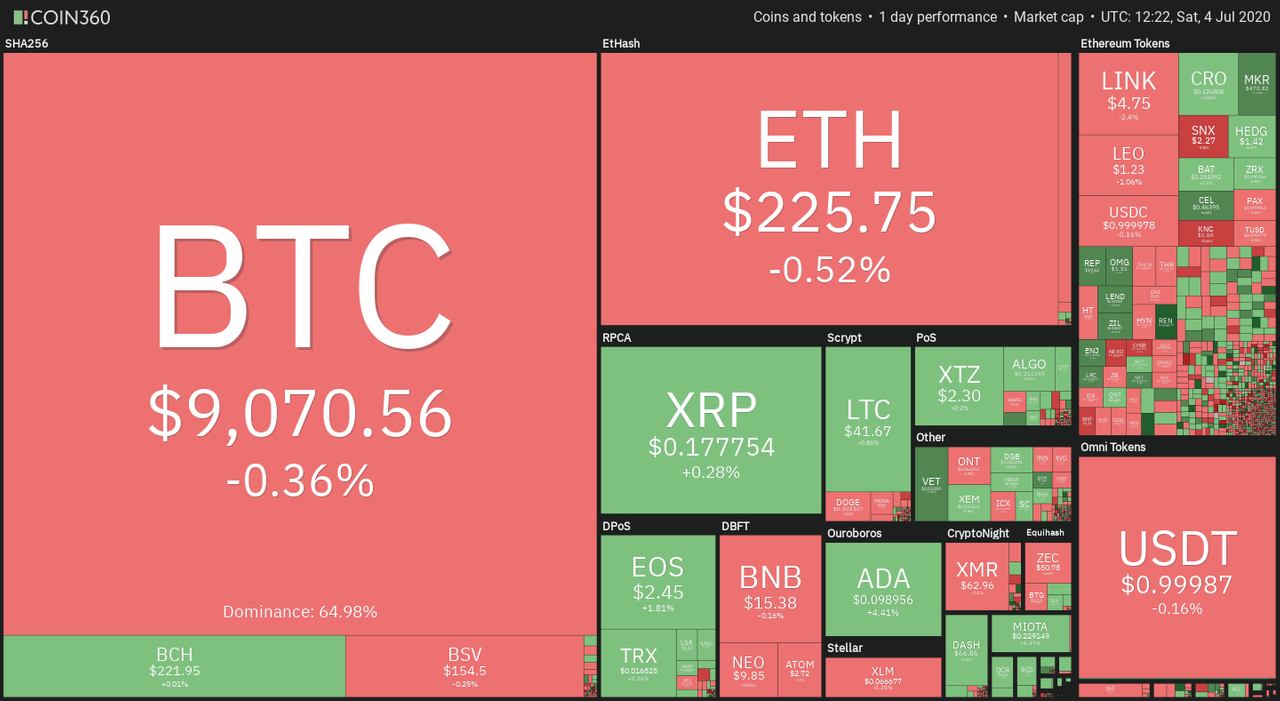 Bitcoin has to hold support above the crucial level of $8,600
The price of Bitcoin has a critical level to sustain above at the $8,550-8,750 area.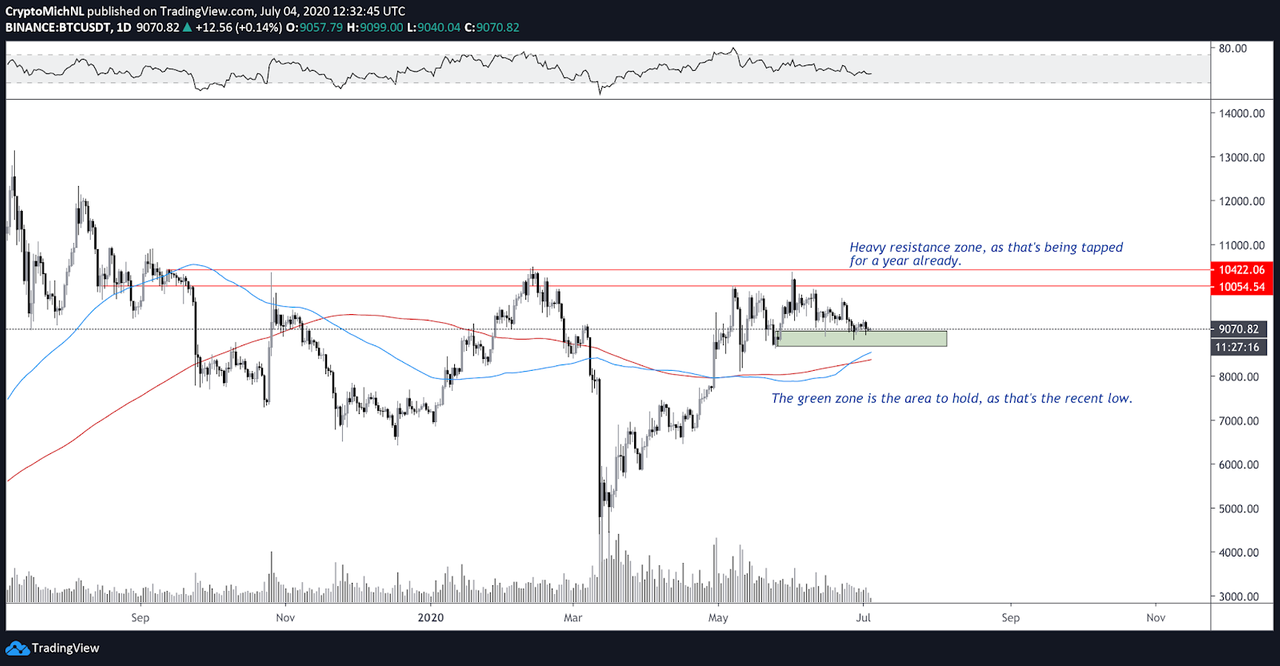 Bitcoin has been in a significant uptrend since the heavy crash in March. As an uptrend is classified through higher highs and higher lows, the recent low is found at the $8,550-8,750 area.
More South Korean conventional finance firms are set to follow Nonghyup (NH Bank) into the cryptoasset industry, say experts, academics, and industry insiders – who think regulators may offer banks safe passage into the crypto sector.
As reported earlier this week, NH has announced it will begin crypto custody services for industrial investors, and is currently working with Virtual Asset Service Providers (VASPs) on possible business opportunities. The bank also indicated it would look to offer securities token custody, as well as digital fiat custodial services – should the central Bank of Korea push ahead with a digital won rollout.
But per a report from EBN, more banks are likely to follow suit in the months ahead.
NH rival Kookmin (KB Bank) has registered a brand and trademark named KBDAC with the Korea Intellectual Property Office. EBN says that KB is "preparing to move into the cryptoasset market in the future."
The Financial Action Task Force (FATF) has a new president as Germany took over the presidency from China. The intergovernmental organization also highlighted the need for more guidance on cryptocurrencies as many countries have not yet fully implemented its revised crypto standards. Another review has also been announced.
Germany Now Leads FATF
The FATF has a new president, Dr. Marcus Pleyer of Germany, who succeeded Xiangmin Liu of China. Pleyer serves as Deputy Director General in Germany's Ministry of Finance. His two-year term as the president of the anti-money laundering watchdog began on June 1.
Gemini looks at regulation as a good thing, with the recently suggested conditional BitLicense as a move in the right direction.
Last week, the New York State Department of Financial Services, or NYDFS, proposed changes around its state-wide BitLicense legal guidelines. Gemini, a crypto exchange calling New York home, sees the NYDFS' move as a positive.
Gemini's chief compliance officer, Noah Perlman, told Cointelegraph:
"The proposed conditional licensing framework is another step the DFS is taking to help ensure this industry continues to grow and innovate — so that it becomes more accessible to more people without compromising safety or security."
A global bitcoin scam has reportedly leaked personal data of about 250,000 people from more than 20 countries. The majority of the compromised data were of people in the U.K., Australia, South Africa, and the U.S. This bitcoin scam operates under several different names.
Investors' Personal Data Leaked
A global threat hunting and intelligence company, Group IB, revealed this week that it has "discovered thousands of personal records of users from over 20 countries of the world exposed in a targeted multi-stage bitcoin scam." The Singapore-based company said that it found 248,926 sets of unique personally identifiable information, elaborating:
The analysis of the exposed phone country codes showed that most of the victims were from the UK (147,610), followed by Australia (82,263), South Africa (4,149), the US (4,147), Singapore (3,499), Malaysia (2,491), Spain (2,420), and other countries.
At least six active domains featuring the same bitcoin investment platform were identified, the company described. The scheme operates under different names, such as Crypto Cash, Bitcoin Rejoin, Bitcoin Supreme, and Banking on Blockchain. Group IB's analysts added that this new scheme resembles the Bitcoin Evolution scam.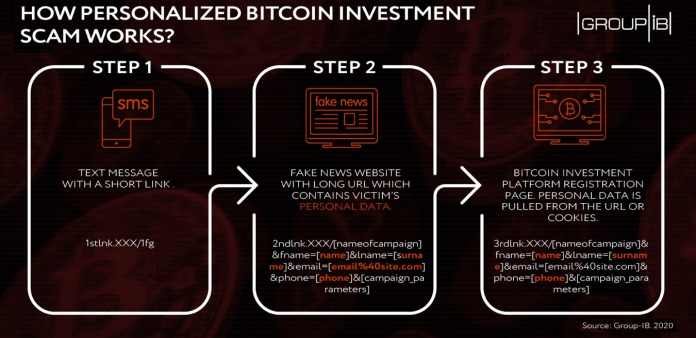 🗞 Daily Crypto News, July, 5th💰

"The first $WRX burn is all set to happen on Sunday, 5th July 2020."
"$DGB/USDT trading will start on #WazirX on Monday, 6th July."
Moon V1 holder snapshot, final product token distribution, and product release with staking and burning enabled by July 5.
"ZEIP-79 will decrease the protocol fee multiplier from 150,000 (current value) to 70,000. Voting will commence on July 6th at..."
Last Updates


➡️ Publish0x
➡️ UpTrennd
➡️ Minds
➡️ Hive
➡️ Twitter
➡️ Facebook
➡️ Be paid daily to browse with Brave Internet Browser
➡️ A secure and easy wallet to use: Atomic Wallet