Welcome to the Daily Crypto News: A complete News Review, Coin Calendar and Analysis. Enjoy!
The price of bitcoin (BTC) rose above $40,000 Saturday as the leading cryptocurrency has nearly regained all its losses suffered since reaching an all-time high in early January.
BTC hit $40,538.66 before falling back to $40,272.56, up 4.91% in the last 24 hours, putting it back within striking distance of the all-time high of $41.962.36 set on Jan. 8.
After hitting that high-water mark, BTC lost nearly a third (31.25%) of its value and all its spectacular year-to-date gains, bottoming out at $28,845.31 on Jan. 22.
After moving sideways for a week or so, over the last seven days BTC has made a string of upward moves, culminating in today's rise. Year-to-date BTC's gain is 36.91% and it's up 39.72% from Jan. 22.
Helping to drive this latest run is fresh interest on the part of institutional money such as Ray Dalio's Bridgewater Associates, which manages $150 billion in investor money, and the Miller Opportunity Trust. It may also be getting a boost from MicroStrategy's WORLD.NOW BTC-themed conference this past week.
Bill Miller plans to put 15% of the Miller Opportunity Trust's $2.25 billion assets into Grayscale's Bitcoin Trust.
The announcement comes soon after the investor penned a letter championing Bitcoin as a growing investment.
Trusts like Grayscale's are part of a market of financial services offering investors indirect exposure to crypto.
Bill Miller's investment trust is getting into Bitcoin. According to a filing submitted to the US Securities and Exchange Commission by the Miller Opportunity Trust, the trust founded by American investor and fund manager Bill Miller "may seek investment exposure to Bitcoin indirectly by investing in the Grayscale Bitcoin Trust."
The trust declared that it will stop when it has channeled up to 15% of its assets into Grayscale's Bitcoin Trust. To put that into perspective, the trust holds $2.25 billion dollars in assets under management. That means that it plans to indirectly channel over three hundred million dollars into Bitcoin through Grayscale's Bitcoin trust.
Binance has temporarily suspended deposits in Nigerian naira – the country's local fiat currency – in response to a Friday letter from Nigeria's central bank (CBN) instructing local banks to identify and close all accounts tied to cryptocurrency platforms or operations.
The CBN letter told local banking institutions that dealing in cryptocurrencies or facilitating payments for cryptocurrency exchanges is prohibited under a 2017 circular stating bitcoin (BTC) and other cryptocurrencies are not legal tender in the country. While the move might impact fiat on- and off-ramps, most of the nation's crypto trading occurs on peer-to-peer platforms and remains unaffected, according to sources in Nigeria.
Central bank ban
The CBN directive comes just months after protesters in Nigeria used bitcoin to raise funds after authorities reportedly shuttered bank accounts associated with the movement.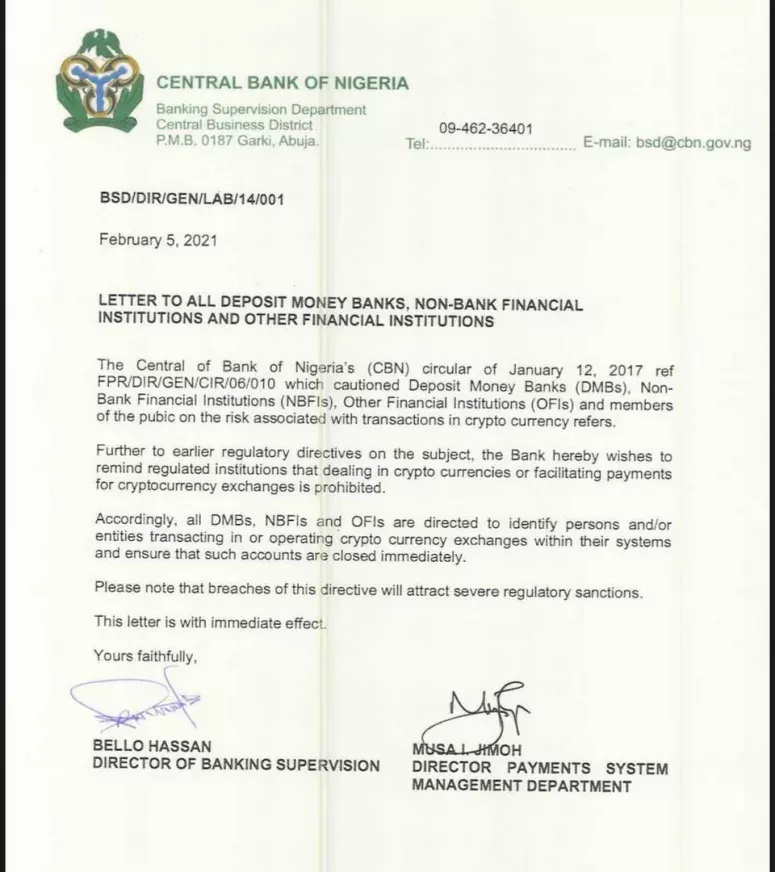 While the rise in cryptocurrencies over the last year has been the source of excitement among advocates and consternation for its detractors, a look at prices alone hides the real value being unlocked within the ecosystem.
Cryptocurrency's Real Value Lies in its Use, Not Speculation
With the pandemic weighing on the global economic outlook and confidence in legacy frameworks ebbing near an all-time low, crypto fills the void among investors, consumers, and merchants alike. While easy to look at the significant rise in crypto valuations as the harbinger of times to come, cryptocurrency's real value lies in its use, not speculation.
The adoption of cryptocurrency is rapidly on the rise across industries and use cases. While the most high-profile moves are taking place on the financial stage as more funds and financial institutions pile into the nascent asset class, cryptocurrency's primary hurdle has always been spendability. However, the increased financial allocations have overshadowed the true nature of momentum in the blockchain ecosystem, which is greater retail adoption.
🗞 Daily Crypto Calendar, February, 7th💰
We at TosDis are excited to announce that the TosDis Easystake main-net will be launching on February 7, 2021.
"Coming in the next two weeks ( that I know of): - swop.fi token launch - very special project using $usdn on eth..."
NLC2 is creating ERC-20 and Polkadot bridges to swap between chains.
"Can't wait for $BOTS IDO on Sunday"
"Bilaxy lists COR Token (COR)"
"We will pay AGA Bonus Rewards (24% APR) TOMORROW"
➡️ Youtube
➡️ Twitter
➡️ Hive
➡️ Publish0x
➡️ UpTrennd
➡️ Read.cash
➡️ LBRY
➡️ Spotify
➡️ Be paid daily to browse with Brave Internet Browser
➡️ A secure and easy wallet to use: Atomic Wallet
➡️ Invest and Trade on Binance and get a % of fees back
➡️ Check out my video on Unstoppable Domains and get 10$ off a 40$ domain purchase
➡️ Get 25$ free by ordering a free Visa Card on Crypto.com using this link or using this code qs4ha45pvh