Welcome to the Daily Crypto News: A complete News Review, Coin Calendar and Analysis. Enjoy!
Bitcoin reversed several days of sideways trading to head higher, ether broke $1,500 for the first time and DeFi's ecosystem has a record amount of value locked in dollar terms.
Bitcoin (BTC) trading around $35,824 as of 21:00 UTC (4 p.m. ET). Gaining 6% over the previous 24 hours.
Bitcoin's 24-hour range: $33,459-$35,824 (CoinDesk 20)
BTC above the 10-hour but below the 50-hour moving average on the hourly chart, a sideways signal for market technicians.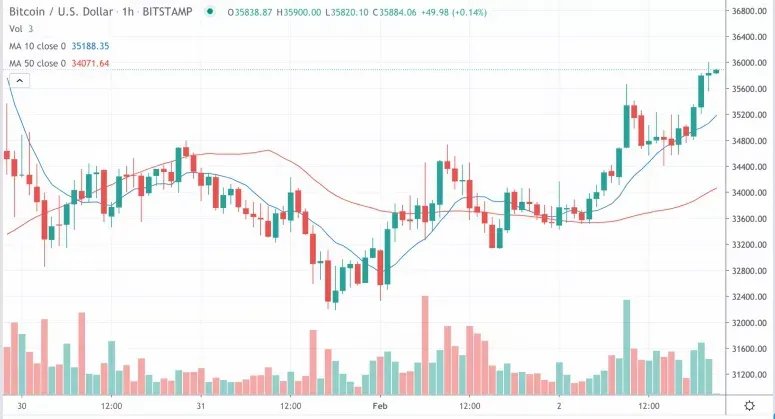 Bitcoin's gyrations seem to have subsided somewhat, helped by a very flat weekend into Monday. As of Feb. 1, bitcoin's 30-day volatility has trended downward; but it is still above 100%, which is quite high. The S&P 500, by comparison, has a 30-day volatility below 20%.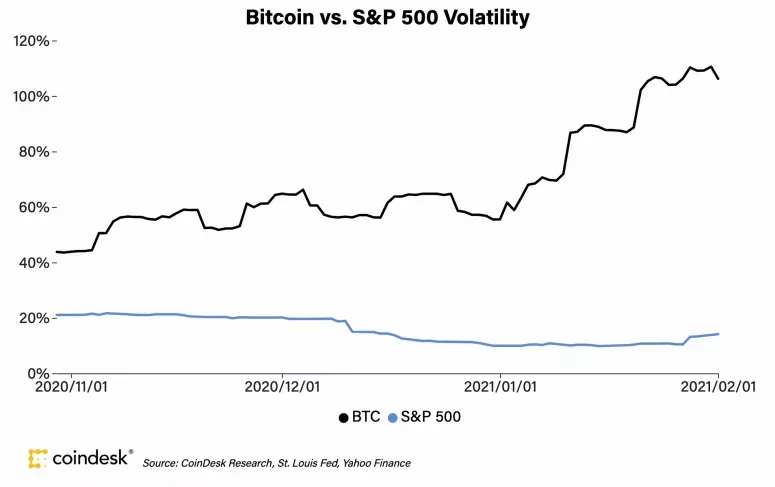 Ether hits new price zenith, crypto locked in DeFi at all-time high
The total value locked, or TVL, of crypto in U.S. dollar terms within decentralized finance (DeFi) is also hitting a brand-new high, going over $28 billion locked and at $28.8 billion as of press time, according to data aggregator DeFi Pulse.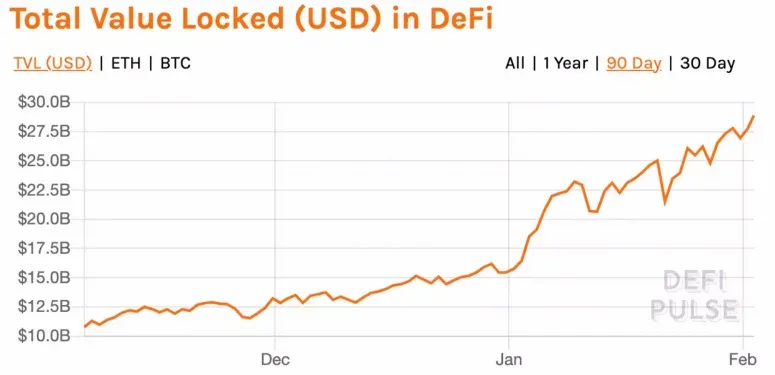 The amount of ether locked in DeFI is up, at over 7.3 million ETH as of press time. The rise in the price of ether locked in DeFi doesn't hurt.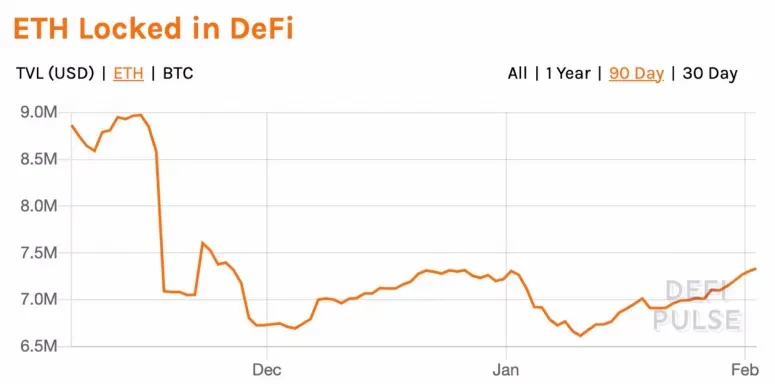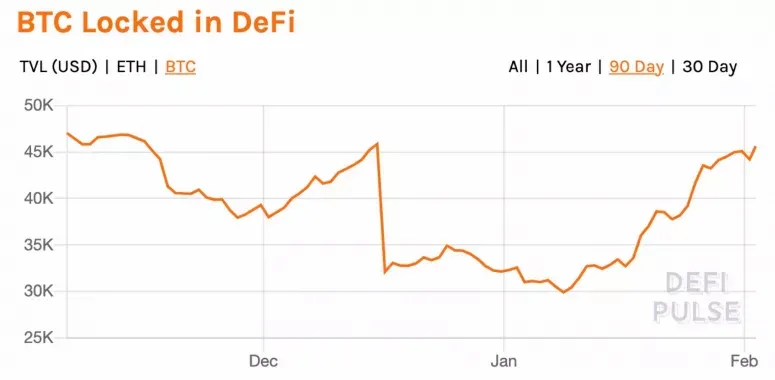 Binance exchange has launched Binance Pay.
Users can use their crypto wallets to make purchases.
Vendors can convert from the Binance stablecoin to the euro.
Binance, the world's largest cryptocurrency exchange by trading volume, isn't content to just have people buy Bitcoin and other coins. It wants to kickstart demand by having people use crypto.
The global exchange announced early today at its virtual event, Binance Blockchain Week, that last Friday it had sneakily launched a beta version of Binance Pay, its answer to PayPal.
"Binance Pay is a contactless, borderless and secure cryptocurrency payment technology designed by Binance," reads an explainer on its website. "Binance Pay (beta) allows you to pay and get paid in crypto from your friends and family worldwide."
Binance's system allows users to pay in crypto, while the merchant receives fiat-backed stablecoins that can be converted into fiat. (At this point, the product only supports one type of fiat: the euro.) Said CZ, "This way their business doesn't have to fluctuate with crypto."
The exchange is billing Binance Pay as "a basket of products," which will include the previously unveiled Binance Card—a debit card that converts users' crypto to fiat whenever they make a purchase.
Balances of dai (DAI) and USD coin (USDC) on exchanges reached new all-time highs in the past week, according to data from Glassnode.
The increase may be a bullish indicator for the crypto market as a whole if it reflects buyers' plans to use the two stablecoins to buy more crypto assets.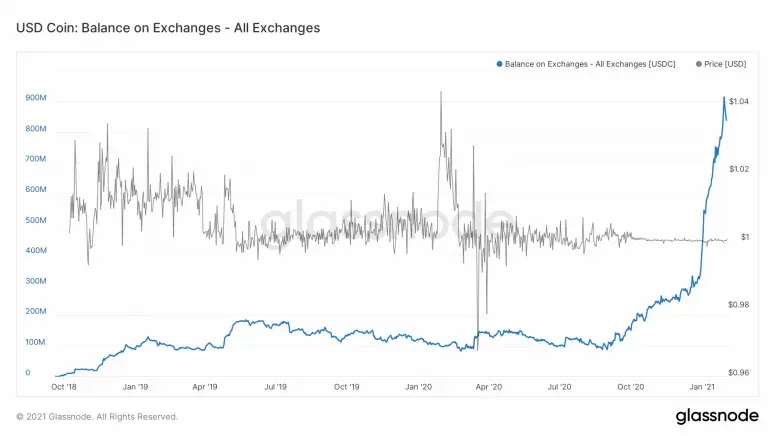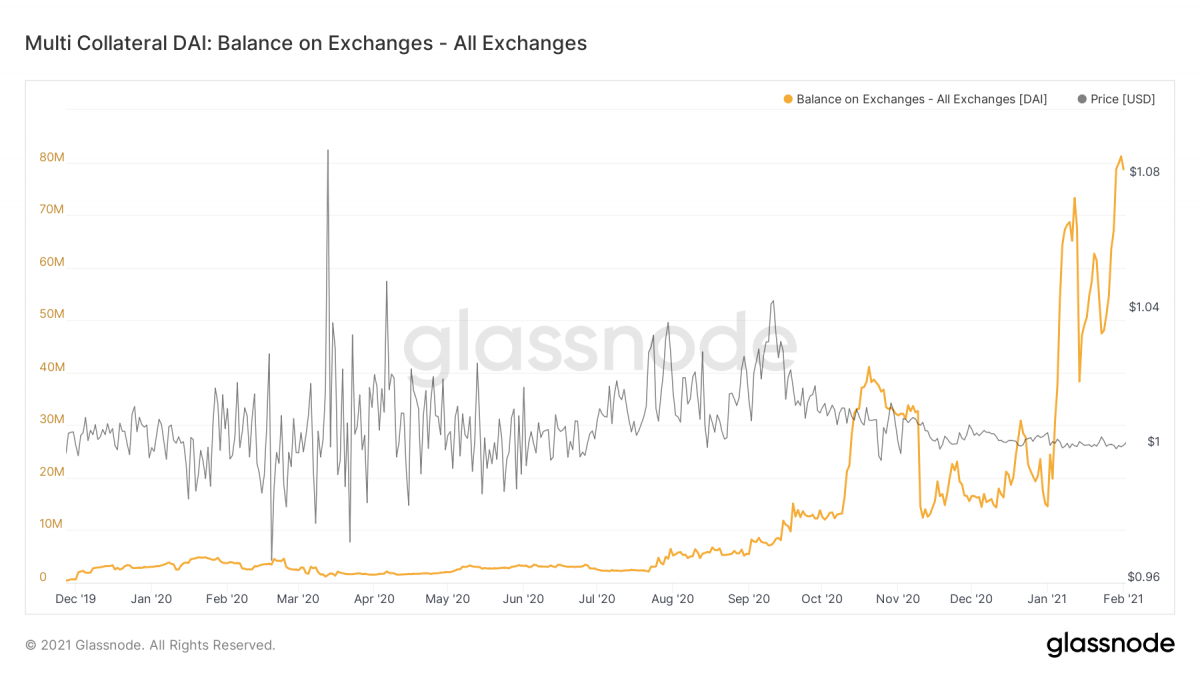 "The growth in on-exchange USDC reflects the increasing view among traders that USDC is a preferred base currency, as well as the fact that a lot of the new flows into crypto are starting with on-exchange activity," Jeremy Allaire, co-founder and CEO of peer-to-peer payments company Circle, told CoinDesk through a spokesperson. He noted that USDC issuance in January saw "record levels." Circle and crypto exchange Coinbase are behind USDC's governing Centre consortium.
California's $441 billion public pension fund increased its stake in bitcoin miner Riot Blockchain (RIOT) nearly sevenfold in last year's Q4 amid the meteoric run-up in the price of bitcoin.
California Public Employees' Retirement System (CalPERS) held 113,034 shares in RIOT worth over $1.9 million at the end of 2020, according to Tuesday filings. That's up from Q3 2020, when CalPERS' 16,907 RIOT shares were worth a comparatively minuscule $49,000.
The largest public pension fund in the U.S. had been holding firm on its nearly 17 thousand RIOT shares since acquiring them during the bull run in late 2017. That position seldom varied until now.
RIOT spiked 541% during Q4 2020. Meanwhile, bitcoin (BTC, +4.6%) was up 174% for the quarter.
CalPERS board members included blockchain technologies as a future-forward investment opportunity during a public forum in 2016.
🗞 Daily Crypto Calendar, February, 3rd💰
"Release of v1.5.4 marks an important chapter in Sia's history - incorporating the Sia Foundation hardfork. Sia Foundation is a..."
"Get ready for Kava 5 Testnet Launch on Feb 3rd!"
"The Bluzelle #Mainnet date is confirmed! Let's count down 15 days to February 3!"
"The much anticipated @XLiteWallet 1.0 will be publicly released on February 3rd at 15:00 UTC."
"Watch @finematics's on-point illustration ahead of the Feb 3 $ZWAP launch."
"On Feb 3rd at 7 AM PT join the @emoney_com founder @mdyring for an AMA on the @cosmos TG..."
➡️ Youtube
➡️ Twitter
➡️ Hive
➡️ Publish0x
➡️ UpTrennd
➡️ Read.cash
➡️ LBRY
➡️ Spotify
➡️ Be paid daily to browse with Brave Internet Browser
➡️ A secure and easy wallet to use: Atomic Wallet
➡️ Invest and Trade on Binance and get a % of fees back
➡️ Check out my video on Unstoppable Domains and get 10$ off a 40$ domain purchase
➡️ Get 25$ free by ordering a free Visa Card on Crypto.com using this link or using this code qs4ha45pvh