Welcome to the Daily Crypto News: A complete News Review, Coin Calendar and Analysis.
Enjoy!
The price of bitcoin took a bit of a dip, though overall market sentiment remains bullish. Ether's correlation to bitcoin is going up despite differences in value propositions.
Bitcoin (BTC) trading around $19,077 as of 21:15 UTC (4:15 p.m. ET). Slipping 2.1% over the previous 24 hours.
Bitcoin's 24-hour range: $18,171-$19,920
BTC above its 10-day and 50-day moving average, a bullish trending signal for market technicians.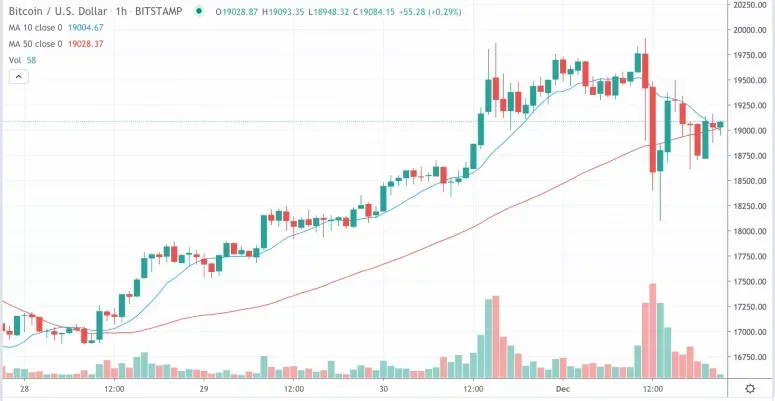 The price of bitcoin was able to hit as high as $19,920, according to CoinDesk 20 data, before momentum stalled. Traders began hitting the sell button, taking the price to as low as $18,171 before it recovered. It was at $19,123.70 as of press time.
Katie Stockton, a technical analyst for Fairlead Strategies, sees $19,511 as a "resistance" level, a price point the world's oldest cryptocurrency can break through in this time of highly bullish sentiment. "An eventual breakout appears likely from a momentum perspective," she said, noting that $19,511 "is not a strong resistance level – $20,000 is a psychological hurdle, much like Dow 30,000."
"Expect additional short-term volatility, although intermediate- and long-term momentum are strongly positive," Fairlead's Stockton said. Thus, when looking at bitcoin's volatility versus popular traditional assets, the store of value thesis may not be as strong as many believe as volatility is trending up versus other investments.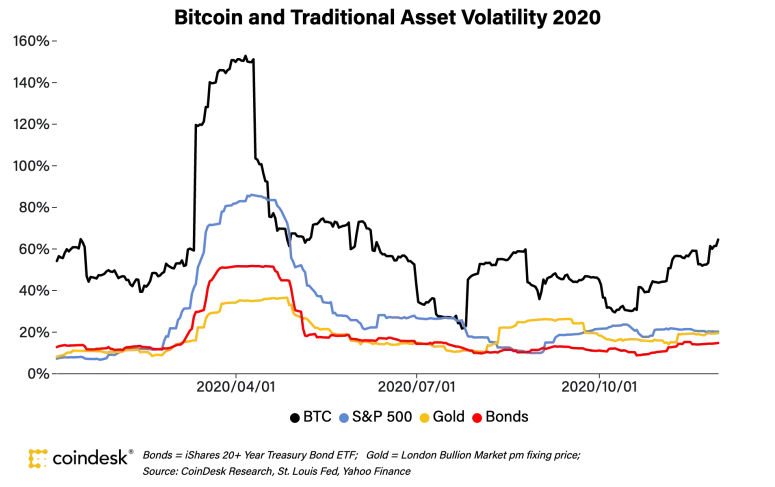 Is bitcoin leading ether?
Over the past several days, ether has mirrored bitcoin's price rise closely.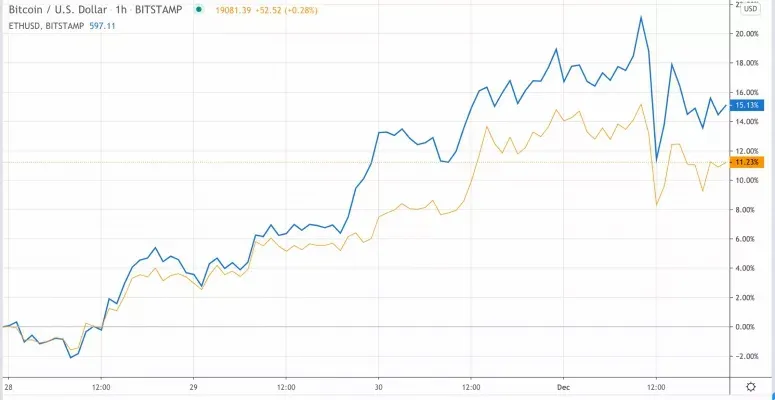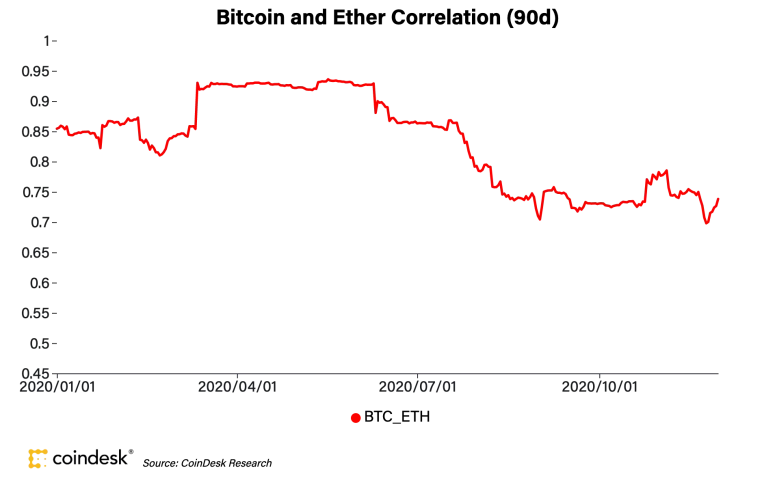 The fact the two cryptocurrencies are increasingly trading in tandem belies the fact that Ethereum's 2.0 Beacon Chain launch clearly differentiates some of its use case aspects. While bitcoin's "store of value" narrative continues to be a strong signal coming from industry analysts, the "programmable money" thesis of Ethereum doesn't seem to be making the market asset perform based on its own fundamentals – yet.
Serenity is knocking.
The first stage of the next-generation proof-of-stake (PoS) Ethereum 2.0 is now live as of 12:00 UTC Tuesday, according to Beaconcha.in.
A generalized blockchain for decentralizing computer-based applications – from iPhone games to government bonds – Eth 2.0 has been under construction since the genesis of the current proof-of-work (PoW) network in 2015.
"The launch of the Beacon Chain is a huge accomplishment and lays the foundation for Ethereum's more scalable, secure, and sustainable home," Ethereum Foundation researcher Danny Ryan told CoinDesk in an email. "There is still much work to do, but today we celebrate."
Eth 2.0 has at least two more technical hurdles to hit its ever-moving timeline: Dynamically breaking the PoS Ethereum blockchain into multiple datasets called "shards" and adopting Rollups, a throughput solution for decentralized applications (dapps).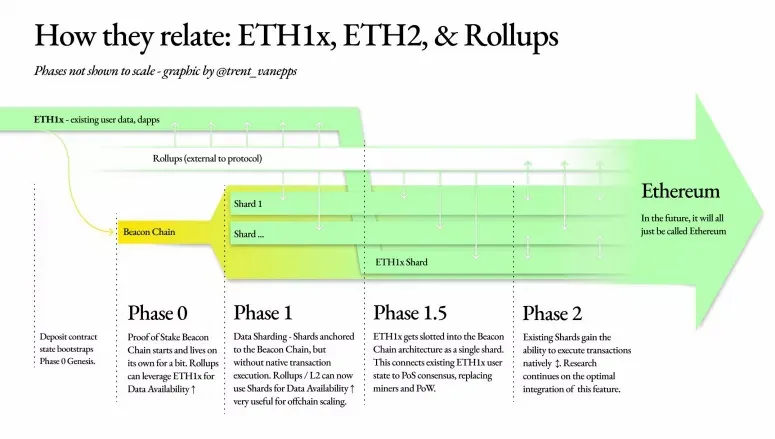 Forbes published the 2021 version of its 30 Under 30 list today.
The annual list celebrates young entrepreneurs.
This year, 10 recipients come from the world of blockchain and crypto.
The 30 Under 30 moniker is something of a misnomer—it's more like 30 individuals/teams under 30 years old in 20 categories, resulting in over 600 awardees. Nonetheless, blockchain and crypto entrepreneurs made strong showings in categories like Finance and Venture Capital.
Soona Amhaz (Volt Capital); Sam Bankman-Fried (FTX); Joey Krug (Augur); Alexander Liegl (Layer1 Technologies); Jack Mallers (Zap Solutions); Flori Marquez (BlockFi); Charlie Noyes (Paradigm); Brian Tubergen (CoinList); Amiti Uttarwar (Bitcoin Core developer); and Athanasios Karachotzitis, Jeong Woo Park, and Andrew Yang (Authenticiti).
Flori Marquez, Co-founder, BlockFi
The daughter of Argentinian parents who fled their country in the 80s as the economy spiraled into hyperinflation, Flori Marquez, co-founder of BlockFi, considers making the list proof that she's made her mark on America.
Joey Krug, Co-founder, Augur
Joey Krug, 25, told Decrypt he had no idea he was in the running. Unlike his rivals, he hadn't applied—Forbes journalist Michael Del Castillo snuck him into the competition after he penned a profile on Krug in July. Krug only discovered his success upon scrolling Twitter.
Brian Tubergen, Co-founder, Coinlist
At a practically ancient 29 years of age, Brian Tubergen, founder of crypto ICO platform CoinList, made it on the list in his last year of eligibility.
He's watched as those around him won in years past. His co-founder, Andy Bromberg, made the list in 2016 for starting a (since shuttered) political news analysis app, Sidewire. And two of Tubergen's close friends won the award. Nader Al-Naji, was honored in 2019 for making Basis, a (now defunct) stablecoin company that raised $133 million in a token sale, and Alex Pack, cofounder of crypto VC fund Dragonfly Capital, won it last year.
U.S. crypto exchange Coinbase said Tuesday that it brokered Microstrategy's $425 million bitcoin purchase earlier this year. Until now, it has not been clear who facilitated the deal.
Microstrategy's first bitcoin (BTC) haul of $250 million bought in August was executed over five days, Coinbase revealed in a case study of the transactions.
The deals – done via the exchange's brokerage unit called Coinbase Prime – leveraged human effort and trading algorithms that sliced Microstrategy's order into 200,000 fills. Each fill averaged under 0.3 BTC in size, it said.
"Using our advanced execution capabilities, leading crypto prime brokerage platform, and OTC desk, we were able to buy a significant amount of bitcoin on behalf of Microstrategy and did so without moving the market," Brett Tejpaul, head of institutional sales, custody and prime services at Coinbase, said in a blog post.
🗞 Daily Crypto Calendar, December, 2nd💰
Halving block number: 840000 Current block height: 639313 Blocks until halving: 200687 Approximate block generation time: 150 seconds.
"Big @syscoin related news coming December 2nd, 2020, before 13:30 UTC."
Callisto Network's next AMA is confirmed for Wednesday 2nd December from 19:00 to 20:00 (UTC 0) on Callisto's main telegram group.
Wabi founders answering your questions and sharing news, announcements in Wabi Telegram group.
"The snapshot for the December smart bonus payout of 1% $AVA + 1% travel credits will take place Wednesday 2nd December at 12pm (SGT)"
'Tomorrow – join @Wallet_Dot Founder & CEO @LinZheming for a Chinese-language webinar, and Q&A session focused on DotWallet's newly..."
Last Updates
➡️ Be paid daily to browse with Brave Internet Browser
➡️ A secure and easy wallet to use: Atomic Wallet
➡️ Invest and Trade on Binance and get a % of fees back
➡️ Youtube
➡️ Twitter
➡️ Hive
➡️ Publish0x
➡️ UpTrennd
➡️ Read.cash
➡️ LBRY
➡️ Check out my video on Unstoppable Domains and get 10$ off a 40$ domain purchase
➡️ Get 50$ free by ordering a free Visa Card on Crypto.com using this link or using this code qs4ha45pvh