Hi HODLers and DeFi Degens,
This has been probably the first week where I clearly thought about what to vote in order to maximize my bribes.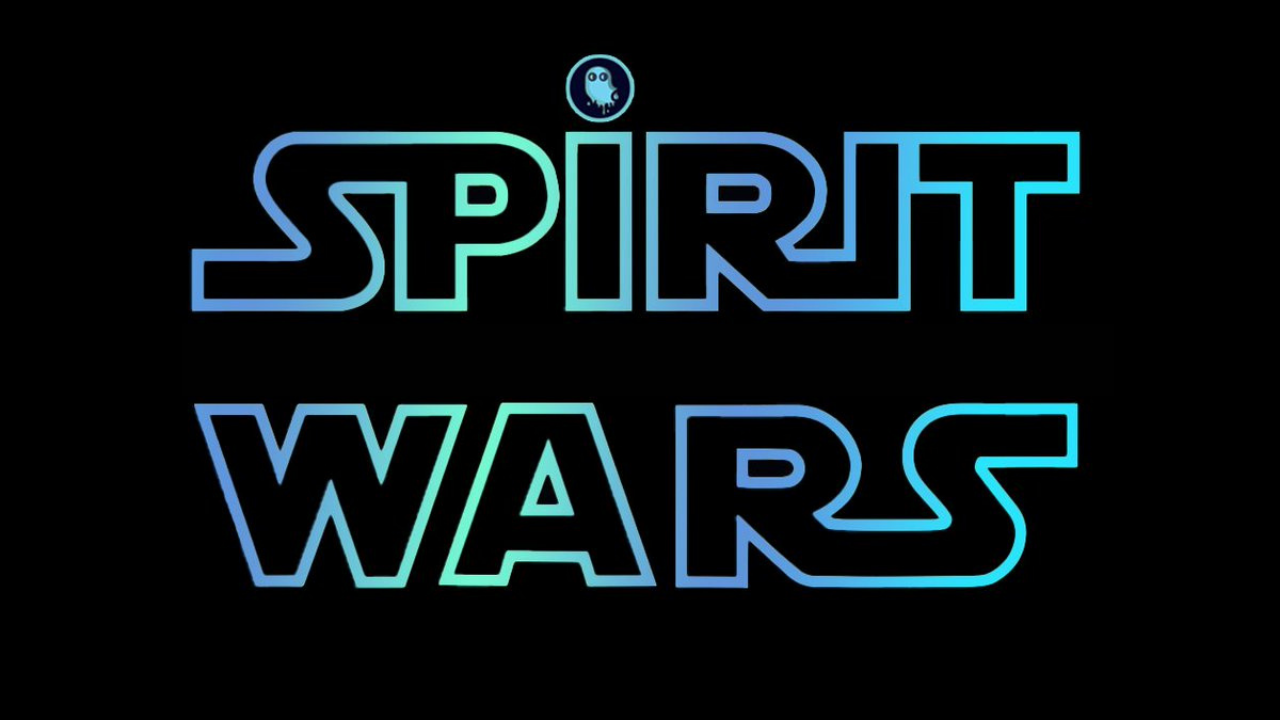 Source
I play bribes with inSpirit locked tokens (locked for 4Y to maximize voting power).
I also have most of my assets in $rainSpirit where they vote for the different pairs with bribes and then create one pool for each different type of rewards. You then just have to stake your rainSpirit in the pool that gives you the best yield / favorite asset.
This time let's talk about my past week bribes for $inSpirit
Previous week bribes
Summary of which gauges are offer bribes and the bribe amount.
Growth DeFi : GRO - FTM gauge: $5000 worth of $GROtokens
Beefy Finance: beFTM - FTM gauge: $10,000 worth of $BIFI tokens : Paid
OneRing: RING - FTM gauge 15,000 RING tokens worth $15,000 : Paid
Midas Investments: MIDAS - FTM gauge: $30,000 USDC
Terra Money: UST - FTM gauge: $30,000 UST : Paid
Comb Finance: COMB - FTM gauge: $42,069 worth of COMB : Paid
Total value of bribes: $132,069 USD!
My previous week votes: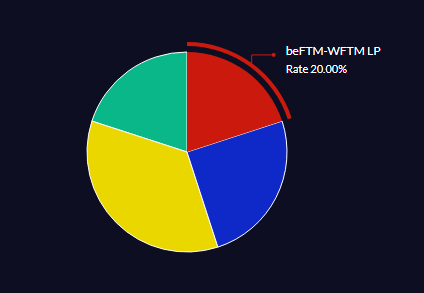 I have personally voted for 4 of them:
beFTM - FTM gauge
COMB - FTM
UST - FTM
MIDAS - FTM (Not paid yet)
The total yield that I got from this week is currently 3.75%! I am still missing one bribe.
Isn't this crazy getting such a high yield not even paid in the native cryptocurrency therefore not inflating the supply. No additional sell pressure from these bribes, this is what I love about it. I am mostly reinvesting these rewards into $SPIRIT in order to gain more bribes in the coming weeks :D.
At some point, I might cash out these bribes into Blue Chips such as BTC or ETH, but now now.
The Beefy example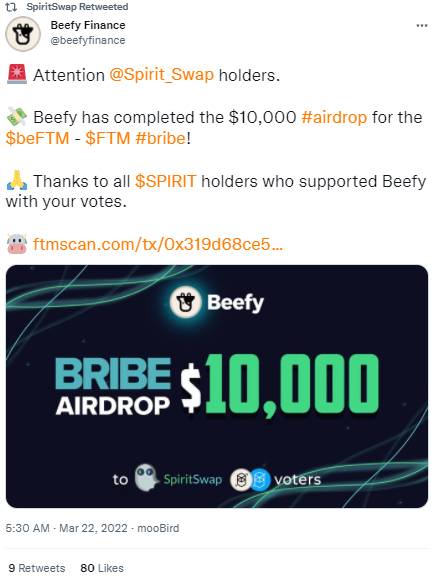 They finally did not pay their bribe in $BIFI but in $USDC, it does not change much but I must say I do not like these last minute changes.
Here is the list of accounts receiving directly these bribes (the following snapshot is taken from ftmscan).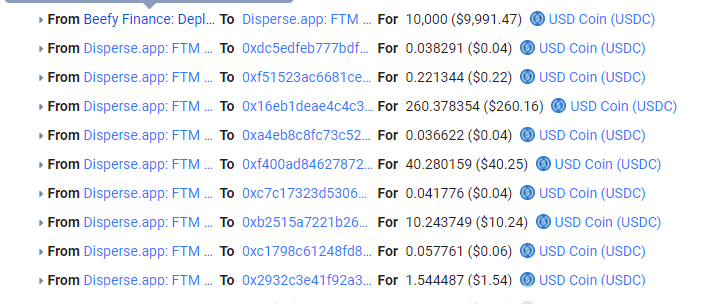 Additional Native $SPIRIT APR
Even if the yield is very impressive, this is not all ! By locking your $SPIRIT into inSpirit, you receive weekly $SPIRIT.
These $SPIRIT tokens are claimable weekly.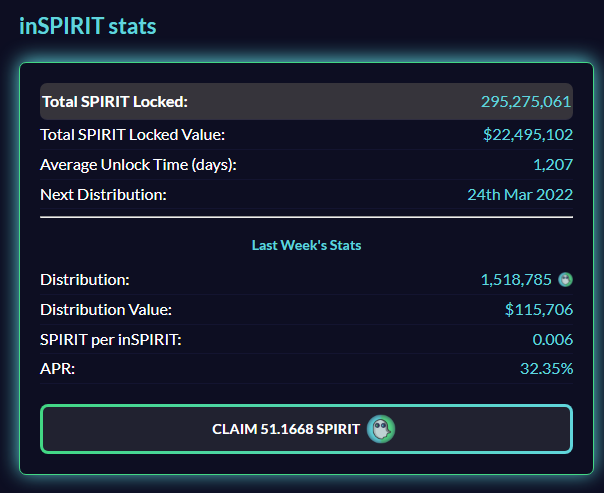 My voting plan for this week:
First, let's see the current bribe count for this week:
1️⃣ $UNIDX - $FTM $5,000 $UNIDX
2️⃣ $GRO - $FTM $5,000 $GRO
3️⃣ $beFTM - $FTM $10,000 $BIFI
4️⃣ $SCARAB - $GSCARAB $15,000 $SCARAB
5️⃣ $ORKAN - $FTM $25,000 $WBTC
6️⃣ $UST - $FTM $30,000 $UST
7️⃣ $RING - $FTM $1500 /1% $RING
8️⃣ $ATLAS- $FTM $2000 / 1% $USDC
It definitely looks great with also $RING and $ATLAS paying a $/% of votes! This is new to me.
I am probably going to vote again 4 different pools to diversify:
My current plan is to vote the following:
5️⃣ $ORKAN - $FTM $25,000 $WBTC
6️⃣ $UST - $FTM $30,000 $UST
8️⃣ $ATLAS- $FTM $2000 / 1% $USDC
3️⃣ $beFTM - $FTM $10,000 $BIFI
Let's not forget that there is c.20 hours left and we have seen last minute bribes pop-up many times.
Not Financial Advice.
Stay safe out there,