Good day everybody,
I hope you are all having an excellent day, welcome to CryptoGod-1's blog on all things crypto. Today I will be writing about the upcoming Litecoin halving, which is predicted to take place on Wednesday, the 2nd of August 2023 at 05:25:58 PM GMT. This will be the third halving event in the history of Litecoin, and I am going to look at the sentiment this could have on the market.
What is Litecoin Halving
Every 4 year an event happens as part of Litecoin's coin issuance, which is the reward miners can receive for mining a block. The very first block reward was 50 LTC, which splits every time a halving takes place. This reduces the rate of LTC being generated, while the halving itself is periodical and is programmed into Litecoin's code. It is programmed to happen after every 840,000 blocks are mined. At the time of writing, the current block reward for Litecoin is 12.5 LTC, but after this halving the reward will reduce down to 6.25 LTC. The final halving is predicted to take place in the year 2142, when the reward will become 0 LTC.
Traditional FIAT currencies are inflationary as they allow governments or banks to print money, which in turn causes inflation. Litecoin is the opposite, with a total supply of 84,000,000 LTC and 73,305,575 or so already produced. That means 87.27% of the total amount of LTC are already in circulation, and no extra can ever be produced. Printing extra money causes inflation, so if there are no means to create more, then there can be no inflation with Litecoin. This makes Litecoin similar to gold, which has limited supply and cannot be "printed" or artificially created, and is therefore considered a deflationary currency.
Historical Impact of Halving
It has always been an interesting moment when the Litecoin halving occurs, as many have debate what it will result in. Some believe the halving is already priced in by the current market conditions and there will be no impact on price, while others believe that the halving should cause an increase in price if demand for LTC is equal or greater than what it was before the halving event. Below is a chart showing the impact of the previous two halving events, which took placed in 2015 and 2019.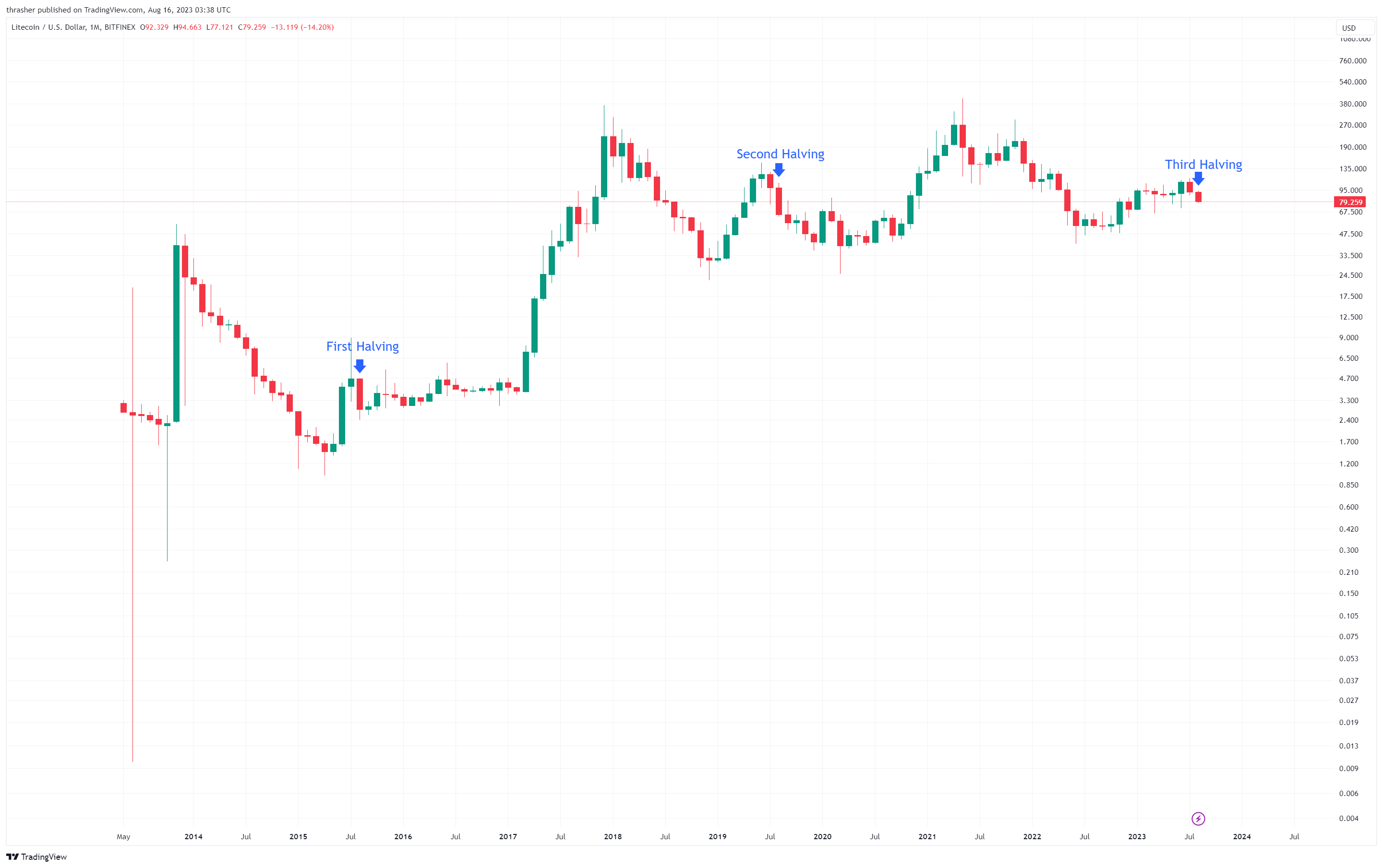 Bullish or Bearish?
There have been a steady growth of addresses holding 10,000 LTC or more, which has increased by 6% over the previous 5 months and stands at over 32 million addresses. Accumulation continues to grow as around 64.24% of holders have realized gains or are in currently in profit. Much of this is down to the recent surge LTC saw in its price after the announcement by major Wall Street players Charles Schwab, Citadel Securities and Fidelity Digital Assets that LTC was one of the four tokens chosen for EDX Markets.
Popular crypto analyst Benjamin Cowen put his thoughts out on Twitter when he noted that:
"LTC has historically topped out in June/July of its halving year."
Making use of this chart, he showed how the price has often topped out in the weeks and moths prior to the halving before having a steady decline afterwards. However, he also notes how LTC increased in value in the following year, especially as the Bitcoin halving approached, and saw increased gains. This should be seen as a bullish projection in the longer term, as the entire market is likely to see gains in 2024.
Rekt Capital on the other hand is painting a more bearish sentiment with their outlook. As shown in their tweet, LTC has retraced following the pre halving rally and only once that correction ends does LTC form a new accumulation phase. Therefore it seems the advice would be to buy LTC now and sell once the Having event approaches, prior to any potential downturn.
Interesting times ahead with the Litecoin Halving approaching. Will it continue previous trends of dropping after the halving before entering an accumulation phase, or will this be the year when Litecoin changes from the norm?
Have a great day.
Peace. CryptoGod-1.
Referral Links and Follow Me: