If you want more cryptocurrency analysis, including full-length research reports, trading signals, and social media sentiment analysis, use the code "Publish0x" when subscribing to CryptoEQ.io to make your first month of CryptoEQ just $10! Or simply click the button above!
*See the full article here.*
GameFi Rankings
Overall:
The Sandbox - SAND already has some immense partnerships created with giants such as Atari, Universal Music Group, and others. The metaverse is being actively developed by the world's largest builders has a much more favorable player count.

Axie Infinity - AXS saw one of the highest daily player counts out of game on this list but suffered immensely from the massive Ronin Bridge hack. Outside of the hack, AXS has a high barrier to entry compared to other metaverse/gaming titles but has had one of the highest rates of success in terms of player conversion.

Enjin Coin - ENJ is providing what could be a multi-billion dollar solution for gaming titles in the near future. As more gaming developers wish to enter the blockchain / P2E space, ENJ will already have a solution to fast-track that process.
Gala Games - Despite some tokenomics issues, Gala Games has one of the most sophisticated platforms that caters to pure gamers. Many gamers don't want to deal with blockchain mechanics openly or have it interfere with the gameplay, and Gala is doing a good job of offering that.
Merit Circle - Has a sophisticated ecosystem model and already launched some well-renowned scholarship programs to bring in new gamers to GameFi. MC is ahead of YGG in terms of utility for its native token as it offers more of a platform where MC can be considered a medium of exchange.
Flow - FLOW offers a highly sustainable blockchain network and has some of the most impressive NFT partnerships in the space. The gaming side of the blockchain is obviously lacking, however, so for users to bet on FLOW, they need to be betting on the value of art-style NFTs from major brands holding value long term—at least until true gaming titles emerge.
Decentraland - MANA lags behind The Sandbox slightly but still offers a large metaverse with valuable LAND. Decentraland also benefits from a more favorable graphics package than The Sandbox.
My Neighbor Alice - Out of all the blockchain games on this list, ALICE does the best job of appealing to non-blockchain gamers. The game model is simple yet refined, and it actually offers a level of gameplay that other titles don't have.
Gods Unchained - Unlike other titles on this list, Gods Unchained does have playability. The game is being developed, but it's amassed a large player community of over 450,000 and fills a niche gaming category as a trading card title. Beyond this, however, growth may appear limited as the game itself hasn't necessarily improved upon the style of game it is and could fall victim to copycat games.
Otherside - BAYC is undoubtedly the king of NFTs, and with the successful testing of its metaverse concept, it could end up being a leader among metaverse protocols. Of course, graphics will be an issue while on the Ethereum blockchain and the high degree of exclusivity will always limit its overall growth.
Efinity - Efinity by itself offers lower fees and quicker transaction processing than that of its mainnet Enjin. For that reason, Efinity maintains a smaller market share and serves as a secondary solution for users to engage with outside of Polkadot.
Illuvium - ILV has attracted a lot of attention and hype as players patiently wait for a full game launch. The reason it's low on this list is similar to other gaming titles this low: it has no playability. Those purchasing ILV and ILV-native NFTs are betting on the future of this title.
Aavegotchi - While initially highly popular, Aavegotchi has no players and little playability. The main appeal of obtaining a ghost is for yield-generating as it gives users passive income over time.
DeFi Kingdoms - DFK has been at the center of many controversies, but it still lives on as a protocol. The development team have been working diligently to add true playability to the game beyond just being a gamified DEX. Until this happens officially, DFK remains speculative along with Illuvium and Star Atlas
Star Atlas - ATLAS is another gaming title that has hype building behind it with no true proven product. With the game set to release sometime in 2022, long-time backers and eager players may finally get to interact with the game.
Yield Guild Games - YGG is very similar to Merit Circle in a lot of ways, just with less overall utility. The DAO is more centered on the gamers joining and generating revenue for the DAO, acting more like a business than a GameFi protocol. This could lead it getting into trouble with regulators should they ever investigate the space.
Axie Infinity (AXS)
Axie Infinity is a Pokemon-inspired play-to-earn (P2E) virtual world built by Sky Mavis. Axie Infinity is Ethereum-based, allowing players to collect, breed, battle, and trade in-game "pets" referred to as Axies. All Axies and other in-game assets are represented as ERC-20 tokens or ERC-721 tokens (NFTs).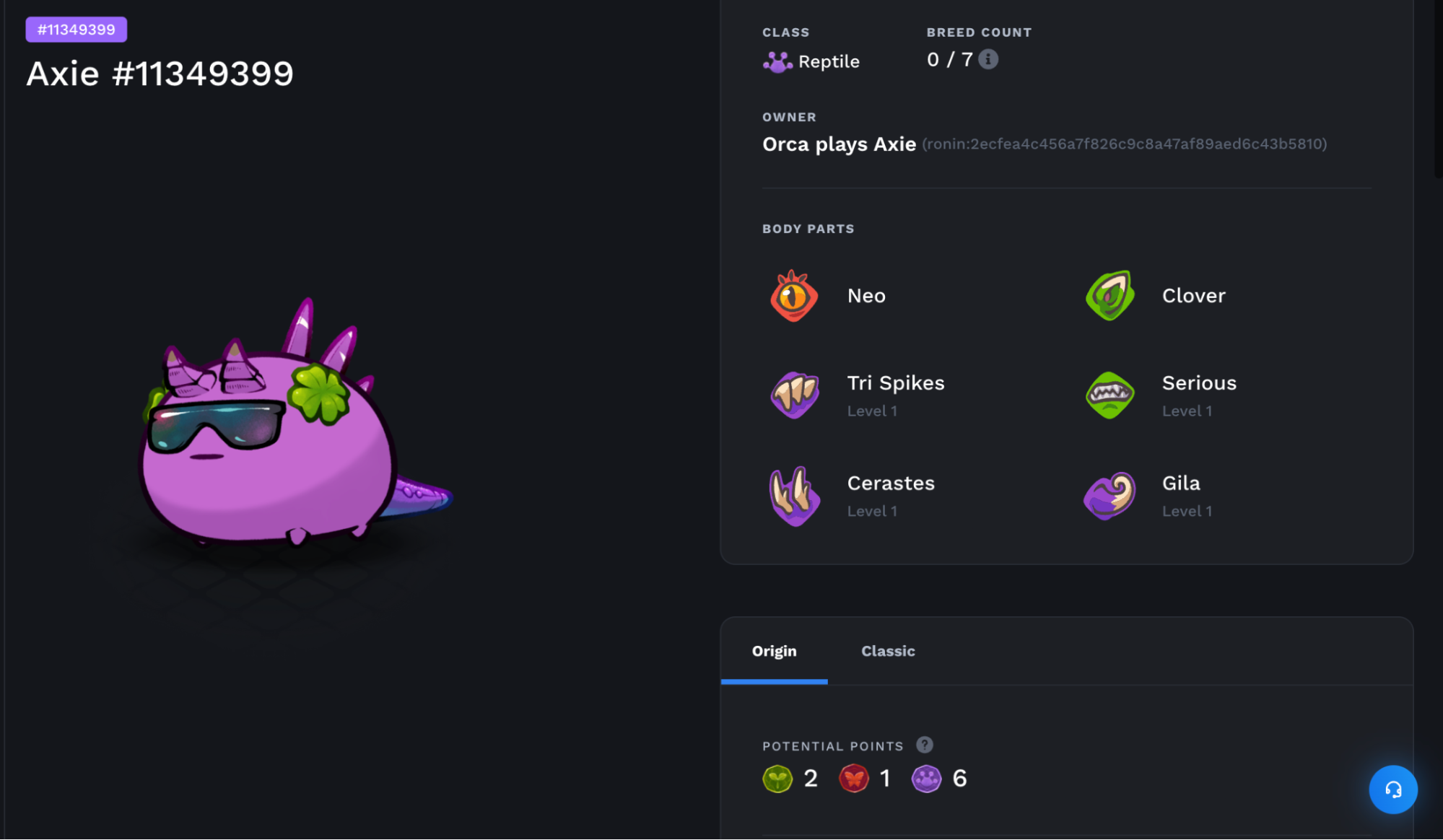 An example Axie
Key Features
Platforms like Decentraland and The Sandbox have established themselves as leading virtual worlds in which builders can create experiences. Axie Infinity took this the extra step further and included true playability within its virtual world. The economics are geared towards the earnable "Play-to-Earn" style blockchain game, allowing users to earn rewards for contributing and using Axie Infinity.
Axie Infinity uses a dual token system for its functionality. Those two tokens are:
Axie Infinity Shard (AXS)

Smooth Love Potion (SLP)
Rewards in Axie Infinity come from its native token AXS. It serves as the governance token for the platform, is used in on-chain incentives, and can be used for transactions within marketplaces. The other in-game ERC-20 is SLP, a token that can be burned & used for breeding new Axies.
In terms of real playability and the P2E aspect of Axie Infinity, the SLP token is awarded to players for:
Participating in "adventure mode"
Winning battles against other axies
Pros & Cons
Axie Infinity has been the leading gaming protocol in the space since its launch. In fact, Axie was able to accomplish something almost no other gaming/metaverse protocol was able to do: attract non-blockchain gamers.
Most of the gaming industry has been firmly against blockchain gaming and P2E. There are mixed reasons for this, some of which include:
Lack of any real playability

Worse graphics

Confusion as to the value of NFTs and tokens
For Axie Infinity to actually attract off-chain players is a noteworthy feat. This was driven in large part by the Axie Scholarship program that helped use millions of dollars to promote educational content based on GameFi. This attracted a sizable amount of early adopters, players, and enthusiasts.
A major blow to Axie Infinity came from the March 2022 hack of the Ronin Bridge, the single largest crypto hack in history. With over $600 million stolen in both ETH and USDC, many Axie Infinity users saw their funds completely disappear.
Since the hack, Sky Mavis and Axie have worked diligently to restore users' lost funds \and work with authorities. As of July 2022, Axie Infinity has not only restored all of the lost funds, but they've also just re-launched the Ronin Bridge with new security measures.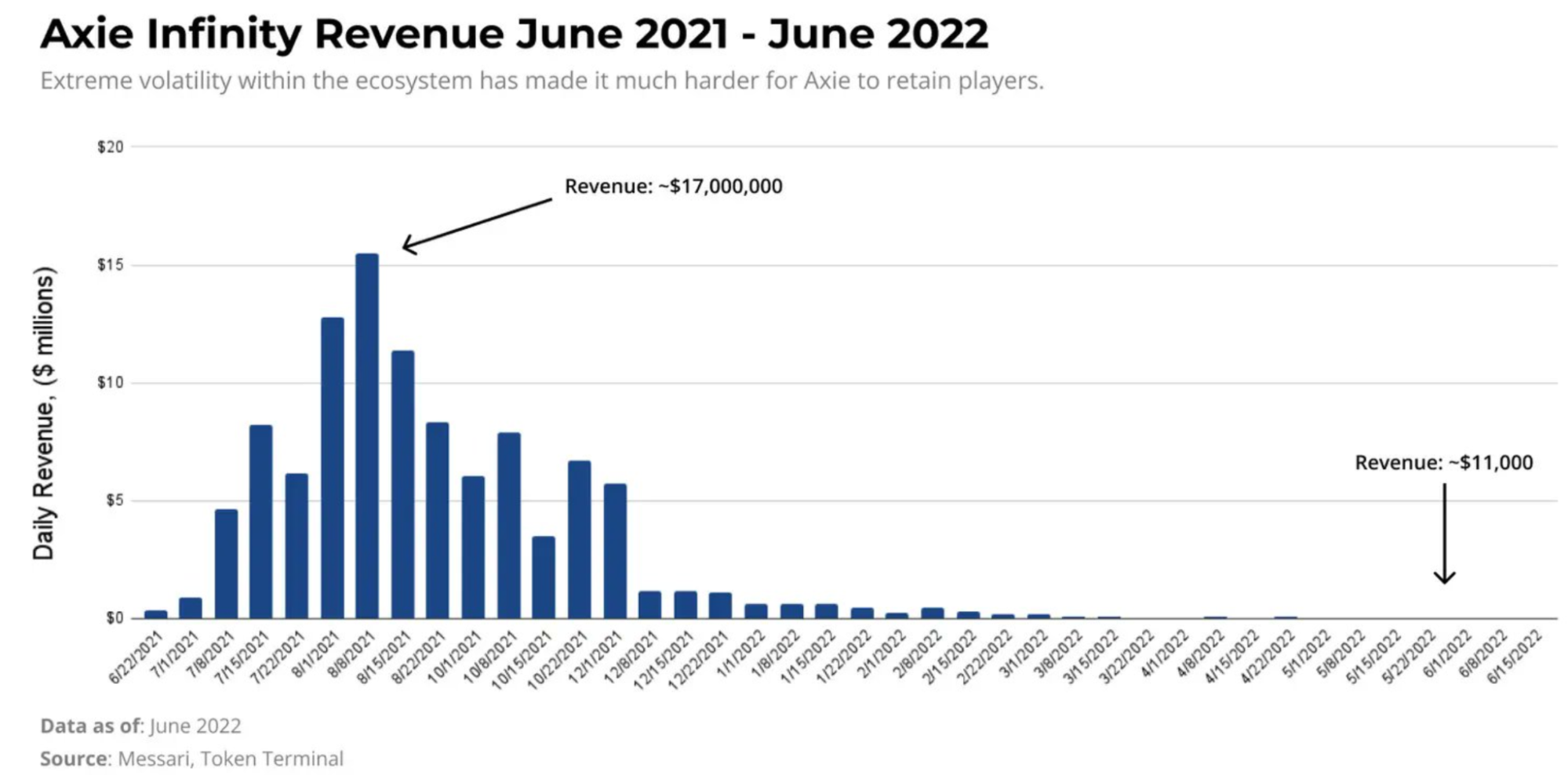 Axie Infinity Revenue June 2021–June 2022. Extreme volatility within the ecosystem has made it much harder for Axie to retain players. Source: Messari, Token Terminal.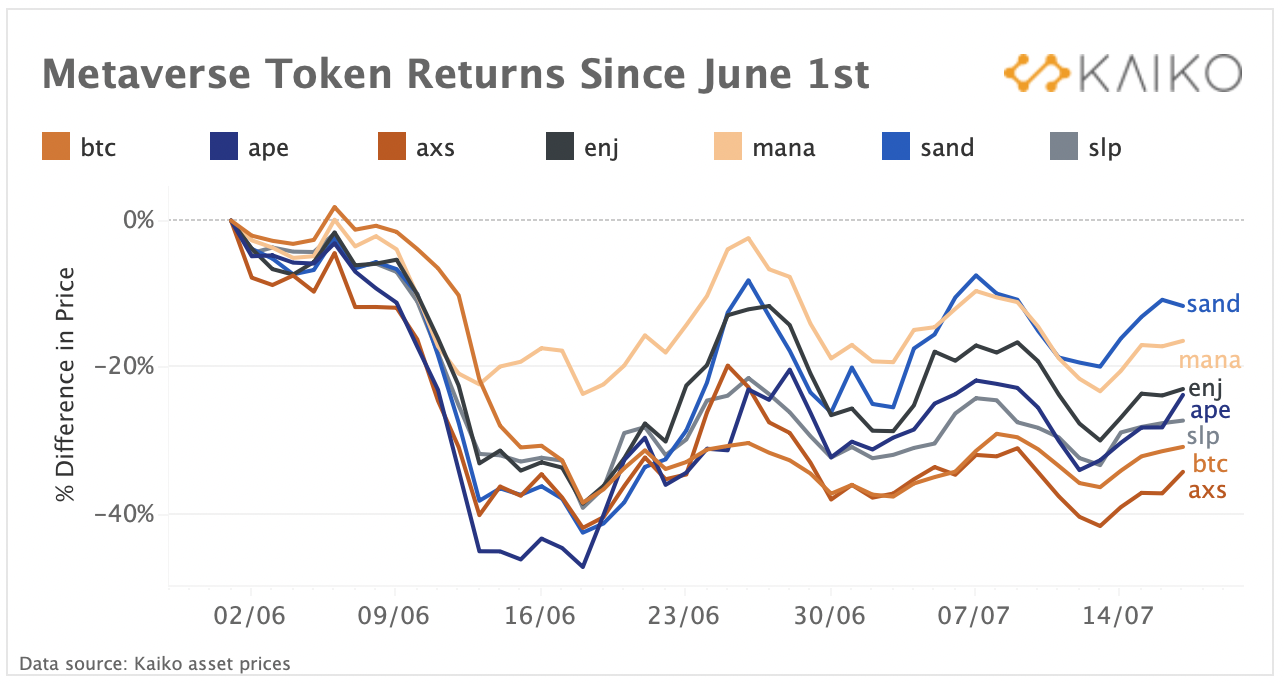 Metaverse token returns since June 1. Source: Kaiko asset prices.
Axie Infinity is also planning on expanding on its metaverse side by introducing LAND purchases for users. This will establish it as more of a protocol close to The Sandbox or Decentraland, except it'll have substantially more user playability. These LAND plots will let users own their own part of Axie Infinity, giving them the ability to gather resources and craft items to support their adventures.
Otherside (APE)
The Otherside metaverse is one of the more unique developments in the space. Otherside is entirely based around the Bored Ape Yacht Club (BAYC) NFT collection, arguably the most well-known NFT collection in the world with an entry floor of over 90 ETH (~$100,000) and a market cap of ~$1 billion.
Key Features
The Otherside metaverse is highly exclusive as, in order to participate, you must own a BAYC NFT. The metaverse itself is currently in development. It's stated to be similar to a massive multiplayer online role-playing game (MMORPG) as a gamified metaverse.
A key part of the metaverse is the BAYC NFTs will be turned into fully playable characters, where thousands of players can interact while owning the metaverse itself through LAND (in this case Otherdeeds). There are 100,000 plots of land available in Otherside, all with different features. The initial launch of LAND available for purchase notoriously "shut down" the Ethereum network by spiking gas fees upwards of thousands of dollars.
The metaverse itself was voted by the BAYC community to remain a part of the Ethereum ecosystem and is powered by Ape Coin (APE). 
Pros & Cons
BAYC has routinely led the world as the most popular—and exclusive—NFT collection ever. The Otherside metaverse will be no different. Growth itself is obviously extremely limited; only so many BAYC NFTs exist, meaning only so many players could ever be a part of Otherside.
That said, Otherside is meant to be a highly exclusive world. Thus, it'll always have that desirability for outsiders wanting to be a part of it. Because of this, as long as demand from outsiders remains strong, the floor price and value of BAYC, Ape Coin, and Otherside should appreciate over time.
The most prominent quality of Otherside is the strength of the community behind it. Most NFT collections simply lack the community and organization that BAYC & Otherside has. This is what has propelled it to its superstar status. In the first week of July 2022, Otherside officially went through a successful test where thousands of holders were able to play and interact with each other. The test itself was not without its own drawbacks and glitches, but it demonstrated the concept itself is viable.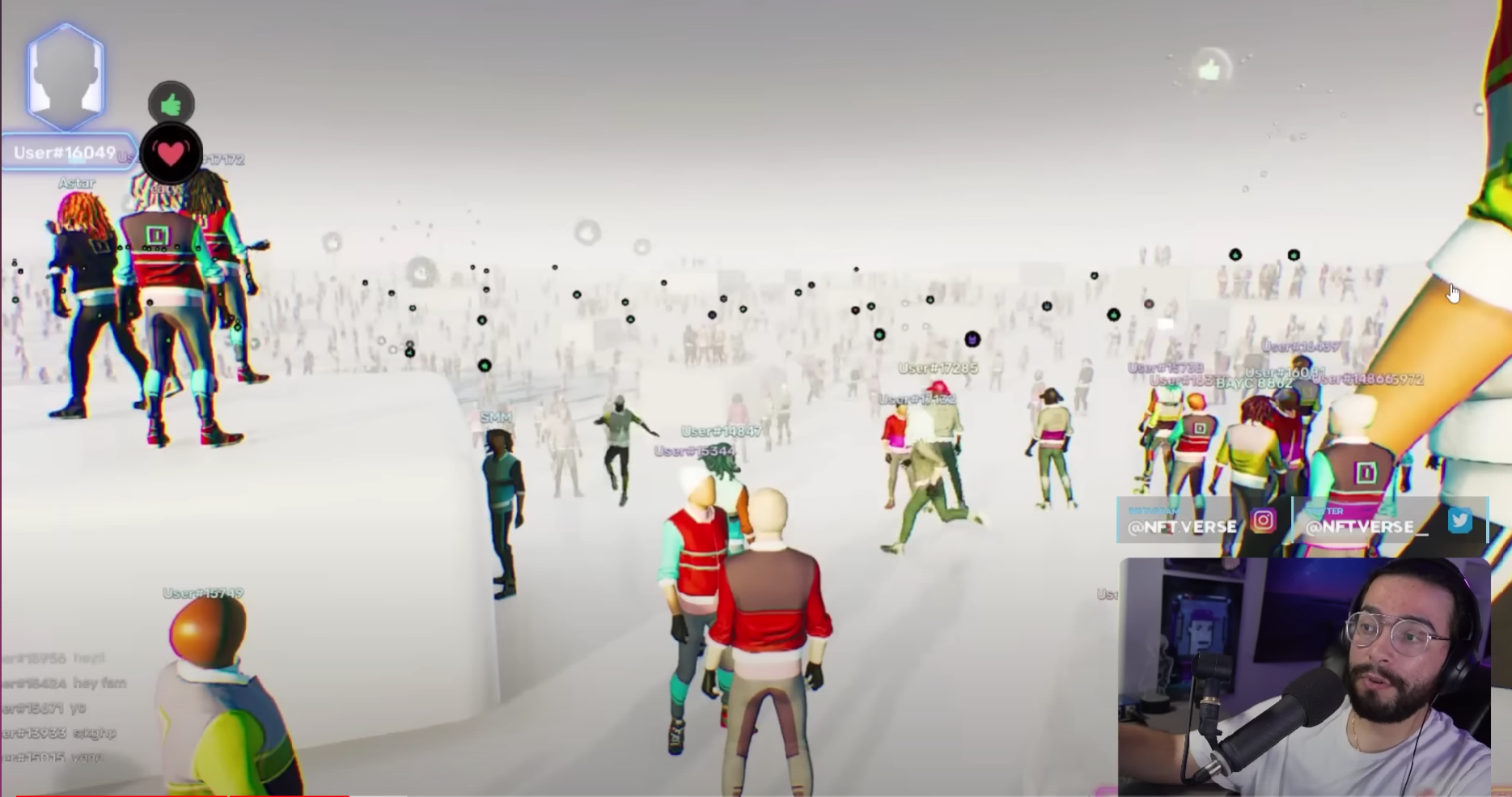 Otherside gameplay demonstration. Source: NFTVerse_
Illuvium (ILV)
Illuvium is a gamified virtual world that features both a playable open-world RPG and an auto-battler. Another protocol seemingly inspired by Pokemon and similar to Axie Infinity, players can battle and capture in-game creatures called illuvials which are converted into collectible NFTs. Illuvium was founded in 2020 and is expected to launch its full product sometime in 2022. 
Key Features
Built on the Ethereum blockchain, Illuvium focuses heavily on player ownership of both the game itself and in-game assets. The Illuvium metaverse features a few key aspects:
ILV ERC-20 token

Collectible Illuvial creatures (NFTs)

Purchasable LAND
Illuvium differs from Axie Infinity in that it has an additional focus on in-game trading and exchanges. Players themselves will be able to traverse the open world of Illuvium and battle illuvials with the hopes of defeating and capturing them. Additionally, players can battle illuvials for the opportunity to win ETH.
Speculators can also wager on battles with the hopes of winning ETH. Outside of battles, players can purchase LAND within Illuvium, allowing each player to own a piece of the physical world itself.
Illuvium world map
As of August 2022, the Illuvium native token, ILV, has a market cap of $74 million with a low maximum supply of 10 million tokens. 
Pros & Cons
Illuvium is highly speculative as the actual protocol hasn't yet launched any usable features. Currently, interested parties may purchase unspecified plots of LAND, but can't engage in trading on illuvials at all.
The actual playability is unknown. Illuvium itself is also betting on the acceptance and adoption of decentralized ownership of the platform and in-game assets as a main driver for player usage. This is something that's still relatively unproven amongst off-chain gamers outside of Axie Infinity.
What is known is Illuvium had one of the highest volume days when it closed its Balancer public sale, surpassing $90 million. Until the actual virtual world / game itself is launched, Illuvium should be considered speculative at best.
An important pro about Illuvium lies with its development team. The Warwick brothers have direct ties to the fast-growing DeFi protocol Synthetix (SNX). The brothers have outlined their own plans with Illuvium to overtake Axie Infinity and have the ties to Synthetix that can assist in driving usability and adoption over time.