Yes everybody waited for it and we got it!!
What is the update?
Now Bitcoin has its own emoji like some other prominent tags.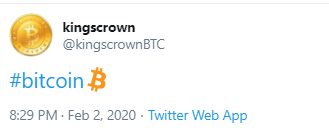 How to use it? Simple use hashtag #bitcoin and post like i did here - https://twitter.com/kingscrownBTC/status/1224052223723872257
Emoji will be auto added to the post or rather tweet.
Now there is a mission to make tag trending so retweet tweet of mine from above (consider to follow me too!), tweet yours and retweet and that you see.


REAL WAYS TO MAKE PASSIVE INCOME FROM CRYPTOCURRENCY - DOWNLOAD FREE EBOOK NOW