What an Era we are living in! Throughout the history of economics, this is the first time when we are looking at "Science and Money" walking hand in hand. The world economy has seen a lot of jumps which were related to matter but we are blessed to see the struggle for money in the air. We are the generation who is going to be discussed year after. We are going to be the very first generation to have witnessed the birth of the Blockchain revolution.
Few of us turned their fortune by trading smart but most of us sat on it for the secure future. Many of us have lost considerable figures. This is the nature of wealth and we all are well aware of this. Throughout history, we see that whenever a new tech was introduced, it brought chances along with it. Many became rich and the majority, those who were busy, protesting the change and were under the influence of rejection stayed where they were. I am saying all this because I want those who read me get prepared for a big financial and technical revolution. Why I am so hopeful is because I keep a close look at the events around and I can see us already travelling towards it. Yes, I am talking about the bitcoin revolution. I often get asked in general about the future of the Bitcoin as the majority of the people are yet to be educated about Blockchain Network. Bitcoin and Blockchain are children of the same parent sharing the same blood. To understand either one, we need to understand the potential of both together.
When we come to the successful adaptability of both then we have to focus over those Solutions that are being provided by various ICO. I am not a Technical man but I do understand economics and technology and obviously, I throw my neutral approach to all the ICO. If it is adaptable and offering a solution, then they catch my attention. When I talk about the Solutions those have real Potential I like to spread my point of view.
Recently I have studied this ICO, "DEXON".
What is DEXON?
DEXON is a project which interests me because of their approach in resolving the major issue and that is transaction time, the possibility of high scalability as well as their consensus algorithm based on "Proof-of-Participation".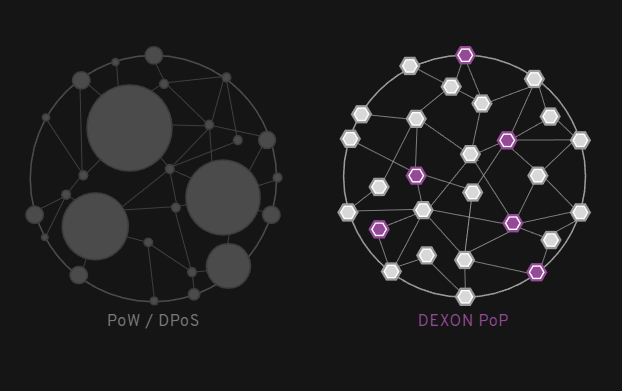 If we talk about bitcoin or any other proof-of-work solutions. We know that despite using different algos such as SHA256, X11, Scypt, etc. One thing is common that nodes are separated from mining. DEXON in their PoP solution not only provides an equal probability for nodes becoming a block producer at any time with equal validation power but also the number of validator nodes in DEXON Network can be scaled to a large number without introducing significant communication overhead, fostering full network decentralization.
As we all know, PoW (Proof-of-Work) requires a massive amount of energy consumption. Whereas DEXON's PoP (Proof-of-Participation) requires less than 1% of the CPU consumption of ordinary PoW blockchain which makes it more reliable in terms of energy efficiency.
According to their whitepaper, DEXON network can allow thousands of validators in the network by using their randomize function for block producers. Every hour, a set of validators, are selected fairly and randomly to propose and verify the blocks. This provides an equal chance of probability to be chosen by the network.
Compatibility with Other Scaling Solutions
There are many solutions which provide sidechains providing support for developers to created DApps (Decentralized Applications). According to what mentioned in their whitepaper, Dixon's network consensus has the ability to maximally provide throughput of several thousand transactions per second for each side chain, resulting whole network to handle millions of transactions per second with the possibility of scaling the network by providing the incorporated solution for using off chain scalable solutions such as lightning network and hierarchical chain scaling solutions, such as plasma network.
Smart Contract Platform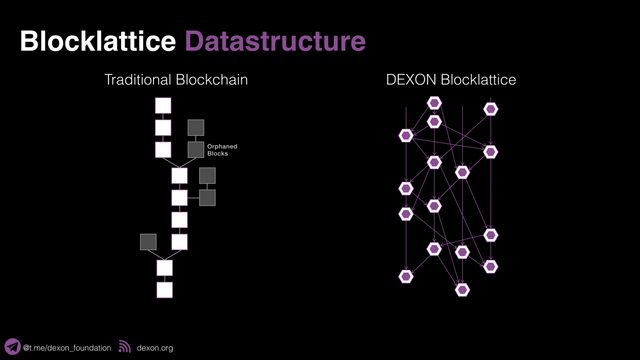 Image Credit: DEXON.org
Dixon's native programming language declaring has two different versions. One of which can be used for developing general purpose DApps. The second version is a functional, formal verifiable programming language for developing financial-focused, mission-critical DApps. By keeping these two versions Dixon's main motive is to make their DApps development as developer friendly as possible.
Now, this really looks promising. I hope that most of us will take notice of this Coin "DEXON". Guys, be optimistic and concentrate on making yourself ready for the real lifetime event, going to happen very soon. Good luck to all.
Coin Details

Name: DEXON
Trigger: DXN
Total Supply: 4 Billion
Official Website: https://DEXON.org
Whitepaper: https://storage.googleapis.com/DEXON-website/DEXON%20White%20Paper_eng_v2.1.0.pdf
Public Sale Link: https://COBINHOOD.com/token-offering/project/1f575501-4a02-48ce-8d25-ffe6e943704e
Disclaimer: Above mentioned details are based on my own research and opinion, I do not encourage anybody to make their decisions based on this post. Every individual should do their own research before investing in any cryptocurrency or public sale.