Just two weeks ago, I published a post about Elon Musk trying to buy Twitter, and I'm still following the "back and forth" around it. And it seems that a stubborn resistance by Twitter's board is going to emerge.
As many media outlets have been mentioning, Twitter's board is introducing an emergency plan aka the "poison pill" which would prevent Elon from taking over Twitter. However, the man who always likes to win, Elon, pointed out that he has a " plan B" in mind to keep going on his journey...
In humble opinion, If a crypto-bull like Elon succeeds to take over that giant social media, it would have a huge impact on crypto markets in general and Dogecoin in particular, especially if he delivers his promises about merging Doge as a tipping jar. Not that I like what he is doing, but I think it is interesting to keep a close eye on.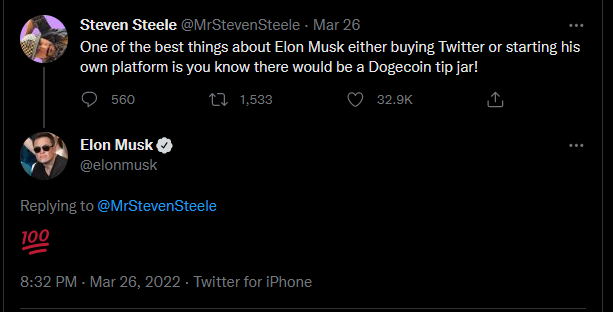 What is a "poison pill"?
Put simply, a "poison pill" strategy is a defense tactic used by a target company to discourage a potential "hostile takeover". In Twitter's case, the poison pill will allow the board to issue additional shares and sell them at discounts to existing stakeholders if Elon buys more than 15% of Twitter shares. This is meant to shrink the 15% that Elons holds unless he keeps buying the newly issued stock. As you might have imagined, this is similar to what governments do when printing money which would eventually result in Twitter's stock being less valuable and less attractive to investors- hence the term " poison pill". Elon is not an easy-going guy, however, and he said in a TED interview that he has an alternative plan If Twitter refuses his offer and this led to all sorts of speculation from the media and people alike. As per my understanding, there are a few scenarios that might come up in the coming days- the most popular of which is that Elon might be looking for co-investors who share with him the same views about Twitter and want to have a say on its future. This would enable Elon and his potential partners to bypass the 15% threshold, and then they can cooperate to make changes in the executive ranks or push for other overhauls of the company. The problem with this theory is that it's not too easy to find many people who align with Elon's character and have enough money to go on such venture.
Another possibility is that he could sue Twitter board of directors on the grounds that they aren't doing their job which includes keeping the company running in a profitable manner for the investors, especially given the fact that Twitter's board hardly holds any shares in the company so they don't really have "skin in the game". Elon himself alluded to this in one of his tweets. But in my humble opinion, it would be more likely that Elon might encourage other investors to sue the company rather than do it himself because Elon already has his legal fights with the SEC and it is not too smart to start another fight!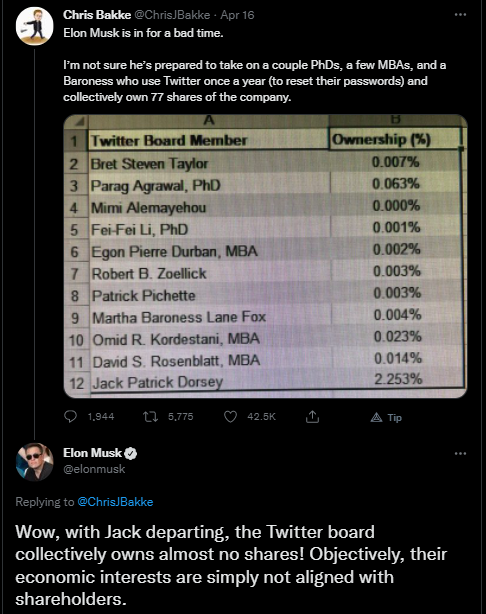 One more possibility that comes to mind is that Elon could revenge on Twitter by selling his 9.2% stake which would most likely cause Twitter's stock price to crash and turn more heads against the board. But I guess it would be a "last resort" because it would considerably harm his reputation, not to mention that it could lead to further charges by the Securities and Exchange Commission (SEC) about market manipulation...
What do you guys think about the Twitter "takeover"? Will Elon succeed in his quest?
I'm keen to read your opinions and thoughts...


THANK YOU FOR READING
---
You can also find me on these platforms: