It has been a wild week between Elon Musk and Twitter with millions around the world heading their eyes and waiting for a hint on whether Elon would really buy Twitter or the board of directors would have a different word. Well... it seems that sage almost comes to an end as Twitter's board "unanimously approved" the deal for Elon Musk's offer to purchase the company for about $44 billion. Although there is still some "paperwork" around it, it is clear that Twitter is on its way to becoming a private company that belongs to Elon only...
The announcement was unsurprisingly met with a frenzy of different opinions and views which were reflected in different tweets by users around the world, some applauding Elon for his new purchase describing it as a great step toward free speech, others argue that the dominance of such huge social media by one person will eventually fly in the face...
Well, let's be honest... is it the full over-centralization for a platform the size of Twitter to be owned by literally a single person? I wonder how most crypto enthusiasts would be ok with it!
Is it safe to trust Elon Musk? I still remember how he talked good about bitcoin last year, and then reneged on it...
Don't get me wrong, I admire Elon. He helped crypto to get exposure and coverage over the past few months, but quite frankly, I think it is kinda ironic to brag about decentralization and then support such hostile takeover just because we like the one who is doing it. After all, Crypto is all about not trusting anyone whether Elon or otherwise, right? But now that Twitter is in Elon's grip, we'll have to trust him about our data and privacy every time we log into our accounts there...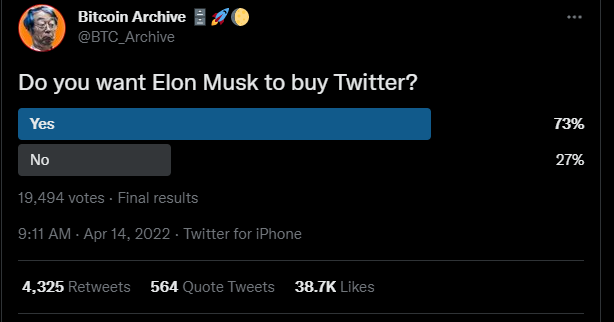 On the other hand, maybe describing things this way is a bit extreme. After all, Twitter has always been a centralized company with so many shady activities under the table.
Facebook, YouTube, TikTok...etc all are the same. They rely on ads at the expense of user privacy. Elon claims he wants to change the landscape. Now, I'm not sure if could make it better, but at least I hope he doesn't make it worse than it is.
And to be fair, Elon seems to have some positive additions to Twitter up his sleeve. For example, he mentioned that he would convert all of Twitter's code into an open-source form, which presumably means everyone will be able to see how their accounts are being treated and what is being done with their data. He also mentioned that he will expand the availability of blue checkmark for anyone who pays a monthly fee for the company. The goal is to erase fake accounts and generate an additional source of income for Twitter which will enable to reduce dependence on advertising and make more Verified accounts, providing greater security and trust. Even Twitter former CEO Jack Dorsey sent strong words of support to Elon Musk describing him as "the singular solution".
Well, to me, I'm taking this with a grain of salt...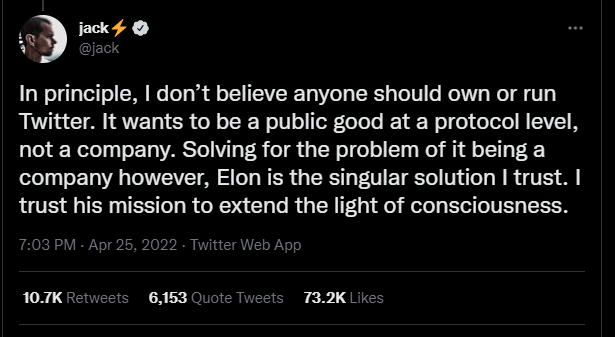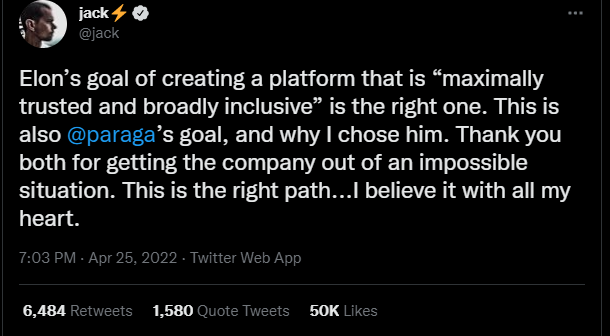 Anyhow, as a crypto community, we will most likely benefit from Elon buying Twitter, at least in the medium term. As we all know, Elon loves Dogecoin and has made it clear on multiple occasions that he plans to integrate his favorite crypto as a tipping jar. Now, despite I don't hold any Doge in my portfolio, I think this move will go a long way towards accelerating the adoption of crypto in general and Dogecoin in particular. Maybe, we're going to witness some other giant social media platforms such as Facebook or YouTube adopt other cryptocurrencies such as BTC or ETH. It is just speculation on my part, but I guess everyone would agree at this point that it is not far-fetched...
What do you guys think about "Twitter takeover"? Are you for or against it?
I'm keen to read your opinions and thoughts...
THANK YOU FOR READING
---
You can also find me on these platforms: