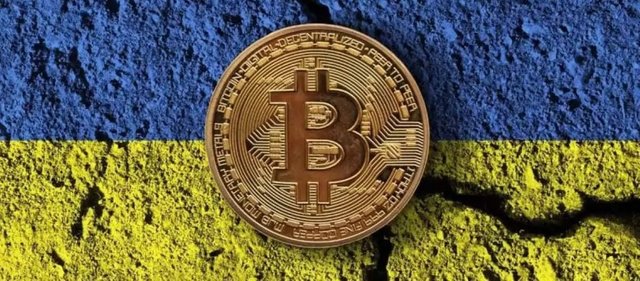 (photo credit metacrunch.org)
The Russian invasion of Ukraine is one those events that will shape Europe and the world for years to come. It's a paradigm shift in international order, where a sovereign state within the borders of Europe is declaring war to another sovereign state aiming to make it capitulate by sheer military force and bombs.
We've read some stuff about the possible use of Bitcoin by Russian oligarchs and Putin in an attempt to circumvent global financial sanctions, but this article is not about that. In fairness, Bitcoin is apolitical, agnostic, and neutral yet such news make me slightly bearish. I'll have to analyse why in a follow up article to this one.
What's more important now is the plight of Ukrainian civilians whose lives are under threat. We have witnessed that the crypto community has mobilized to assist in whichever means it can those people.
FTX, one of the leading cryptocurrency exchanges decided to donate $25 to the accounts of each of its users from Ukraine. Binance was mobilized to ensure the safe relocations of their Ukrainian based staff outside the zone of conflict. CZ, the CEO of Binance, posted a statement that money is not an issue and that they are looking at ways to help the Ukrainian people with logistics, food, fuel, shelter, medicine and whatever else they need.
*Updates: Bitcoin is committing $10 million for the humanitarian crisis in Ukraine & launching a Crypto Emergency Fund. Crypto.com is making a $1 million to the Red Cross and waving all the fees from the platform for their Ukrainian users.

Furthermore, the Ukrainian Charity "Come Back Alive" had received in the first 48hrs since the invasion around $4.4 in Bitcoin donations. This happened at a time where Patreon, decided to ban their account. What a form of poetic justice. On the one hand a centralized platform bans you from collecting money to support your country which is being invaded and on the other hand it's Bitcoin and its ability to be censorship resistant that comes to the rescue.
Kyiv Independent a news platform based in Kyiv, the capital of Ukraine, which is under siege has received another $23,000 in BTC to support its operation and reporting from the frontlines.
The Crypto community in itself has shown its vocal support for the people of Ukraine. Vitalik Buterin, the founder of Ethereum, who is of Russian origins, was one of the first to take a principled stance against the war and in support of Ukraine. He has also led his support to the Ukraine DAO, the first DAO built on Ethereum Blockchain that aims to support the Ukrainian people.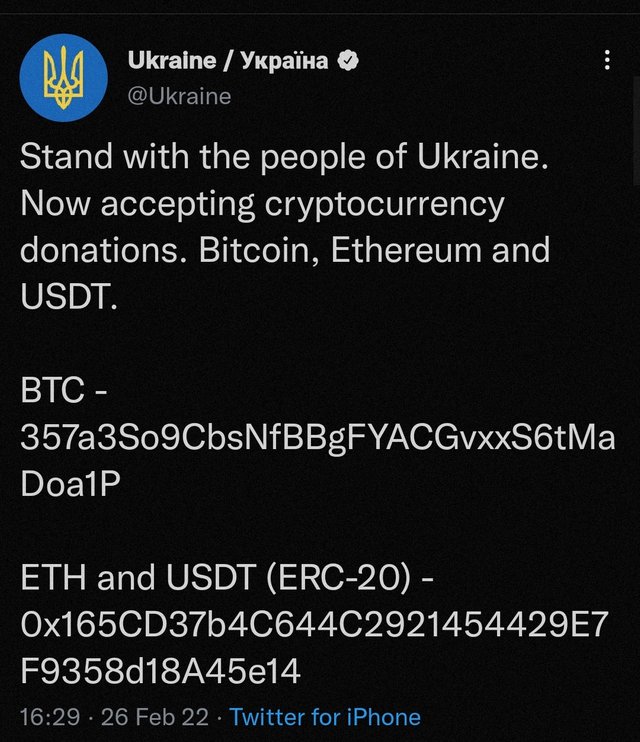 Last, even the Ukrainian government had amended some of its stringent laws on crypto financing and has officially announced that they are accepting donations in BTC, ETH, and USDT and the respective wallet addresses.
The mobilization of the crypto community has been worth every praise and has shown the world once more that Crypto is a force for good and it can make a difference, even in war.
Originally posted on my Leofinance blog.
---
---
You can connect with me on
Twitter: www.twitter.com/ceekz5
NoiseCash: https://noise.cash/u/Ceekz
Hive: https://peakd.com/@ceekz
Torum: https://www.torum.com/?referral_code=iamceekz
Legion Network: register.legionnetwork.io/8YFx2YS49m60