Bitcoin rallied strongly on Monday to kick off the week, initially dipping a bit before turning around and pushing upward to about the $52K level, closing the daily candle at the highs. This is an increasingly bullish candle as Bitcoin continues to find buyers on dips and put in higher lows, even forming a bullish wedge that could be pointing to a breakout higher. 
(March 8, 2021  7:30PM EST)
Short-Term:
Bitcoin's recent price action suggests (but does yet confirm) that Bitcoin is poised to breakout higher here, continuing the last week-plus of higher lows and repeated tests of resistance around $50K - $52K. If Bitcoin can break above $52K decisively, this would confirm a bottom in this most recent short-term correction and thus enable BTC continue to rise to $55K, the current ATH at $58K, and then $60K. We've seen ascending wedges/triangles before and they typically result in bullish resolutions. That is our primary view for the time being, however, if BItcoin were to get rejected firmly at the $52K level and break below the lower trendline, then we would switch to our alternate view that Bitcoin possibly as not yet bottomed and will likely go looking to revisit the $45K level and then 50% fib around $43.3K. 
Long(er)-Term: 
It's interesting to note that, when comparing the previous 2017 Bitcoin cycle to this one, this current pullback suspiciously mirrors the deep pullback from March 2017 as shown below, which also followed another bull market correction just a couple of months earlier, as we experienced this January. If this is any indication as to what we may be able to expect, then this significant dip may be perhaps the last medium-term accumulation opportunity to enter long positions before Bitcoin takes off to a new higher range and the parabola accelerates vertically. Anyone who was around (or cares to look) remembers that Bitcoin started off around $1,000 early in 2017, and after a few significant corrections throughout the year, in which it formed higher highs and higher lows, eventually worked up towards a blowoff top later in the year. Seasonality is lining up this time again and may be pointing to another late-year blowoff top in which BTC exceeds that of $100K or possibly even $200K.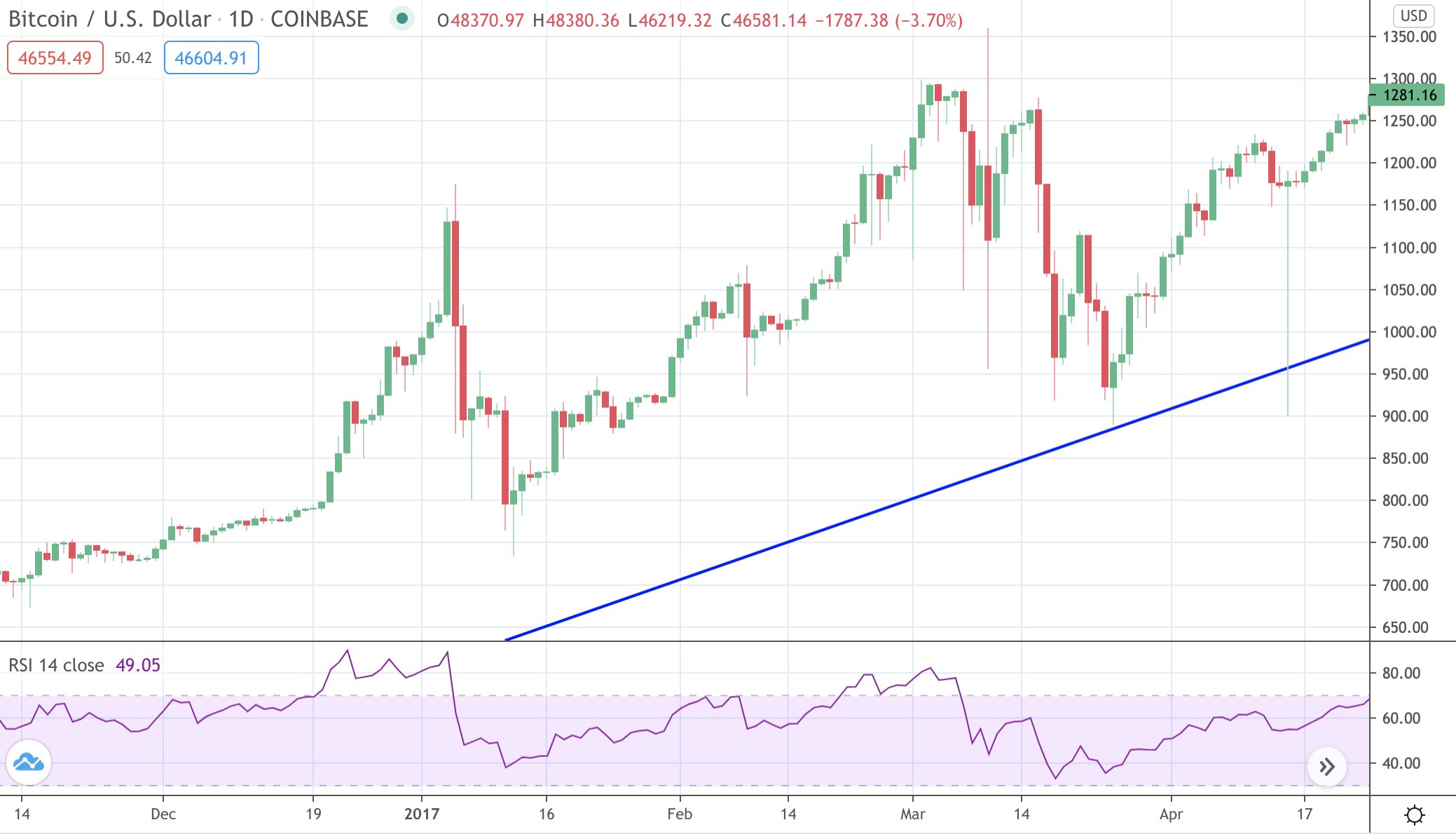 After Bitcoin confirms it has put in a bottom to this correction, Bitcoin should grind back higher as it begins a larger W3 higher (potential W3 of W3). A conservative measured move of 1.612% of the micro W1 that just terminated around $58K measures up to the 2.272% Fibonacci extension level around $99K. A more aggressive move measuring 2.612% of the recent W1 would send Bitcoin up closer to $125K (literally off my chart above). Bitcoin will likely not only hit our projected price targets but exceed them due to higher than anticipated inflation and government Quantitative Easing on a huge scale, especially starting H2 2021. I think $100K is not only on the table but a high likelihood in late 2021. Even the Stock to Flow Model for Bitcoin is well on track, pointing to a $100K - $200K Bitcoin, and the S2FX model points to a nearly $300K BTC end of this cycle. 
Support: 
1st support: $45K.
2nd support: 50% fib around ~$43K.
Floor: $40K. 
Resistance: 
Immediate-term = $60K.