I have been playing Thetan Arena for the past couple of days just to test it out as there seems to be quite some hype around this new Play2Earn game. This is all the info I learned so far that can help those who want an initial beginner guide...
So Thetan Arena actually is an existing mobile game called Heroes Strike - Modern Moba & Battle Royale (Still available in the app store) which was re-released with some Crypto and Play2Earn mechanics duct-taped onto it. As a result, it got 4 Million players in the first week and a THG coin which is their governance token with a fully diluted market cap of 5.6 Billion Dollars along with a THC coin used for purchases and rewards worth 6.3 Million.

What is a MOBA Game
Moba stands for Multiplayer Online Battle Arena and it basically is an arena where players see their hero from a top-down view in an arena where they fight each other in different game modes. There are different hero classes and each have their own abilities and games can be both played in teams or solo. The game is designed for Mobile Devices (a huge audience) but there is also a PC version and it is quite casual with controls and dynamics that are easy to pick up while having enough diversity to still make it interesting for a longer period of time.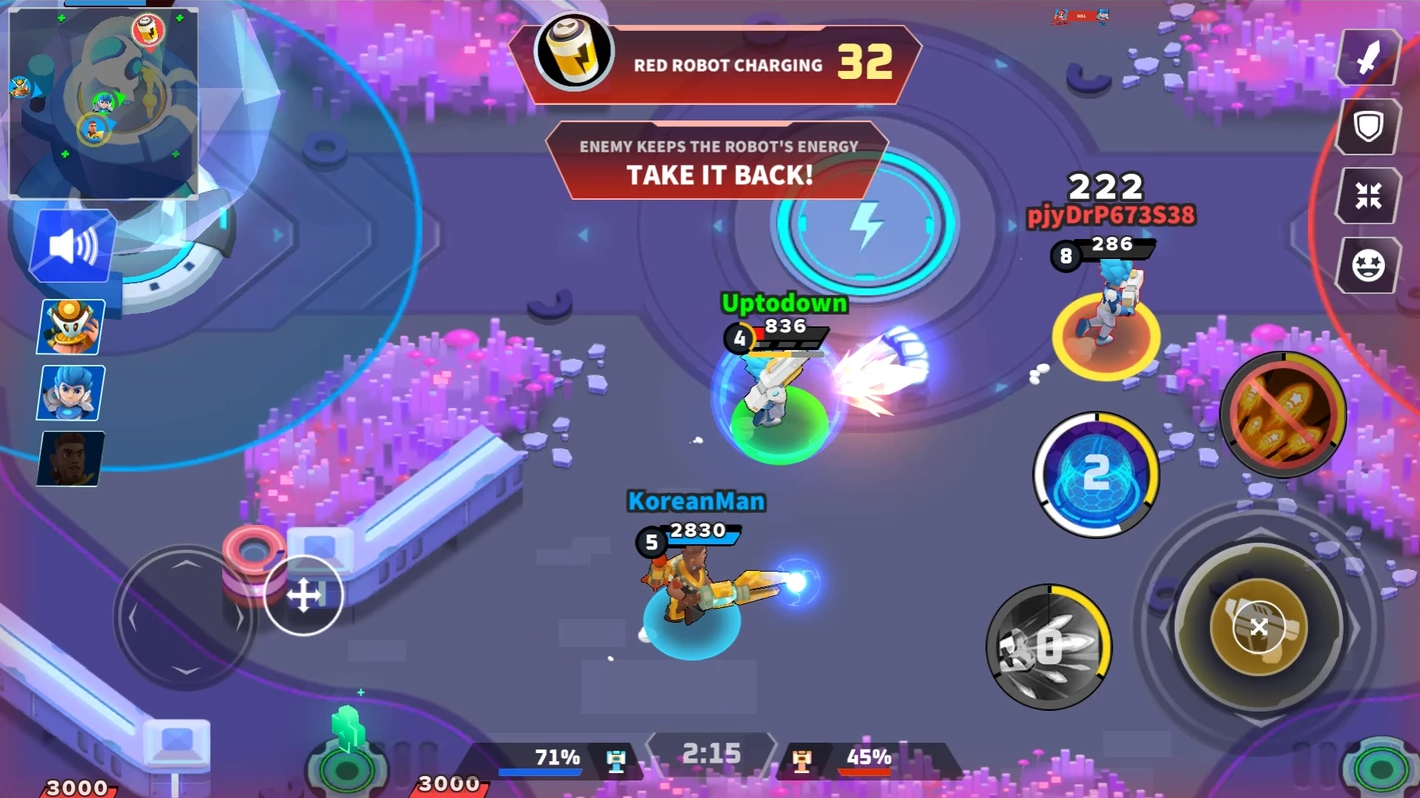 Play2Earn Mechanics & Tokenomics
They have a dual token system with THG and THC. The main idea is that new heroes are minted from Lootboxes that players buy (1000 THC / 2000 THC / 233.898 THG for Common-Epic-Legendary). That is 300$-600$-3500$! Each Box contains 1 Hero with a certain rarity based on specific odds for each box. Common boxes for example have a small chance to give an epic Hero, Epic boxes also give players a small chance to contain a common hero.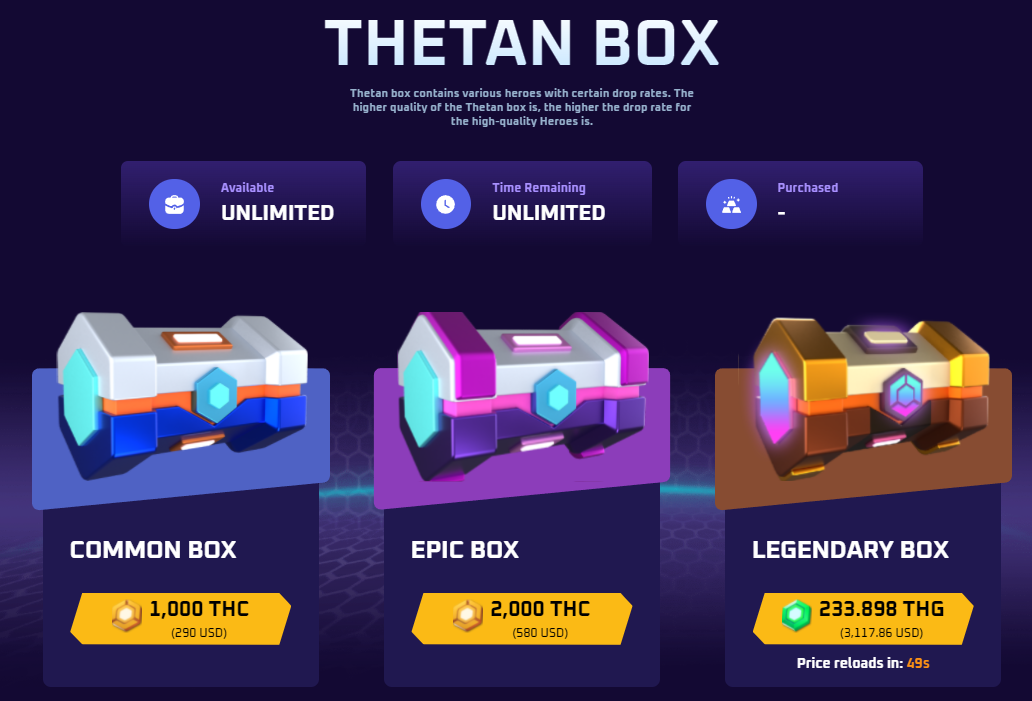 Each hero can be played forever but they only generate THC for a fixed total amount of games played with also a maximum each day. After that, they can be upgraded (read pay more to give extra games where you can earn and a pay2win advantage with +1.5% increased stats for each level).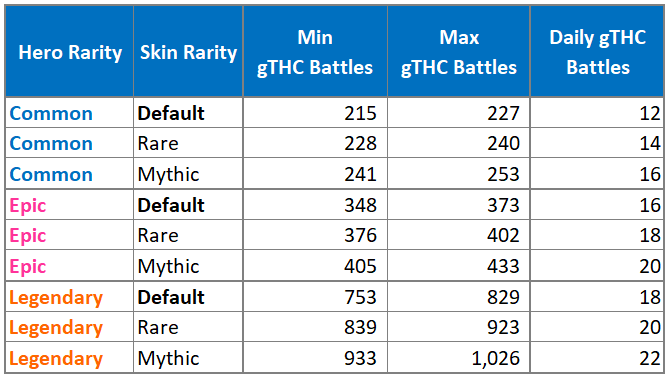 In terms of earning, the base earnings are 6 THC for a Win / 2 THC for a Draw / 1 THC for a Loss and there are multipliers based on the hero rarity.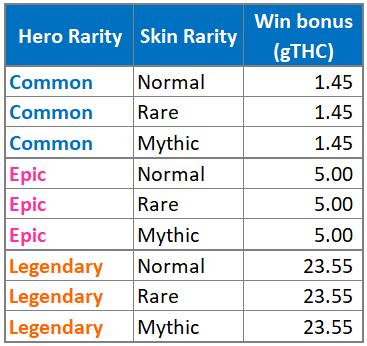 So the Epic and Legendary heroes not only have more battles they can earn on, they also have higher earning multipliers. When it comes down to power I guess everything should be balanced with the more expensive heroes not having a pay2win advantage.
---
Marketplace
Heroes can freely be sold or bought on the marketplace (which runs on Binance Smart Chain). It is made really easy to make an account and connect it to your metamask. The blockchain tech from Kardiachain (KAI) is used in the background. The cheapest heroes that are being sold go for somewhere between 100$-150$, it is of vital importance to see how many games have already been played since the more there are played, the fewer earning potential these heroes have left in them. If it says 44/222 it means 44 games have been played and 178 are still left in the tank.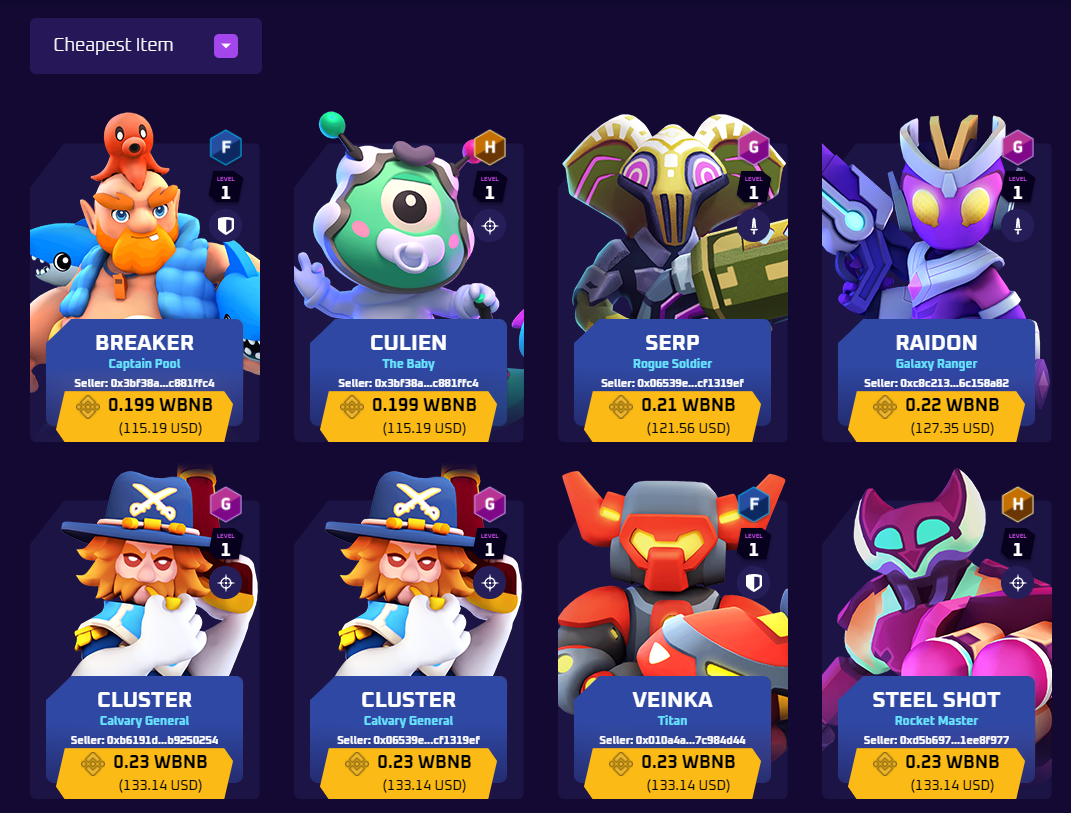 Free2Play & Free2Earn
Each new player also gets 3 free heroes to play at the start for as long as they want but they don't have any direct earning potential. There is a season with a ladder to climb which does unlock THC rewards that the free2play players also get. The THC you get increases the higher you reach in the rankings. It will be quite the challenge as a Free2Play solo player to climb as you will start facing teams that have good coördination and also heroes that have the pay2win advantage.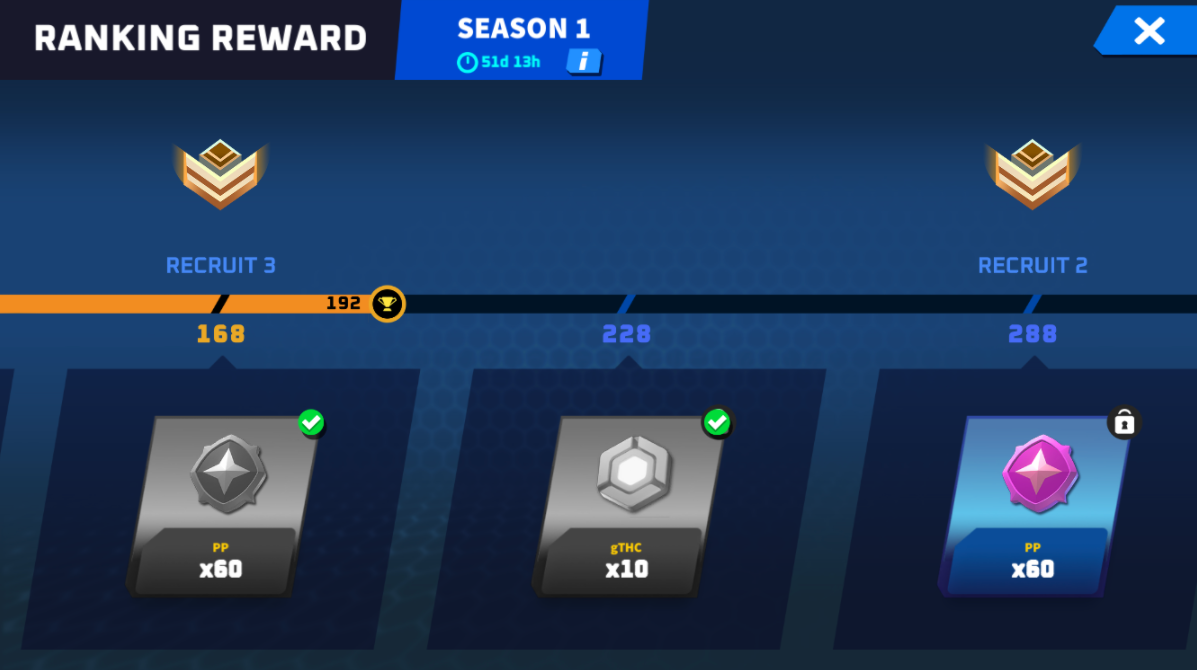 Claiming THC you potentially earned as a Free2Play Player also will be a challenge as there are restrictions and the 4% fee needs to be paid in THG to make it extra complicated.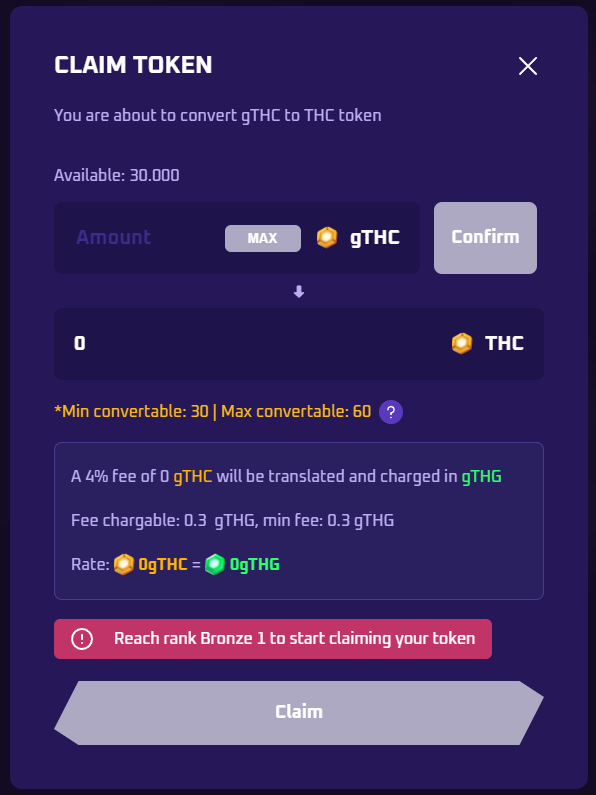 Is The Game Fun?
I can be really clear about this, YES !!!. I personally never played games like League Of Legends because I never really understood the concept. Thetan Arena I guess is a casual version of this and I found really enjoying the gameplay wanting to get better at it (as a Free2Play Player). The basic dynamics are pretty easy to understand and once you get a grip on them, the game is really addictive also because the games only take 3-5 minutes each. It can also be very frustrating if you are stuck with bad teammates and I found myself ragequitting multiple times to jump back into it just minutes later. Unlike most crypto games, this is actually a proper game I would say that you actually want to play aside from the Play2Earn mechanics.
How Much Can You Earn?
All those youtube videos of earning 100$ an hour with Thetan Arena are basically just Clickbait. You certainly are able to earn and get a return if you are a really skilled player/team and are lucky on the hero you get from a box you paid at least 300$ for or when you managed to get a good deal on a hero on the marketplace. The Price of THC is pretty much supply and demand and it can potentially come down or go up for all I know. So far, the selling pressure has pushed the price down quite a bit on THC.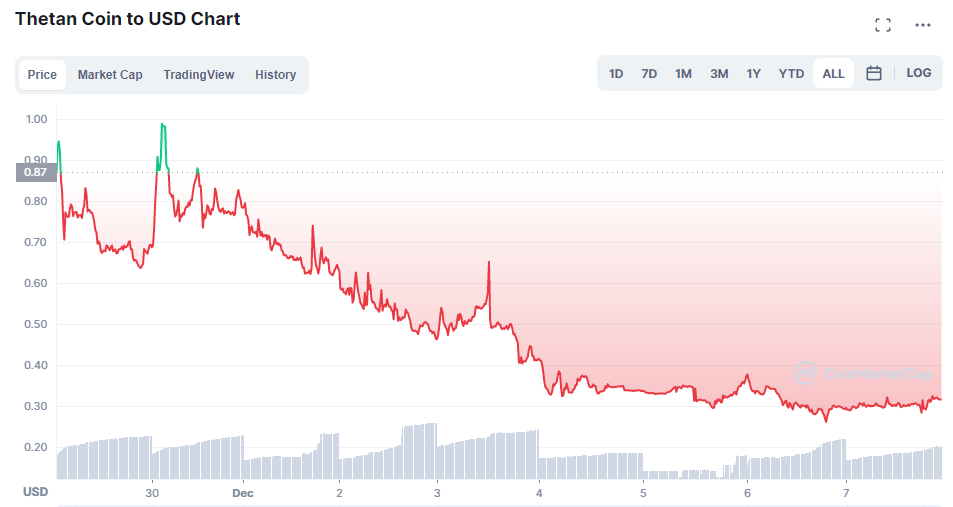 Basically, you pay a certain amount and you try to earn it back and a little more on top of that. This is the main Play2Earn mechanic which I guess is quite fair and adds a certain dynamic to the game for those that want. There are quite high fees (4%) for buying/selling cards & cashing out which all go to the treasury of the THG coin. For more info on the exact dynamics, check the Whitepaper
The price of THG on the other hand has gone up a lot because of the popularity the game had at its launch attracting 4 million players. There is only 7% of all the coins in circulation so plenty will get dumped onto new buyers along the way which makes it rather tricky. The ICO price was 0.08$ and it has gone up around 148x ever since.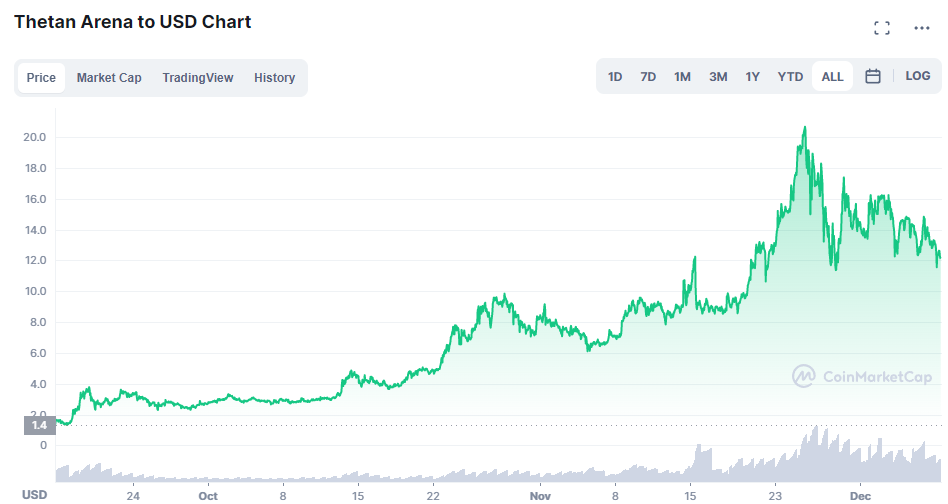 This remains crypto, so who knows how high it all can end up going especially if they manage to get a lot of volume going getting those 4% trading commissions into the THG treasury.
---
How To Play?
There are a couple of different modes but the basic gameplay is everywhere about the same. It is a pretty casual game so nothing about it is all too complicated. In Team Deathmatch which is the main mode where you battle with 3 teammates against 4 opponents, you try to survive while killing the enemies. There are gift boxes in the game you can shoot to get up to 3 special abilities which you can select in the main menu. If you die, you will respawn in your base and as time goes by, deaths count with a multiplier so at the end of the match when it has a x3 multiplier it allows teams that are behind to still make a comeback. After around 4 minutes of play, the game ends and the team with the most points takes the win. You basically learn the game as you play and it doesn't take that long to click.
Roadmap
The team behind the game looks quite solid going from what they have built and there are plenty more updates to come to the game. One of the main dangers for crypto games is that fun eventually is sacrificed to keep up the economy.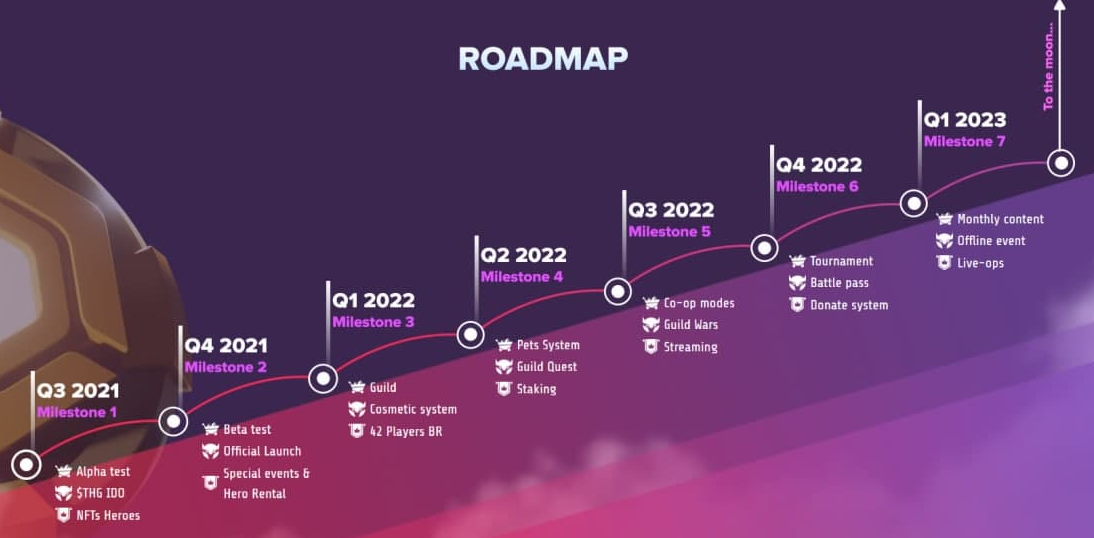 Conclusion
One of the things that most crypto-based games have in common is that nobody would actually play them if it wasn't for the potential earnings. Thetan Arena (& also Clash Of Streamers) for sure is an exception to this rule and I had plenty of fun trying it out getting quite addicted to it for a full day. I can also see those that are willing to both invest and put in the time to actually get really good at it getting some returns from it and most likely it will end up having a loyal player base. While I'm tempted to play more from here on out, I know I won't be able to put up the commitment and effort to actually make it worth the time I'm already lacking. I will keep the game installed and might play a couple of games just for fun as a Free2Play Player and that will be about it.
I'm also not investing in THG mostly because of the Fully diluted Marketcap of over 5 Billion. I am looking into KAI which is the token from Kardiachain which is the blockchain the game uses which has a fully diluted market cap of just under 400 Million. As a reference:
Minecraft which is one of the best-selling games of all time was sold by Notch to Microsoft for 2.5 Billion which is one of the numbers I go by.
Brawl Stars which is a similar type of Mobile Moba Game grossed 526 Million Dollars in Revenue in 2020.
---
Hive: https://hive.blog/@costanza
Noise.cash: https://noise.cash/u/costanza
Leofinance: https://leofinance.io/@costanza
Twitter: https://twitter.com/costanzabets