I've been getting ready for my 2nd season playing Sorare.com aiming to also compete in the Rare Cap240 League on a very tight budget. I bought 2 more cheap cards last week...
Rare Cards Strategy
So my overall goal remains to always have a team to submit each week there are matches in the Belgian League and stay on a very small budget not playing the Pay2Win game but instead go for value and try to at least reach the Required Threshold to get 250 Points which won't be easy. If one of the players has a hot streak reaching a higher average score over the last 15 matches and the price goes up, I aim to take profit and buy a cheaper more speculative one and keep that process going. The aim also is never to have more than 9 Rare cards as this also allows me to enter in the Kickoff - Rare Tournament on top of the Cap 240-Rare Tournament.

2 New Rare Cards Bought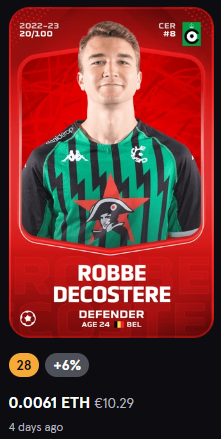 I'm pretty much looking for dirt cheap players that have a fair chance to actually play and do well for the value and utility to go up a lot. One of those is Robbe Decostere who is a 25-year-old defender from Cercle Brugge. He's been with Cercle for a couple of years first being loaned out to Tubize in 2020. In the years after with Cercle, he averaged 17-20 matches where he played in a season and Cercle is kind of short in defenders right now so he might be an option as a starter even though his stats so far haven't been spectacular. This also very much reflects in the price and the demand as I managed to pick him up from an auction for just 10.29€ making him the cheapest Player in my rare collection. So in worst case scenario it's a -10€ loss and in best case scenario I would say he becomes a starter for the team and performs ok bumping the price up to 30€-50€ or even more in case General demand in Sorare would go up. At the age of 24 he also has plenty of years to go. In their first practice match against good opponent Servette, he started in team (along with Warleson) being subbed like many others around minute 60' to give young players a chance.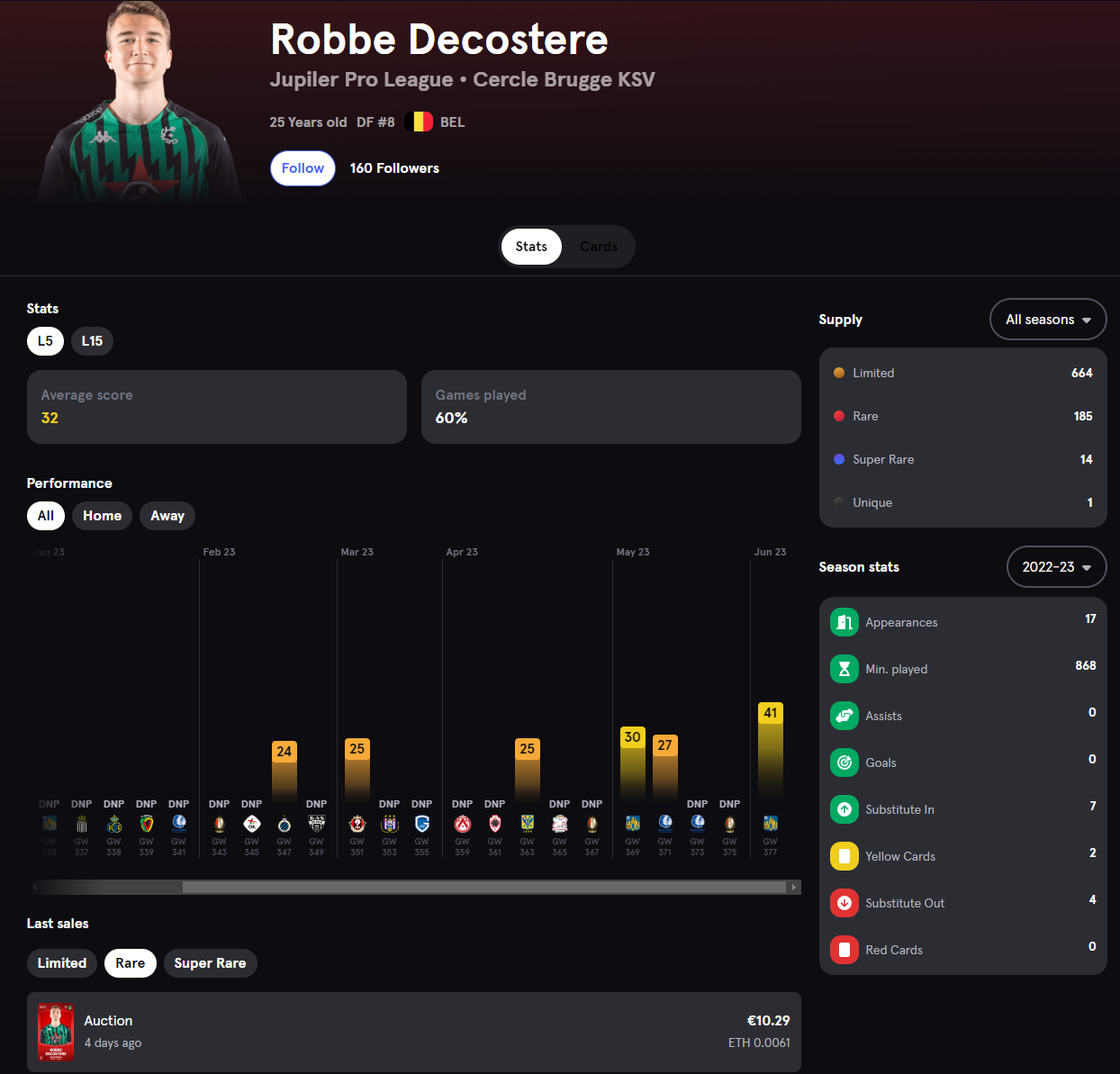 ---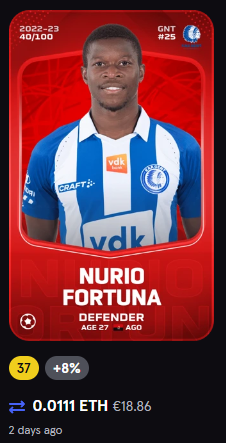 Defenders tend to be the cheapest which is one of the reasons I now have 3 of them and purchased Nurnio Fortuna from AA Gent who will also play in Europe which adds some utility even though I don't have a goalkeeper to enter that league. From what I remember, he was injured near the end last season but otherwise was a frequent starter and performed decent enough when he did start and even scored a goal. He's fit now and started in the practice matches from AA Gent so far so he should be able to make his minutes this season and who knows put up great performances. Similar to Decosterre, there is limited downside but enough upside potential in the price and utility even though it's by no means a top tier player. In the zone of budget players though I like him as one of the cards to hold. I paid 18.86€ in a direct offer deal for him.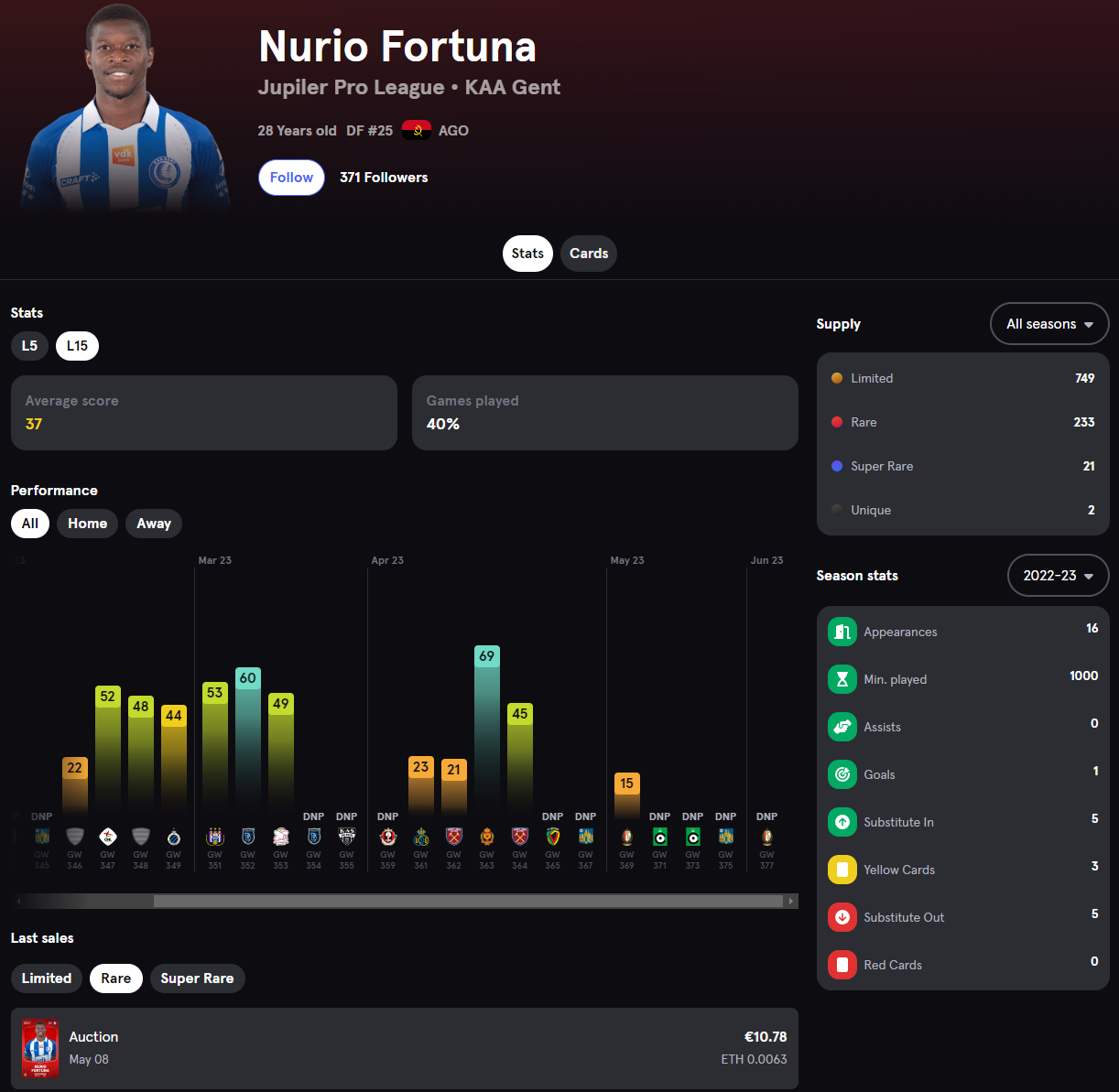 Owned Rare Cards & Values
(last Price update 12/07/2023)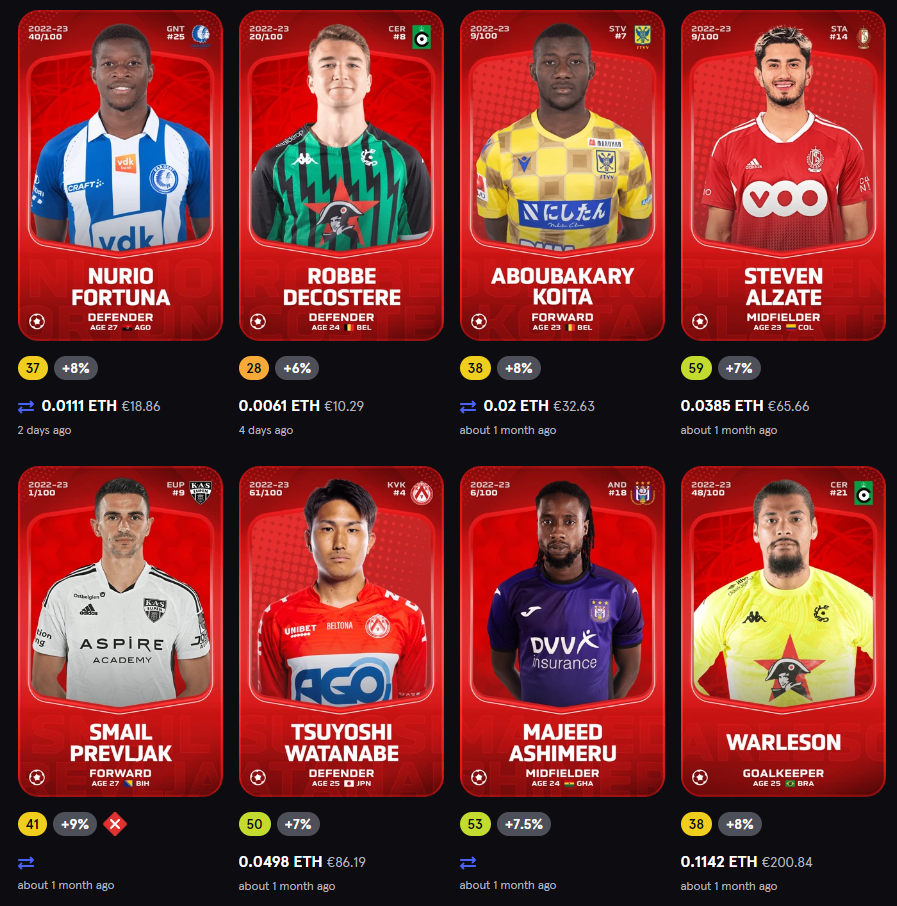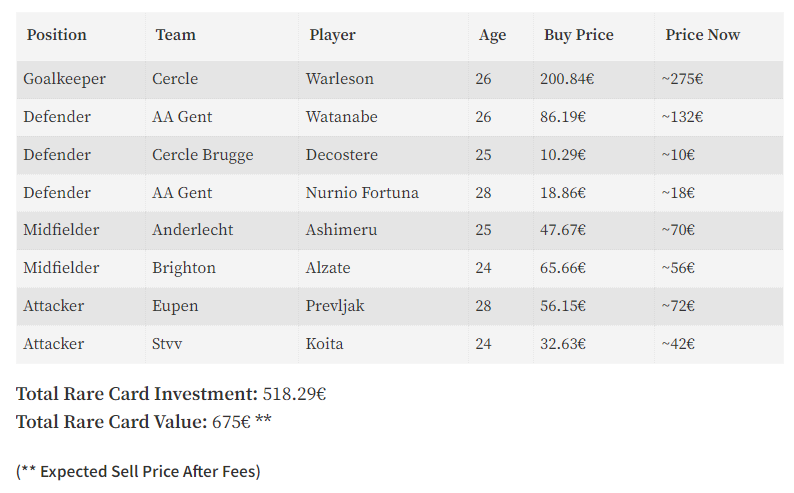 So far I'm doing good on my Rare card collection and I'm expecting multiple buys and sells this season along with hopefully some 50$ Prize Payouts and for sure a lot of excitement along the way. Warleson looks to be the 1st choice as a Cercle Goalkeeper even though I'm not 100% sure yet also because young Goalkeeper Delanghe is trading at a much higher price hopefully because he has got a lot more years to go. Prevljak so far doesn't yet have a new team and is a free player so it can be a hit or a miss depending on where he lands up. Alzate didn't get transferred to Club Brugge as anticipated but he instead will get a chane again in Brighton which might land him either starting on the bench or performing well and getting in the team. Regardless he should be good for the quality and stats he has based on the price I paid. I'm still looking to pick up either 1 Midfielder or 1 Attacker extra to get me to 9 players which is the maximum allowed to have in order to be able to play in the Kickoff Rare Tournament.
Conclusion
I'm nearly fully ready in Sorare for the 2023-2024 season with a Rare Team that should be able to at least have a chance to reach the 250 Point threshold. If any football fan is looking to join the journey, feel free to sign-up with my link to receive a free limited card when building your first team! I also made a Full Beginner Guide for players that are looking to start on a very tight budget!

Play2Earn Games I'm Currently Playing...

---
Hive: https://hive.blog/@costanza
Noise.app: https://noise.cash/u/costanza
Leofinance: https://leofinance.io/@costanza
Twitter: https://twitter.com/costanzabets