I made a review on the freebitco.in faucet which allows you to earn some free Satoshis about 3 Months ago. (See Post) This is a follow-up article making a proper evaluation it's worth it.
The conclusion that I made in the previous post was that doing the daily free spin on freebitco.in was quite fun not requiring a lot of time with a small chance to ever get something out of it making it worth it for me.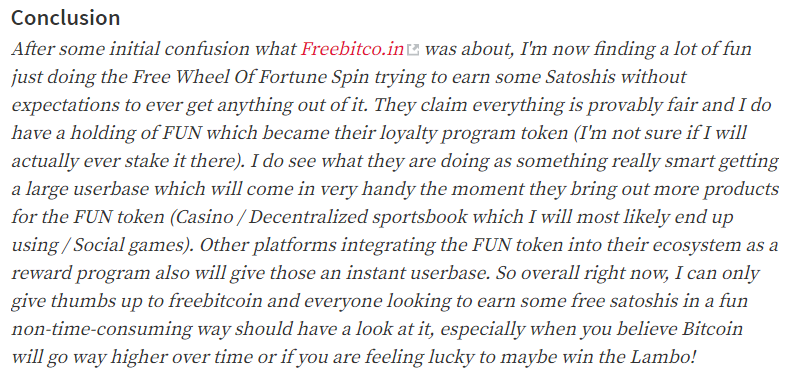 3 Months Later
Doing the free wheel of fortune Spin that comes in a daily e-mail is something that is pretty much part of my daily routine since I'm behind my computer quite a lot and it literally takes less than a minute. In the past, there was a captcha that needed to be completed but this now has gone for some reason (I don't have FUN Tokens on my account and just went full free2gamble mode.)
Account Balance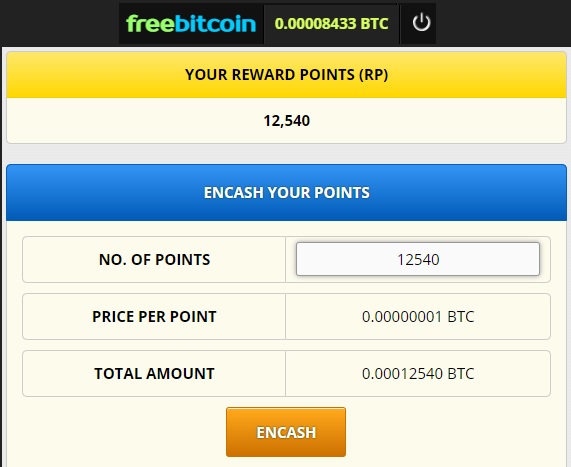 Doing the daily spin for around 3 months now, I managed to win/earn 0.00008433 BTC and 12540 Reward Points (0.00012540 BTC value), so ~0.00021 BTC combined which at the current price is ~6.77$. With a minimum of 100k Reward Points needed in order to be converted to BTC, I'm only 12.5% far for that which would mean I need about 2 years of doing the spins (if I don't hit anything big) in order to be able to convert the reward points. The Minimum Withdrawal amount for BTC also is 0.0003 BTC with a transaction cost of 0.00001440 BTC. My 0.00008433 BTC is currently 28% completed to reach 0.0003 BTC in order to be able to make a withdrawal.
---
Conclusion
So is it worth doing the freebitco.in faucet / free daily spin ? I would say yes and no. Purely looking at the amounts you are realistically expected to earn even if Bitcoin goes to 200k+ it's not really worth it. On the other hand, it provides some free fun gambling with a minor chance to hit something big and nothing at risk. Especially with the captcha no longer required (at least for me this is the case) I will continue to make a quick daily login from the ticket I get from the e-mail subscription list without expecting anything further. Anything on top of the free daily dopamine hit clicking the wheel I see as a bonus.
Hive: https://hive.blog/@costanza
Noise.cash: https://noise.cash/u/costanza
Leofinance: https://leofinance.io/@costanza
Twitter: https://twitter.com/costanzabets