I had a hard time falling asleep last night so I revisited an old crypto project I used to follow but deemed to be dead to see it back on track again. This is Blitzpredict...
When I first came across Blitzpredict it was on the rare products I could actually see myself using as a Sports Bettor. Their goal was to create a sportsbook aggregator where you would be able to directly take the best odds from different bookmakers very similar to what my main Betting Broker Sportmarket Pro is doing. Along with that, they would provide a platform where you can track betting predictions on the blockchain so they can be verified.
I never invested in the XBP token as it always felt like another ICO to get funds to get stuck afterward with a token they needed to give some utility for. What they aim to do also doesn't really need a blockchain in my view. Sportmarket Pro has been perfectly reliable for me for many years while Copytip along with Blogabet and others offer a good way where it's hard to fake your record while allowing others to follow your tips.
Nevertheless, I always liked Blitzpredict as I could see myself using their product. They are based in Las Vegas and the people behind it seem to understand betting (which is a rare thing when it comes down to blockchain betting projects). they had a working demo product out for a while where it was possible to track predictions on the Ethereum Blockchain and actually managed to attract quite some real sports bettors and served as a great option for the SBCcommunity with at one time 16 of us using it to track their bets. (where is the time )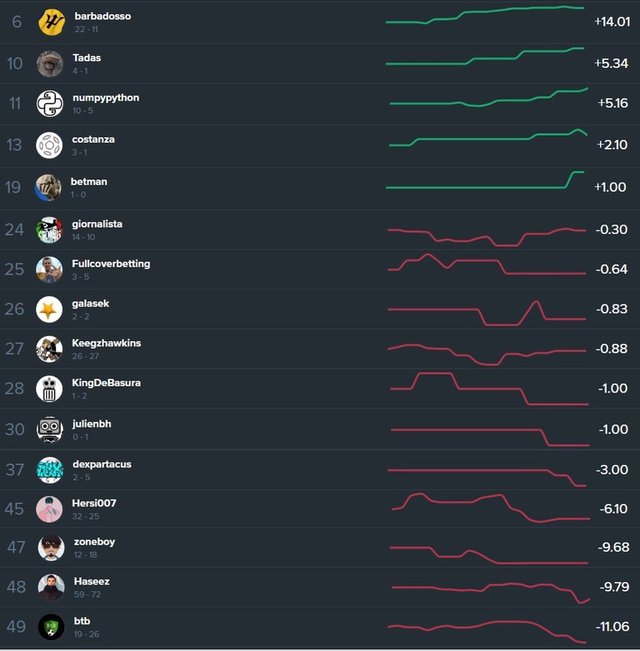 With Scorum basically having dropped Betscorum and Steem switching over to a non-linear reward curve, it pretty much became impossible to grow a real betting community and Blitzpredict also decided to drop the prediction platform (See Post) announcing they would focus on a peer-to-peer betting exchange things quickly went downhill.
To make things worse, in October 2019 (See Report) it seemed Blitzpredict had thrown the towel on everything that involved betting on their platform and in a strange move switched to becoming a real-time debugging tool for Ethereum (Blitztools)
I randomly checked their website (blitzpredict.io) last night and to my surprise, it seemed they are back with their original plan stating they will launch in September 2020. They are currently rank 1524 o Coinmarketcap with a valuation of ~80k Dollar and have listings on Bancor, IDEX & HitBTC. It is not a coin I would invest in (read gamble on) but I do look forward to actually using their platform once it becomes available and will continue to bring updates on what they are up to.
---
Hive: https://hive.blog/@costanza
Steemit: https://steemit.com/@costanza
Scorum: https://scorum.com/en-us/profile/@costanza
Twitter: https://twitter.com/costanzabets