This is a weekly overview of my personal sports trading results on teams from the Belgian Jupiler League documenting my journey toward long-term profit with some insights on my overall approach.
The playoffs continue to be packed with surprising results in that Club Brugge saw their 16 point lead being reduced to 5 in only 2 matches putting them under some extra pressure. There are also still wild matches with all matches having gone over 2.5 and 2 of them have had 8 goals. So it's hard to make a lot of sensible predictions which doesn't make me all too confident in an approach where I take bigger bets all at once. Instead, I have been cost-averaging into positions to reduced risk which so far is working properly as it resulted in some nice profit last weekend.

Only 1 pre-game bet in the preview post on Sunday (Link) which ended up closely winning by 1 corner.
---

I had no big bets last week that I wanted to include in the bets I take some extra on over at Copytip while sharing it in the SBC Discord Channel. I will see how it goes and get in some action if the opportunity presents itself.
Copytip /Discord Bets Season 2020-2021
19/04/2020 Anwterp -0.5 CK @ 1.92 (73' 6-3) FT 9-4 Bet WON
14/03/2020 Racing Genk +0 @ 2.720 (0-2 69') FT 1-2 LOST
11/12/2020 Racing Genk +0 @ 1.945 FT 1-0 LOST
01/11/2020 Antwerp +0 @ 2.500 FT 1-0 LOST
03/10/2020 OHL vs Zulte 1H U 1.25 @ 1.989 HT 1-0 HALF WON
30/08/2020 Club Brugge -0.25 @ 1.846 (20' 0-0) FT 2-1 WON
22/08/2020 Zulte Team Total over 2 @ 1.924 (37' 1-0) FT 4-1 WON

I take all my Pre-Game & Live bets with my Betting Broker Sportmarket Pro who always provides the best offers on the market with a 1 click solution and doesn't limit winning players offering high limits. For more info check my Sportmarket Pro Review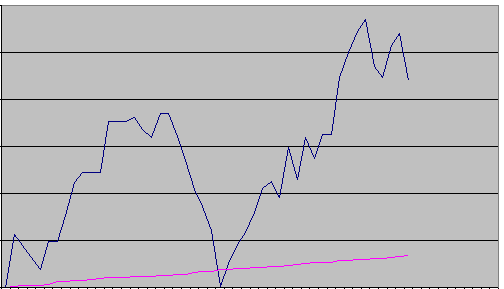 The chart with all my bets during the playoffs likely will stay totally random as I just won't have the volume. So far so good though with some solid +1.756 units profit on an average bet size of only 0.24 units. I will continue in a similar way the next 2 weeks
---
---
Playoff Results 2020-2021
Playoffs W2 Results 22 Bets | 15W-06L-01P | Staked 04.988u | +1.752u Profit
Playoffs W1 Results 25 Bets | 08W-11L-06P | Staked 06.250u | +0.004u Profit
 Regular Season 2020-2021 Results
1389 Bets | 636W-612L-142P | 361.457 Staked | +11.518u Profit | +3.19% ROI

---
Season 2019-2020 | 1406 Bets +2.48% ROI
Season 2018-2019 | 1090 Bets +2.47% ROI
Season 2017-2018 | 821 Bets +7.22% ROI

---

Week 3 will be played on Wednesday and Thursday with all matches being broadcast separately. I will make preview posts with all matches in them while covering the in-game action on the SBC Discord Server bringing another update on the results later this week...

---

Hive: https://hive.blog/@costanza
Leofinance: https://leofinance.io/@costanza
Twitter: https://twitter.com/costanzabets