As an cryptocurrency investor, you must be prepared to DYOR (do your own research) and take the time to analyze and study any potential ICO you may wish to invest in. It is so easy to get caught up in fake marketing and hype, leading you to make bad decisions. No matter how great the website looks or how many of your so called 'trusted' YouTubers promote any given, you can only really trust yourself and what you as the investor believe to be the truth.
Below I will to give you one of potential project that interest you !!!
Blockchain technology with the aids of Smart Contract will remove the activities of intermediaries and human manipulation in general. Today , will be focusing my topic of discussion on an inspiring Blockchain Gaming Platform named Smart-Games.io. The Team of this Project has critically examined the prevalent problem in Gambling industry and have come up with a sustainable solution which will guarantee 100% transparency to the Global users. This is a complete revolution that will always ensure, equality, fairness and transparency in their Gaming Platform.
ABOUT SMARTGAMES PLATFORM
Smart-Games.io is complete Decentralized Gaming Platform which ensures 100% transparency and remove any barriers related to manipulation. Smart-Games.io is a place for all Gamers who really want to be a Winner always . Users who want to earn daily income can also join the Smart-Games.io gambling market.Users does not need to register their details on the Platform before placing bet unlike some other Platforms . Users can deposit to the Platform wallets by connecting their wallets through Tron-links to the Platform. The implementation of Blockchain Technology in their platform will guarantee absolute transparency and fairness in their Platform. It will also ensure reduction in transactions charges within the Platform and lastly protecting all users identity since users doesn't need to fill any form or register they details before playing Games. Users only need to connect their Tronlink wallet to the Platform and play Games with no limit.

In the next few years are targeted Smart Game platform will have large number of users due to the amazing benefits its offers and their Unique Concepts. Users play Games and receive their winnings which they can sell on Exchange. There are so many benefit attached to using Smart Game Platform. Each Games played on this Platform despite the amount of bet placed users receive token as compensation for playing Games weather you win or lose in the actual Game played. There are limits to number of the token issued on Smart Game Platform, this means the total supply is finite and can not be increased beyond the issued Supply. Users receive dividends for holding tokens every 12 hours. All Dividends are being paid to the users Tron Wallets. It can be used for service subscription on Smart Games Platform or exchanged for other Cryptocurrency or Fiat. That choice depends on the user.
USERS WANT 100% GAMING PLATFORM SHOULD GO FOR Smart-Games 
The Game transparency are ensured through Smart Contract as all Gaming activities in the Platform are governed by the Blockchain Smart Contract thereby eliminating third party or human intervention. Users place their bets easily in Blockchain form. The entire process is self directory and user friendly. i will explain the process of placing bet in the Smart-Games.io below. The Smart Contract take charge of majority of activities in the Platform, it compares betting results and pays out the winnings to the appropriate winners automatically in their wallet.
In Smart-Games.io Platform you dont have to make any deposits or going through any registration of any kind. All users required to do is to connect their Tron wallet through TRONlink to the Platform to conduct any kind of betting their wish to do. Winnings are paid instantly to wallets with no limitation. There is no needs to waiting forever for payment to be made to the winners. Another interesting feature of this platform is that the users identity is completely anonymous. Since users are not required to go through an form of registration, their details are not retained.
Below are the Process involved in Playing LUCKROLL GAME:
User must make sure they have logged in with their TRONlink wallet or any supportive wallet to the TRON network. There must be TRXcryptocurrency in the users wallet.
User must enter the bet amount they will play.
Users must adjust the slider area which range from 0-99 .When slider are moved by user, odds and winning percentage get automatically adjusted.
Next step is to Select (ROLL UNDER) or (ROLL OVER)
Click (ROLL) button for placing a bet
Confirm transaction rate in your wallet , the smart contract generate lucky numbers randomly from 0 to 99
Users become winner if the lucky number fall in the area chosen by the use.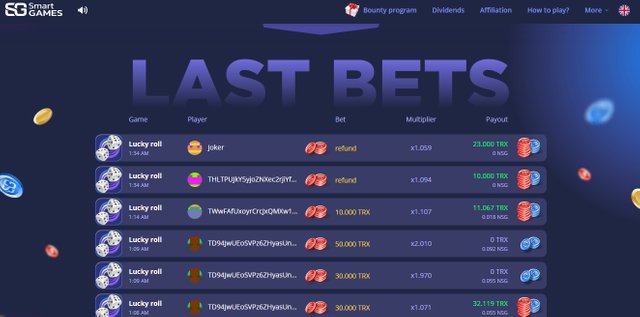 Usefull Links :
Website: https://smart-games.io/
Twitter:  https://twitter.com/smartgames_io
Telegram: https://t.me/smartgames_community
Medium: https://medium.com/@smartgamesio
Author :
Bitcointalk Profile : maniabireta
Tron Address : TUzU4uSxU8Nsu4o5NtDXo7UUw7c8w2prhU