Hello Dicitizens,
wassup? well, I assume quite annoyed. I have been playing Dcity for the past couple of months. I was going pretty fine and I was maintaining my city stats in a pretty well manner order. I got used to only 10-15% tax which I think was ok doke. I was very happy that I've almost achieved the 700 Sims/ day target. This happiness couldn't stay longer and then Dcity implied 70% tax. my daily sim earning reduced drastically and since I don't pay much attention and that's really bad of me why I don't pay attention to what's happening around especially when you have invested in something. All thanks to neoxiancity newspaper where one dcity related article was featured. I read that article then I got to know that my Sim income has reduced due to heavy taxation. When I read that tax is 70% I was shocked hehe but you know what you can overcome this problem by buying Law firms. Well, it means more investment. Last night, I bought 1 Law firm in order to check what exactly it will do.
Well, I didn't see any significant change so I am going to buy two more law firms. I am taking a screenshot of my current city stats and I will tell you if law firms are really worth buying and if they can control such heavy taxation.
Current stats of my city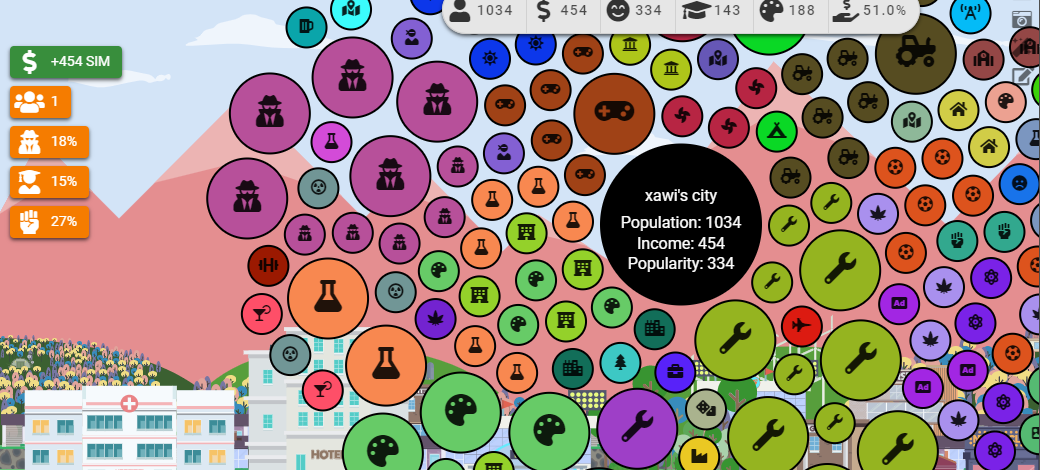 ---
I just purchased Two law firms 1575 Sim each. Last night I spent 1700 sim on one Law firm and today almost 100 sims benefit Nice. If you want to buy it with a swap. hive then it is trading at almost 6 hives each.
Law firm gives you 2 popularity, 10 Income. It requires 10 workers so if you have plenty of unemployed workers then this card is surely a great deal for you. 10% tax reduction Nice but wait what i just read 
Works only once per city whaaaaaaat, daang why didn't I read it beforelolz it is what it is huh well I am keeping them because with respect to workers and income they are pretty useful. That's all for now see ya