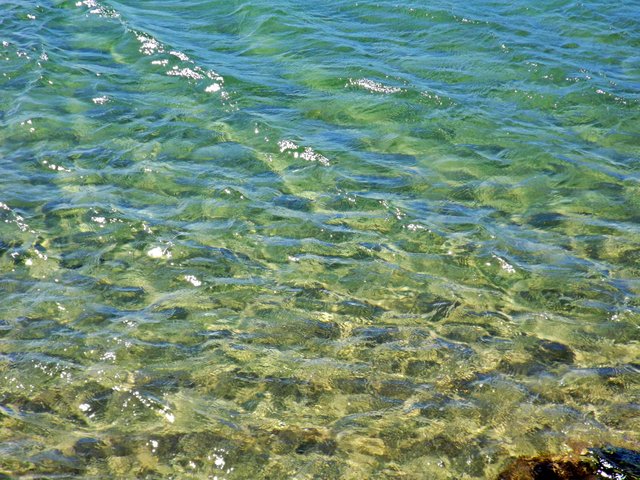 "Water!" Screamed my brain the entire trip... "Gimme water!" my throat demanded! It was inevitable, one of those things you can't control. After all it was 48°C and the weather man was saying in the radio that all the humidity was making the heat way more bigger, so instead of 48°C we were experiencing 97°C. "Even tho the thermometer says 48°C with all the humidity, the sensation gets higher and its 97°C the real temp".... kept saying the meteorologist, followed by "stay hydrated" and all my brain was saying was "Water, gimme water!"
My dad wanted to go to the bay and feel the breeze of the Atlantic ocean, after all the wind of the north is always "cold" and refreshing. The sun was boiling the entire place, vapor was coming out of the streets like a mirage and I felt dizzy. Living my entire life at the Caribbean has trained me to endure all type of harsh weather but this year the heat is literally unbearable. Spending one day at 48°C (feels like 97°C) its ok, no problem. Spending 2 months of 48°C (feels like damned 97°C) is torture!
We reached the bay, the place was full of elderly people... all of them seeking that "cold" breeze of the north but it seems the north was too busy trying to survive the heat wave cause the air was hot. "Water, gimme water"... over and over again bounced in my head. Hot air, hot sun, hot road, hot me... there were no one selling water in there, all the stores were closed. I bet their owners were too tired of the heat and went home. Seriously, who the hell can work when its 97°C outside? Who the hell can live with 97°C? Period! I was feeling like the road, vapor was coming out of my body, was dizzy, nauseated and in a type of trance watching the water moving with the wind.
We hop in the car and turned the ac on. If you want cold air you have to stick to the air conditioner cause north air is not cold anymore! "Ice cream, I want ice cream" I told to my sister while she was driving. Five minutes later we were indulging ourselves with nutella ice cream and ready to keep moving on outside with the hellish heat. "Water, gimme water!".... started the brain again...