When it comes to Bitcoin or its price, interested readers will find thousands of articles on the Internet. The range here extends from apocalyptic scenarios to extremely positive forecasts. On the one hand, it underlines the volatility and the unpredictable nature of the digital currency. On the other hand, the range shows that, while it is easy to obtain information in the digital age, it is all the more difficult to find high-quality information. Neutral and objective considerations are rare, as self-interest often accompanies the valuation of an asset.

With this article, we would like to create a solid basis in which Bitcoin is viewed objectively. It is therefore about no more and no less than the question of how well Bitcoin is actually suitable as an investment object and asset.


Objective: How good is Bitcoin as an investment object?
The goal of this article is to perform an analysis of the most popular crypto currency. Elements of financial mathematics are used for this. The results of the analysis are presented graphically and are shown and interpreted in the context of the article.

Main keywords in this article here are correlation, volatility, Sharpe ratio and allocation. If you are unsure about the meaning of these terms, we recommend that you read the source article (Bitcoin Portfolio Analysis).

Below you will also see a simple tabular representation of what you can expect from this article and which questions are answered. We will also show you which questions - at least in this article - we do not answer.

WHAT YOU CAN EXPECT IN THE ARTICLE
Was Bitcoin a good investment in the past?
How has Bitcoin performed compared to other asset classes and financial products?
Is it true that Bitcoin is an uncorrelated asset?
Does Bitcoin - from a financial perspective - have similar characteristics to gold?
Does it make sense to hold Bitcoin as part of a diversified portfolio?
s it worth the risk of investing in BTC?
How much does the crypto currency fluctuate compared to other financial products?
WHAT YOU CANNOT EXPECT
Can I become a millionaire with Bitcoin?
What is the Bitcoin rate 2021 and 2022?
What is Bitcoin's potential for the future?
Can BTC replace national currencies in the future?
Structure and methodology of the article
We start with the chapter on terminology. Then we enter into the analysis and look at the results. At the end we discuss the insights gained and what significance they have for us. One question that we have not yet clarified is the question of the time frame and the financial products and asset classes we are comparing.


Period and choice of asset classes
Our analysis looks at the period from 01.01.2016 to 01.06.2020. We have therefore chosen an approximate time span of 4.5 years. We have explicitly excluded the period from 2013 to 2016, as the market capitalization of Bitcoin was still largely in the single-digit billion range. The daily trading volume was also very low compared to today. This has a direct impact on volatility and other factors. In order to achieve the best possible significance, we have therefore chosen 01.01.2016 as the starting date.

We have chosen the following two asset classes as comparison objects: precious metals and (passive) index funds. We have thus explicitly excluded bonds and equities. We have primarily excluded bonds because there are only a few investors and investors who still rely on this asset at the present time.

While in Europe government bonds (with the exception of countries such as Greece) have hardly been yielding any returns for several years now, investors with US government bonds have at least been able to achieve a return close to inflation. Since the interest rate adjustments there, however, these times are also over. We have therefore refrained from investing in equities, as the incredibly large selection of individual stocks makes it difficult to find good objects of comparison.

The concrete objects of comparison in detail

In our opinion, we have therefore placed more emphasis on the aspects of relevance and dissemination in the population. A study by the Association of German Banks from 2019 shows that the majority of Germans invest in fund units and/or use a savings plan for this purpose. This survey shows the Germans' most popular investment products in 2019. source. statista.de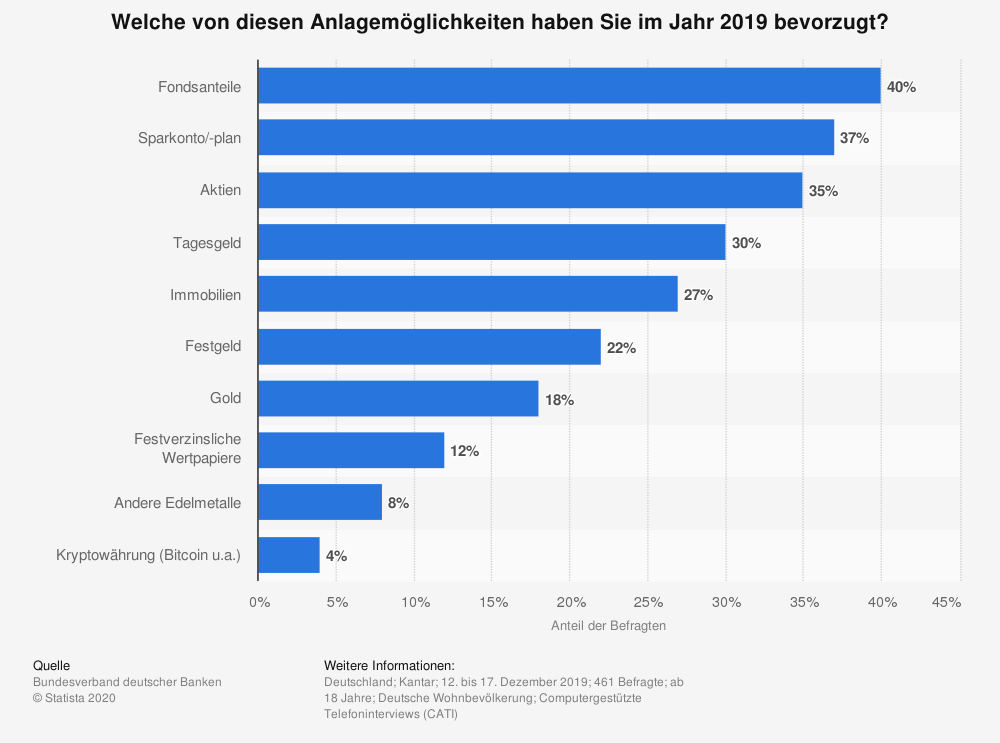 Exactly for this reason we have chosen passive index funds, so-called ETFs, as comparison objects. These are not only popular, but are largely served with monthly savings plans. Many investors and private investors also use ETFs as a retirement provision and long-term investment. As a representative of passive index funds, we have chosen the iShares products of the Blackrock company. These not only rank among the largest index funds by volume in their segment, but are often the first choice for private investors.  
Specifically, we have chosen the three ETFs iShares Core MSCI World UCITS ETF (WKN:A0RPWH), iShares Core S&P 500 UCITS ETF USD (ISIN:IE0031442068) and the iShares Core DAX® UCITS ETF (ISIN:DE0005933931).  
In the precious metals sector, we have taken the gold price (in USD) as our reference value. For many investors, gold is still considered a hedge in their portfolio. In addition, the frequent comparison between Bitcoin and gold has led us to include the most popular precious metal in our analysis. The basic information should now be clear. It became clear what the aim of the article is and the questions and aspects it addresses.
The original content came from german blog Bitcoin2Go. Take a deeper look into it with google translator.