The Price of Bitcoin has been steadily decreasing over the last few months setting up Lower Highs & Lower Lows Since it reached the $14000 mark.
The Price action was forming a Descending Wedge which was acting as a resistance and was not broken for a very long time.
But Now with the recent price surge near $8600 the wedge has been broken and the next 24 hour Price action will serve as a key for Bitcoin on whether or not it will continue the Positive price action.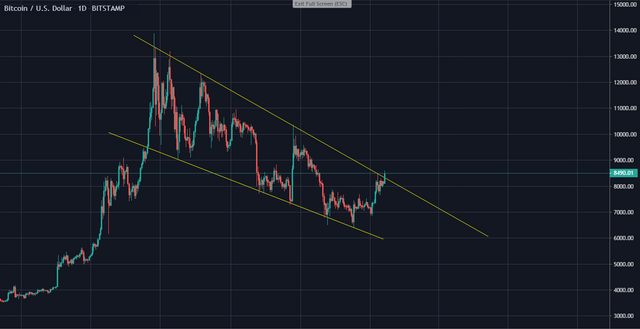 IMO Keep your eyes on the price of Bitcoin for the next few days.
If Bitcoin can hold this price range for the next couple of days I can Confidently say that Bitcoin is not going below $7000 again and THE BOTTOM IS IN.
Let's see what is about to happen.
 If you have anything to say please leave it in the comments.  
If you have found value in this content leave an Upvote.You can Follow me HERE.
Thank you. 

Want to support me on my journey??
Register at WazirX and get 200 WRX coins for free :https://bit.ly/2GYhyc8

Register at BitBns and get INR 100 for free :https://bit.ly/2KIoRFU

Register at LocalBitcoins :https://bit.ly/2KvvPPS

Register on the World's Leading Crypto Exchange BINANCE:https://www.binance.com/en/register?ref=21829990
 Donate Bitcoin:1L8dcMuoZHZMJsEZ8sWMJswsjV5nbEikGZ

Subscribe to my Youtube channel:https://youtube.com/channel/UCLb64DSrl_1-xOijZwYOivg

Connect with me onTwitter:https://twitter.com/nithishgirivel

LinkedIn:https://linkedin.com/in/nithish-kumar-2b348a142