At the time of writing, Coinmarketcap shows that the total market cap of the top 100 cryptocurrencies is at $309,997,070,376. That is absolutely astronomical for something Trump(POTUS) claims is based on thin air while referring to Bitcoin in one of his tweets. That hasn't seemed to deter anyone and as trends show, bitcoin has been rallying and I bet early investors are smiling to the bank right now. However, the question to ask is, how can one track these trends and benefit from this knowledge? Well, that right there was a question I kept asking myself until I ran into this nifty tool on Stateofthedapps called Santiment


source
Santiment is an innovative, opensource web-based software and platform created on the 4th of July 2017, where users can keep track of cryptocurrency-related activities. Having a glossary of over 1200 assets and increasing, it is your one-stop location for getting information regarding cryptocurrency and I thought I'd share why.
After a one hour long conversation with Max Bartel, one of the staff of the platform, I got an overview of what SANTIMENT has to offer and here's what you need to know;
 The first step to using the platform(assuming you are new) is scheduling a walkthrough where you get to talk with one of the customer reps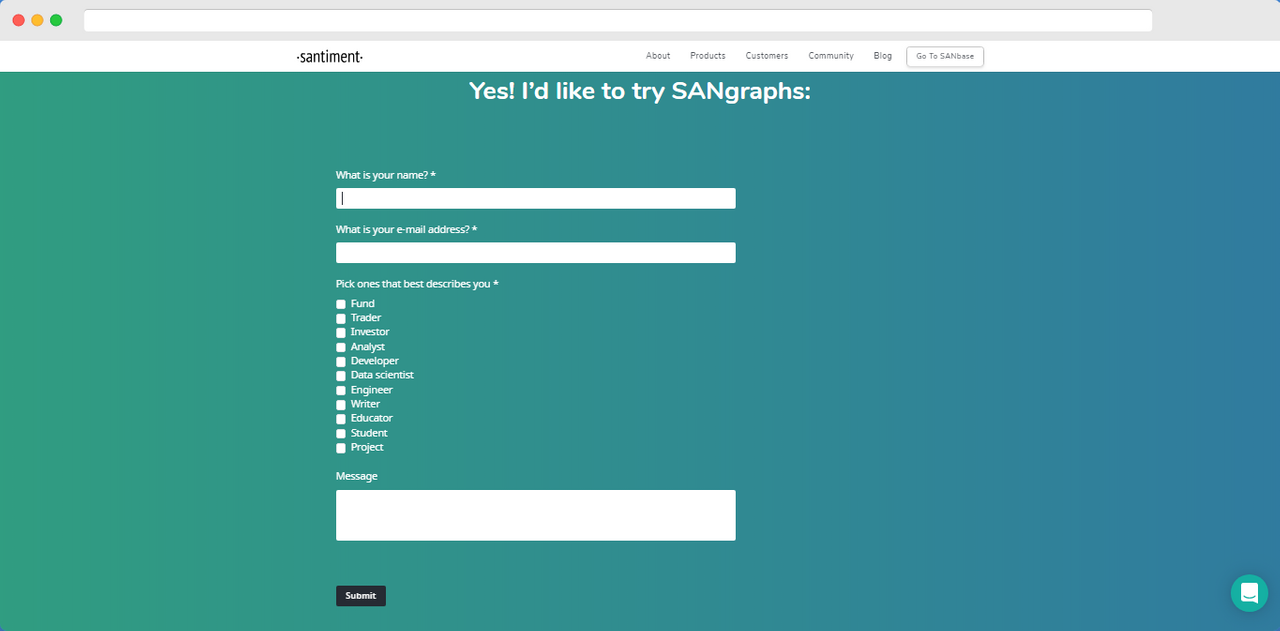 source
An email will be sent to you. You will then schedule the best time for your meeting.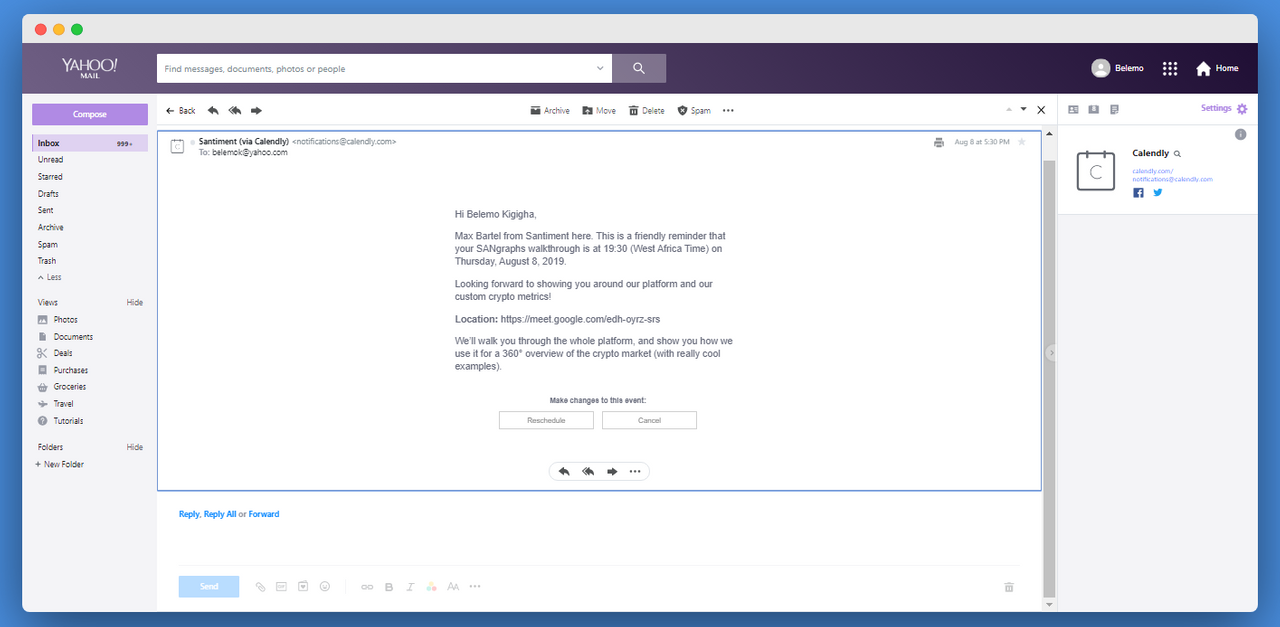 e-mail confirmation
After a simple introduction, you will then be given a tour of the products available at SANbase by Max Bartel or any other customer rep available.
Here are some of the features you will encounter while using SANbase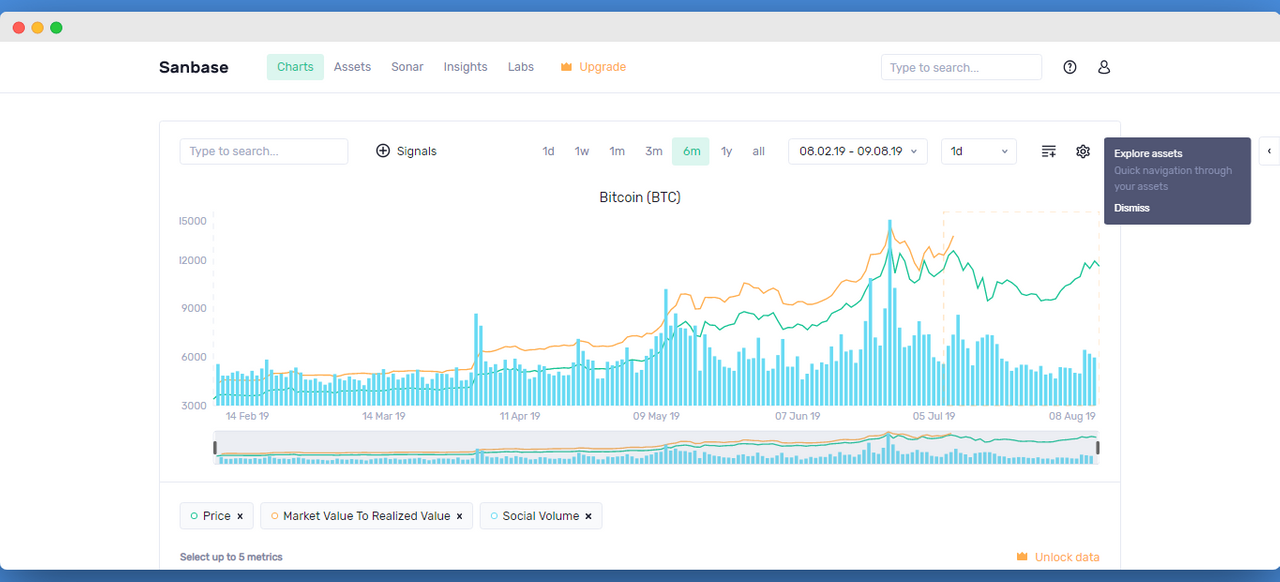 source
 Charts

This is where you can find in-depth information about the cryptocurrency of your choice. You can view data based on five metrics in four categories, viz; Financial that includes trading volumes and price, Development activity, Social that includes Twitter activity relating to the asset, social volume and dominance and finally, On-Chain information that includes Realised value to Market value index, Network growth, Token age consumed amongst other indices available.
 Assets

Here you can keep track of the cryptocurrency of your choice, receiving email and notifications about trends and changes that relate to the token of your choice.
Insights
This is where users can share relevant information concerning cryptocurrency.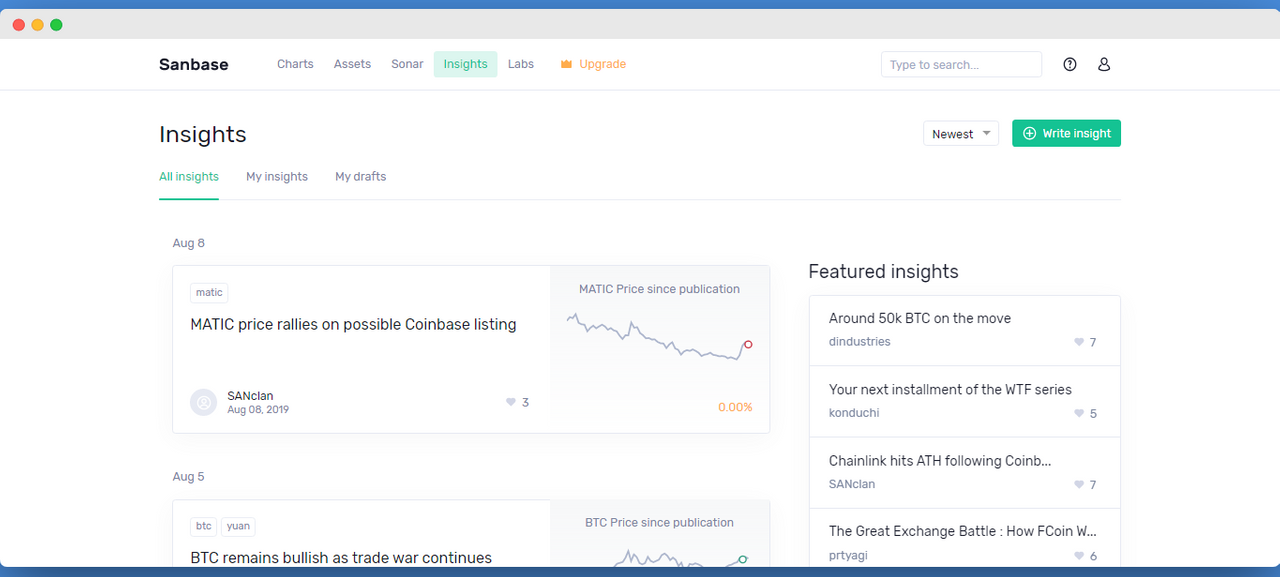 source
All information posted there has to be vetted by the SANTIMENT team and some of it makes its way to Bitfinex, who is one of the partners of this project.
Labs
The last but not the least. This section holds some of the most important features of Santiment and they are Historical Balance, Social Trends and SANgraph.
Historical Balance: This feature allows you to retrieve information about any Ethereum and ERC20 wallet for a 15 month period
Social Trend: This feature allows presents information related to how much and often people are talking about the asset or a related word, this information is garnered over a period and is then presented alongside the price fluctuations in that period. This information gives one a picture of how social media activity affects the world of cryptocurrency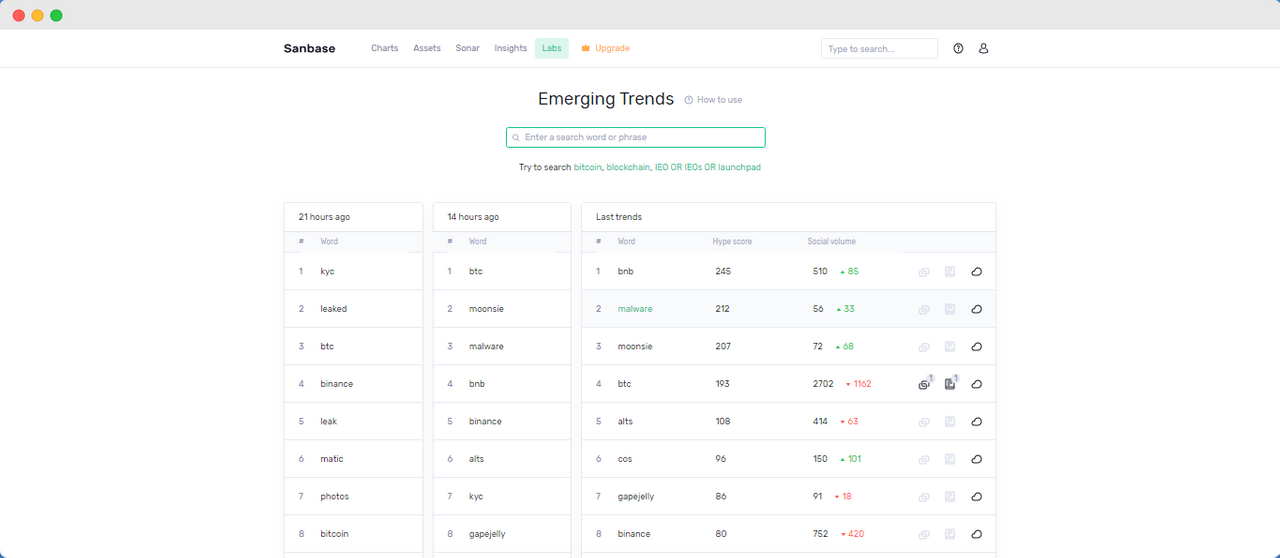 source
Using this feature, you can get specific information about any currency, asset or keyword of your choice and find out how the frequency or lack of mentioning effects the price trend of any crypto of your choice. For example, below is the relationship between the word "bullrun" and Bitcoin/USD over a given period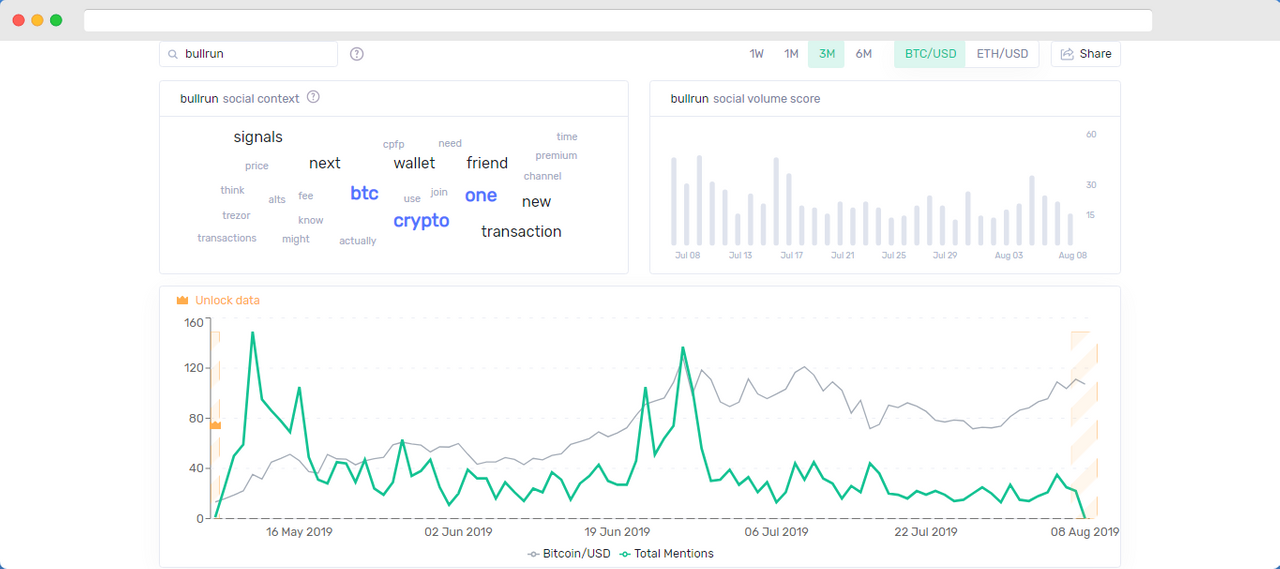 source
This graph presented above relates the social influence of the word "bullrun" to the price of BTC/USD.

SANgraphs: This is one of the most important features of the platform. You can use SANgraphs to take a deep dive into on-chain metrics, revealing behavior patterns all visualized against price. The SANgraph is a robust database and dynamic system that incorporates virtually every known metric for analysis of trends related to price. Here's a couple of the metrics you find there.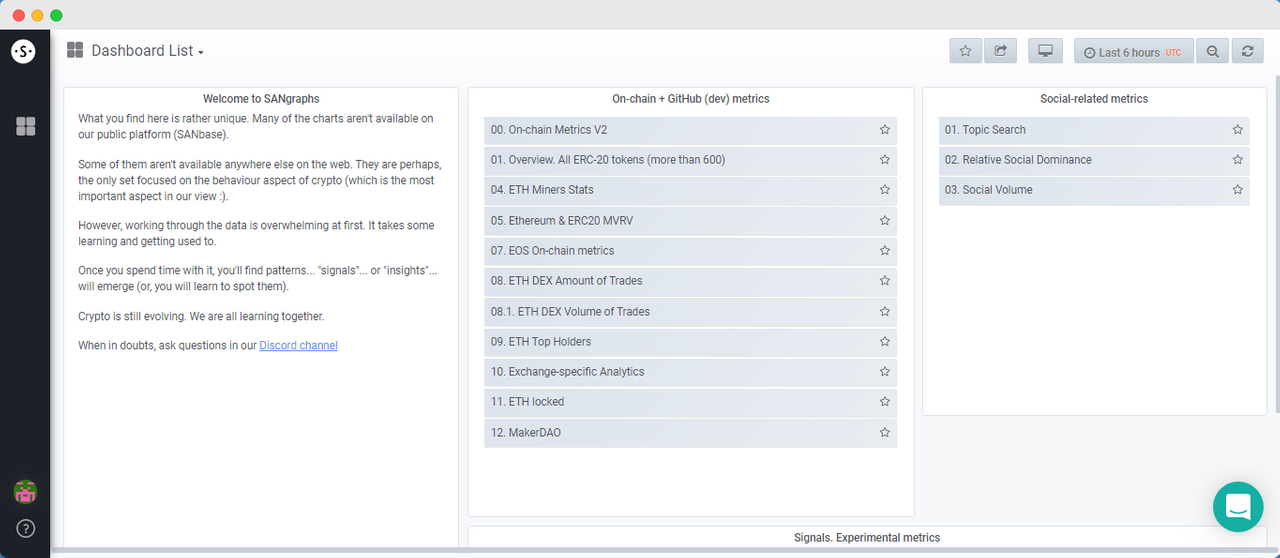 screenshot from my profile
 Accessing SANgraph
You can use SANgraph free of charge for 2 weeks through a trial invitation link that you receive from Santiment reps. I was offered mine after the walkthrough.


edited by me: source
You can access the graph by upgrading your plan. Metamask or your email can be used to log in initially, after which you choose one subscription plan from the lot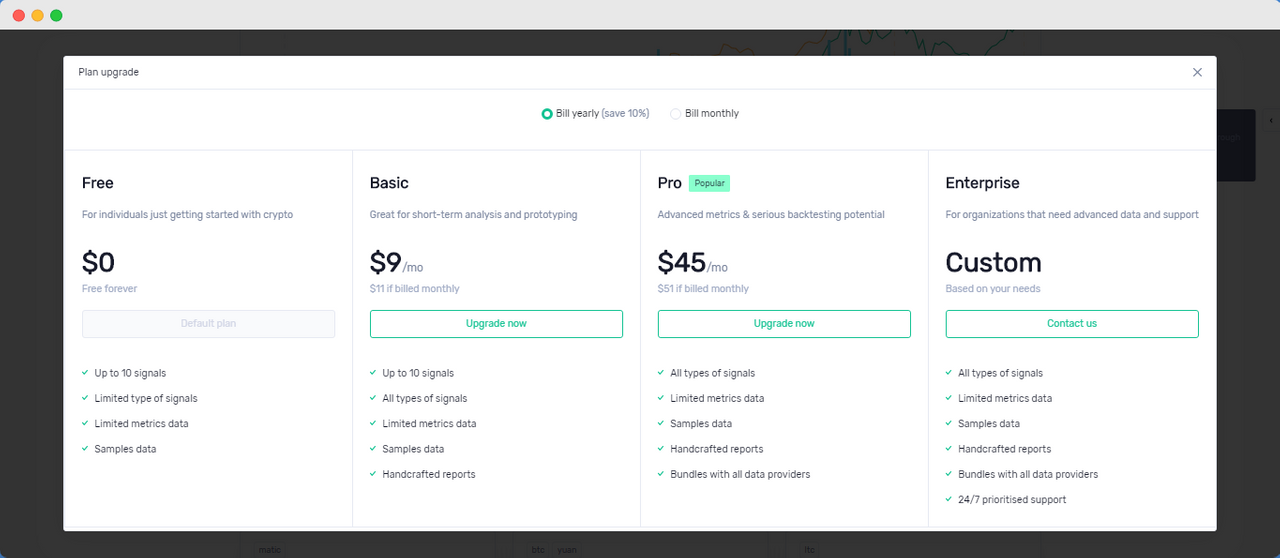 source

SANsheets

SANsheet expresses information in the discrete form on the google spreadsheet. Every information you can deduce from the graph and Sanbase can be expressed using this plugin
 Santiment API

The Santiment API goes far beyond simple OHLCV, delivering terabytes of processed on-chain, social, github and fundamental data sets, many custom-built and unavailable anywhere else.
Opinion
Platforms like Coinmarketcap and Coinbase pale in comparison to Santiment's database. Santiment is a very elaborate platform with so many features, this means that though the information gathered here for analysis is of high integrity, the platform is somewhat difficult to navigate through without a guide of some sort, thus necessitating the need for the walkthrough.
Something else I can point out is that the platform is tailored to suit those with experience in trading and finance, rather than a newbie in the business.
In Summary, it is a very decent database for getting information if you are about to embark on any cryptocurrency-related endeavour.

View on Steemit
View on Medium