Even if in these hard times, Tesla had a record year as its share price rise more than 500% and succeeded to outperform the predictions of any optimist investor. It did a share split to allow more investors to onboard and even if in the beginning the share price stood steady, few days ago it started a bull run. Many content creators from here and financial writers (like @taskmaster4450) advised upon the fact that anyone should have in its portfolio Tesla and probably many watched and listened but didn't act.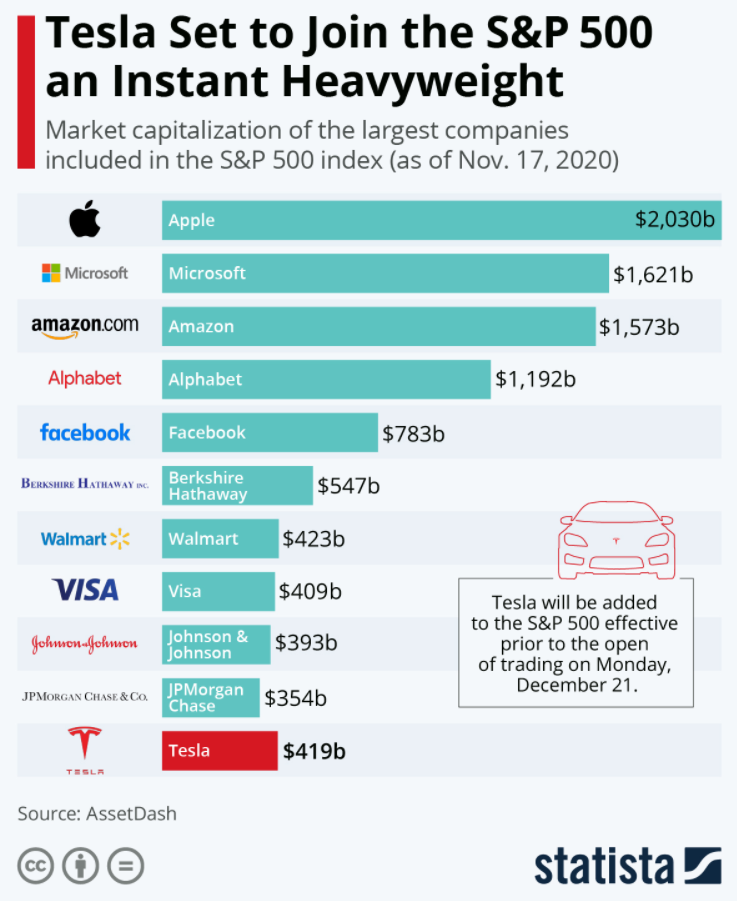 Chart Source: statista.com
While I didn't listen nor act in time to get a better price for it, I still decided to get invested into TESLA. And why did I do that while the stock seem to be in a bull run? That is because the most valuable electric cars manufacturer in the world will soon be included in the S&P 500 index. With this move Tesla will become the largest addition ever to the S&P 500 index and it might imply a process in two phases for reaching that due to its complexity and size.

Tesla reported a 5th recurring profitable reporting when they announced the Quarter 3 results this year with more than $331 million profit. These results have paved the inclusion of Tesla in the S&P 500. The effective date when that will happen will be on December 21 or in case of its complexity if two phases are needed it will be on December 14 and 21. Along with this I am expecting the price to continue to rise and prove that even if in a bull run you can be profitable.

Tesla will join the Top 10 companies from the S&P 500 index with the first five spots assigned to major tech companies and positioning it right between Walmart and Visa. This makes the transition within a selected club in the world and should build more trust in the vision and direction in which Tesla is moving towards. I believe it will surpass others as well from this selected top and will be simply a monster hard to stop from climbing to the top.
Posted Using LeoFinance Beta