Last month was the first time I did my payout on the Publish0x platform. Almost a month has passed and I'm glad that compared to all previous months, I guess the last month was good in terms of engagement as well as rewards I believe. I feel happy by looking at the stats for the last month. Looking at the stats I noticed that my account has done well in terms of both rewards as well as views.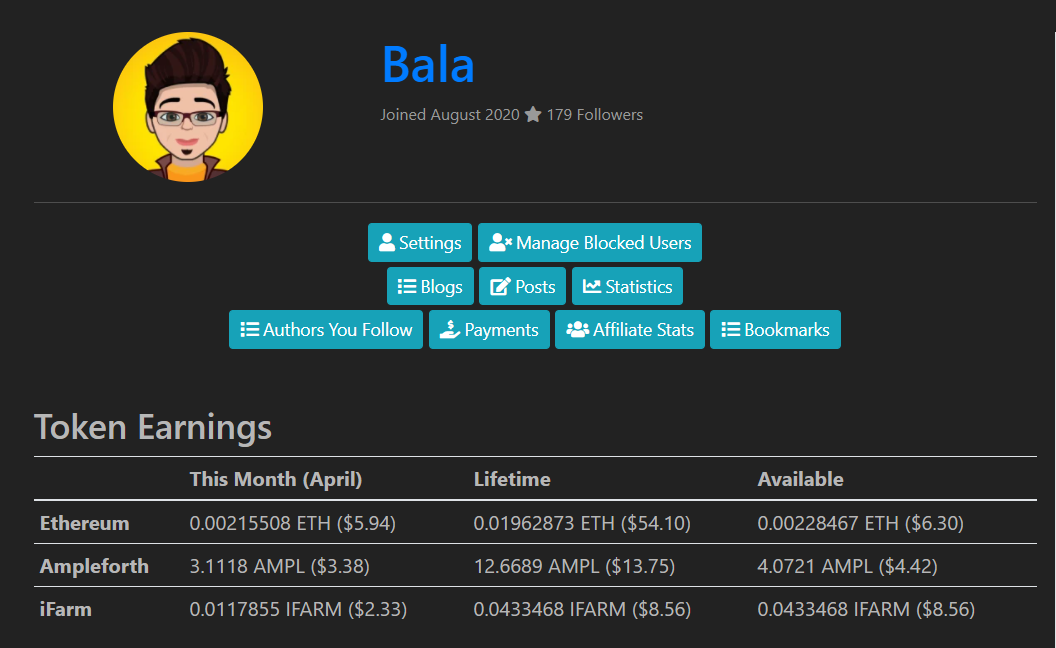 My all-time earnings have increased a bit which is happy news. Maybe I have to work even harder to see some interesting value in the earnings. I see some people earning a minimum of 100$ per month from Publish0x. It can take a lot of effort and the way I write my articles to reach there. Most people write crypto articles that are very attractive and that are trending. My knowledge on a day to day trends in the crypto world is not that great. I'm just confined to a small group of the crypto community and know things only inside that crypto community. I will have to try to diversify my knowledge and write better in the future.
Currently, the rewards are in the form of 3 cryptocurrencies. Ethereum, Ampleforth, and iFarm. I still wish there were better cryptocurrencies used to reward. ETH is still costly in terms of transaction fees. Maybe BNB is a better option but I will leave it to the Publish0x team to decide that. I also gave them a suggestion to add Hive as one of the cryptocurrencies so that the transactions are completely free. But yeah let's see how it goes.
I did my first payout about a month back. As soon as they introduced the KuCoin support, I decided to move my balance to KuCoin from the Publish0x wallet. The main reason why I liked this change was that the transactions are not going to eat up my little rewards in the form of gas fees. I've already moved Ethereum and Ampleforth last month. I will be initiating a withdraw today as well so that I can do it once a month. I'm still not sure what to do with the iFarm tokens.
My previous month's stats were very interesting. I was able to improve in terms of rewards. I wish my rewards grow in the coming months like how they did last month compared to the previous months. Looks like this has been the wish for the past few months but let's see how it goes. I'm still very optimistic about Publish0x and will continue to contribute and read articles there. Apart from contributing, I really find it very interesting to read some of the articles there at least to know the trend.
---
Posted Using LeoFinance Beta