Your Psychic Predictions for the Week Ahead
This week brings us an opportunity to make a choice, to choose a new beginning and a better way. This can relate to many different levels, and different aspects of your life, but it feels like there will be many important opportunities this week which should not be missed.
Relationships have the opportunity to step up to a new level of spiritual understanding and clarity, and matters of abundance and money are also favoured by very good fortune. We must be brave enough to step forward and take the new opportunities however as the door will shut as quickly as it opened, and hesitancy or negativity could cause it to slam in our face. 
Despite all that appears to be happening in the world right now, I feel the need to bring some reassurance that on an energetic level, on a spiritual level, all is not just well but actually going very well indeed. 
There is a powerful undercurrent that is not noticeable to those caught up in the eddies of despair, anger or obedience, but if you can reach this positive energy flow, it will take you a great distance in a very short space of time. 
I'm also told by my guides that most people will not even want to try due to a great feeling on apathy in many of those who have chosen to make blind obedience a virtue.
A new and wonderful day is dawning right now, but to those who aren't ready or wiling to see it yet, it will still seem very dark. I say this with love, and in the hopes of lifting your spirits not to berate or criticise anybody who can't see the sunrise just yet. but to share the good news that I've been made aware of. 
A new star is rising, a new positive beginning is upon us, and we must act accordingly no matter how bad things appear. 
The dark powers that once ruled this planet no longer have a place here, and they know their time is up, but their parting task is to act as a challenger to the human race in order to shake us into awakening and boy, are they doing a good job of that right now! 
Everything is playing out as it is meant to, and we are reminded that we can now create our new reality in the image of love and compassion, no matter how small our actions may appear to the outside world.
The real work will be done on the inner plane now. Meditation, prayer, chanting, mantra, healing - whatever it is that you are able to do, or drawn to do, do it. Do it now, and do it for yourself first, so that you can raise your vibration and help pull the rest of humankind up with you.
This week's angelic guidance comes from card number 31 of the Angel Wings Oracle deck: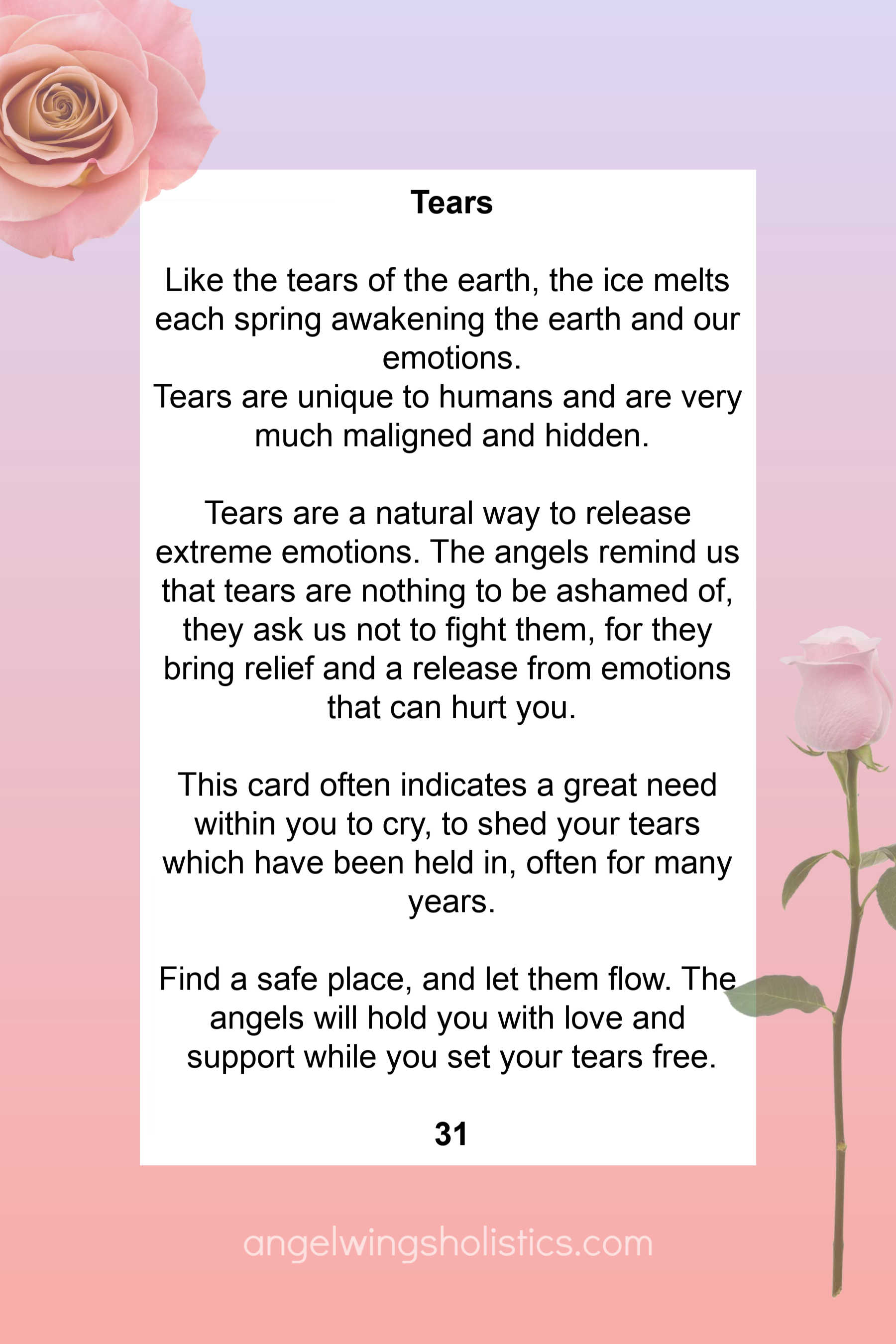 With every ending there is the opportunity of a new beginning, but before that there must be tears. There must be a letting-go of that which is passing.
There is a real feeling of sadness, grief and something of a solemn energy this week which accompanies the optimism of the new dawn of our Great Awakening. 
Many sacrifices have been made to get to this point, and sadly there will be more to bear witness to before this time is over for good. 
Allow yourself time and space to cry, to let out any difficult emotions and prepare yourself for the next phase of your life. The good times are just around the corner now, and whilst it's very important that we remember that, it's also very important that we allow ourselves to grieve for what is no more. 
The angels will support you through this time with love and strength, so remember to ask them for help if you need it.