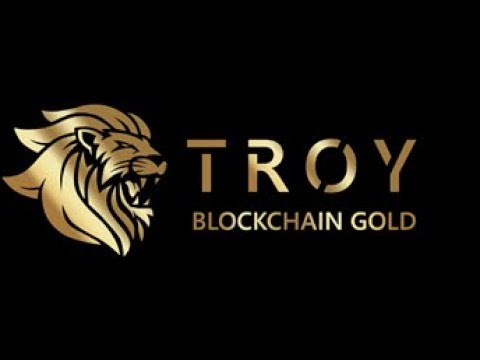 The world of cryptocurrency investment is no longer a joke. A lot of people are now being skeptical about putting their funds in ICO projects and even trading cryptocurrency that lacks vision and value, ever since the invention of smart contracts which has allowed the creation of many ethereum based tokens and truth be told, only few of these tokens have real world usecases hence they lack demand which later turns out be shit in the long run.
Its in this plight that experienced investors now prefer investing on cryptocurrencies with financial securities which are being backed up by physical assets and or revenue of the company and also offers some other legal rights. This type of funding is called Security token offering.

We now have a considerable number of them in circulation now, but today I am introducing to you an exceptional project which allows you ot purchase gold products using the blockchain technology.
Without wasting much of our time here, it's my pleasure to introduce to you TROY.


The Advent of TROY
This is an innovation being established by a company called Tipbot LTD which created the cryptocurrency called TROY which was initially meant to offer simplicity and convenience in transaction to everyone but the company had to pause its token offering in order to allow for more restructuring.

A very astonishing development was made by the company during its restructuring phase in which is secured a contract for the purchase of 20,000 oz of gold and also incorporation with Malta. This is undoubtedly the first of its kind as TROY will be the first cryptocurrency to be incorporated in Malta with gold products.
With the GOLD tokens being created by TROY, it would interest you that you now have the ability to purchase gold products safely without any stress.


The Modus Operandi
TROY have selected its gold supplier to be Bullseye mining ltd which is situated in Australia and registered with SEC
Bullseye's gold storage vaults shall be at Perth Mint which is controlled by Australian government

Gold products shall be manufactured using the gold supplied by Bullseye mining ltd and these products can be purchased using TROY's GOLD tokens. These gold products includes gold jewelries, gold bars, gold medallions, personalized gold items that are designed by specialists and lot of other products to be released in the future.
These GOLD tokens which is Ethereum blockchain based tokens and some other Erc-20 and Erc-223 tokens can be stored on TROY's vault which is the world most secure multi-functional cryptocurrency wallet with highly sophisticated security measures.
In order to purchase more gold contracts and continually develop and manage the TRYOY's ecosystem, the platform is conduction an initial token offering of its gold tokens. The total supply of GOLD tokens is 180,000,000 gold while the initial supply is 27,000,000 GOLD. The token price is $1.12 per token while the softcap is $3,000,000 and hardcap is $23,345,391.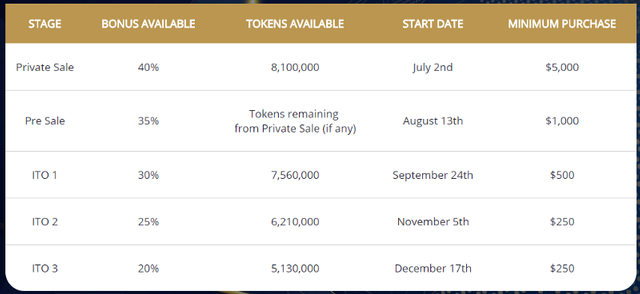 What other Unique Features are there on the Platform?
ITO affiliate program which allows you get commission for every GOLD tokens purchased through your affiliate link
Troy vault affiliate program which allows you to earn up to 25% of subscription payments that are being made in GOLD tokens via your referral link.
Availability of Vault paper wallet that allows you to store your safely assets and details offline.
You will agree with me that TROY will definitely make gold products purchase worthwhile and less stressful as opposed what is being experienced in the conventional gold market, isn't that just too awesome?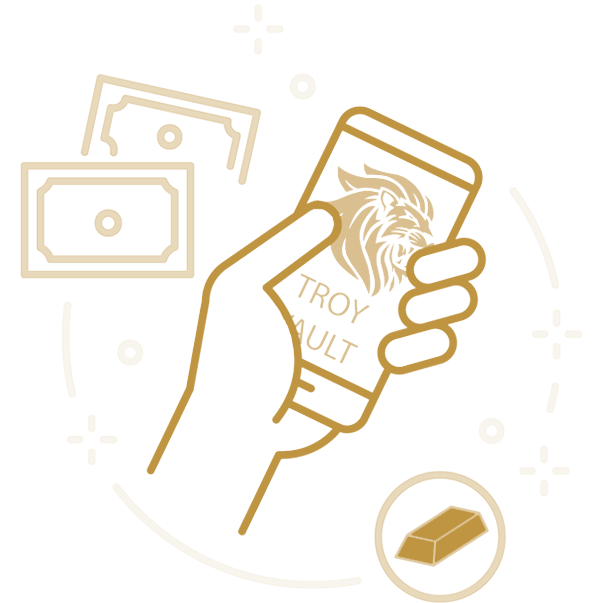 Conclusively, I feel this is the best blockchain project I have come across so far this year which is not only safe for investment but also will provide real word usecase to cryptocurrency through the easy purchase of gold product with its gold tokens. Also with the Vault being developed by the developers which ensure safe and easy management of Ethereum based tokens, its of no doubt that this project will eventually succeed to be one of the best projects in the blockchain space, hence you don't want to miss out on this great opportunity.



For more information and enquiries, kindly check the links below;
WEBSITE
TELEGRAM
WHITEPAPER
ANN THREAD
FACEBOOK
TWITTER
REDDIT
My Bitcointalk username: amusanmikel2
Bitcointalk link: https://bitcointalk.org/index.php?action=profile;u=2305577
ETH Wallet: 0x56E19a3DcaF241667FbFb0Dd370a3046b6Fd13b5