What's up my fellow Splinterlands players!
I hope all of you are enjoying a beautiful day with your family and friends and also hustling well in this amazing play2earn game of Splinterlands. Well, as you can see, time is passing by and we have again come near another ranked season end and right now, only 4 days and 18 hours left for this ongoing season to meet its end. No doubt, all of you serious players are very focused right now to accumulate those cheesy focus and season reward chests and also trying to maintain a healthy win rate in ranked in order to earn more SPS. Most of us are also excited for the upcoming Land 1.5 update which is about to go live this month and those are have invested themselves already in the Land business probably trying to collect the required Runis and cards to stake in their Land and start reaping rewards. On the other hand, the recent 2 DAO proposals regarding banning bots in Tourneys & Brawls and prohibiting the use of battle helpers in Modern ranked gameplay, tournaments and brawls just ended and both of them got passed. So overall, This month is going to bring some changes in the land of splinters and we better embrace ourselves for the upcoming storm.
---

---
Anyways, for me, this ranked season is going a bit lazy, as I got carried away with certain offline life things and couldn't spend enough time in Hive or splinterlands since last week. No doubt, it also affected both my posting frequency and playtime on splinterlands. But however, as it's still almost 5 days left in this ongoing season to meet its end, there's still enough time to make up for it I think. Right now, I have accumulated a total of 63 season chests so far and also finished playing today's daily focus mission which was of Anti Magic rule and collected a total of 12 focus chests. Now, having almost another 5 days in hand, I think I can cross another 20-25 more season chests but during these last days of this ranked season, I am thinking to put my efforts into earning more daily focus chests, so from now on, I will be focusing on using more focus monsters in my ranked battles in order to earn more points per ranked win.
---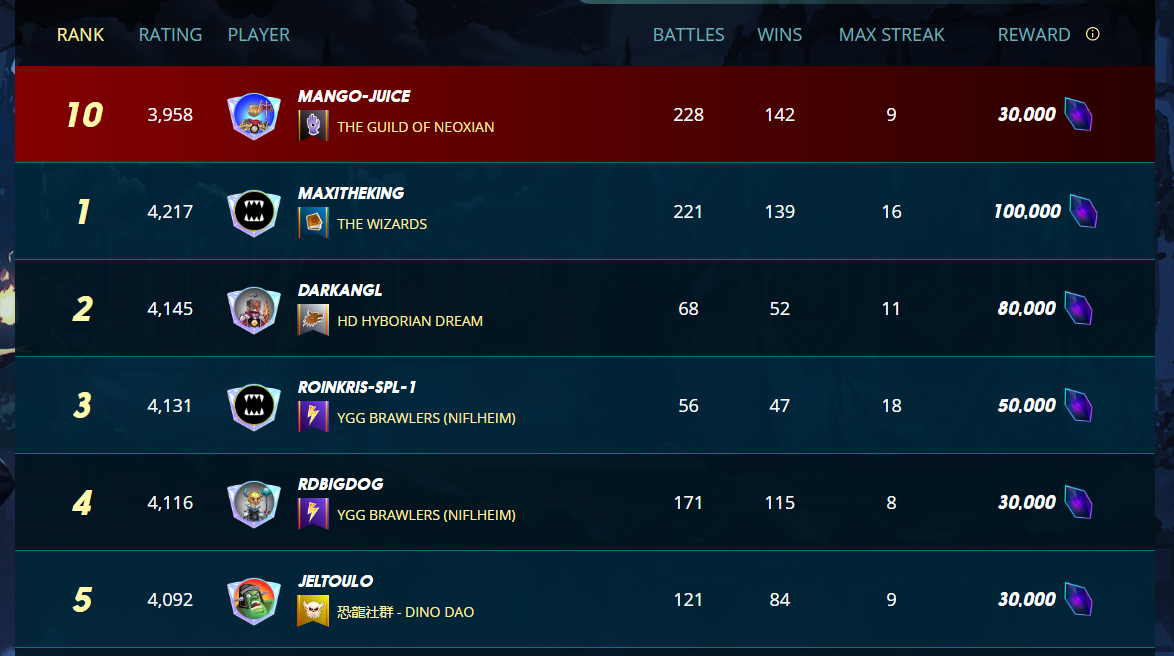 ---
Another big thing coming along with this season's end is of course the war for leaderboard. Upon every season end, almost every player in this game fights even more for a sweet place in their respective league's leaderboard and from silver to champion, every league has its separate leaderboard with lucrative liquid dec prizes for the top 40 place holders in every league separately. We all know that that in-game currency has changed from Dec to sps and for every different type of gameplay - from ranked battles to tournaments or brawls, winners get paid in SPS after the change and hence, no new generation or printing of Dec tokens, but however, leaderboard prizes are still distributed in form of dec and the total dec amount that given out to players on each season end are newly minted dec tokens as far I know. Anyways, Splinterlands are really doing great work on bringing Dec value back to its pegged of 0.0010$ price per Dec unit and no doubt their work is reflecting results as Dec has made a stable position over 0.0008$ for quite some time and is right now being traded for 0.00083$ per unit. With the upcoming land update which is coming pretty soon, a lot of decs will be required on lands and during that time, I am expecting a pump in its price, so it may be wise to accumulate a decent amount of dec now in case you are preparing for land or for trading it for a higher price when the pump kicks in.
Anyways, as I usually play in the Diamond League, I also try to secure a place in the Diamond leaderboard and usually place myself among the top 10 every season. Last season, I got very lucky and got myself a first place in the lb and no doubt, I also won a big chink of dec as the prize for my performance which I am holding in my in-game wallet right now. This season as well, I will try my best to achieve the same goal and will start to push my trophies from tomorrow onwards. Right now I am sitting at 3958 trophies and my current position in the leaderboard is 10th and there are over 200 trophies of distance from me to the current 1st place holder. No don't the difference will even increase from here and we keep going near the season's end, so I think it's best to start fighting right now than during the last day, as at that time the whole ranked arena becomes a deadly arena and the most active. I am also thinking to rent in some important cards as well for this season end war, last time I did the same and it really helped me to ladder up fast and with a better win rate. Thou I have to spend some bucks for temporarily acquiring those needy cards, but if it enables me to claim a good place in lb, the rewards will be much more than my spending so I am happily willing to invest this time as well.
---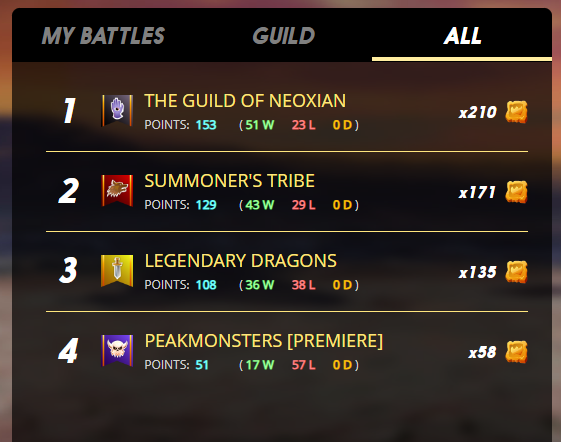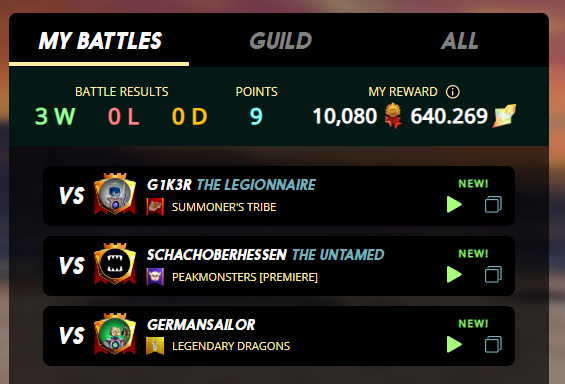 ---
Last but not least, I am a member of the Neoxian Guild and play brawls regularly with my fellow guild warriors. Generally, we play tier 4 brawls but this time we decided to try playing the highest level, tier 5 brawls and try our worth. Surprisingly, the results just got out we have won the top place in this brawl! I really want to thank guild owner Mr. Neoxian, Guild officer Xawi and all my fellow brave warriors who literally gave their level best in this brawl and together, we snatched away the top place and highest share from the reward pool as well. As for the rewards, our guild got rewarded with 210 crowns and each participating member of our guild got rewarded with a whopping 64.269 SPS and 10,080 merits each. Normally we get around 150 SPS in tier 4 brawls so I was really surprised seeing so much better rewards this time. Let's now see how we perform in the next one!
---
I hope you liked reading my post. Let me know how's your preparation going on for this season's end and other activities of the game in the comments below and I will be seeing you all in my next post!
---
---

Wish you all good luck on all of your future Splinterlands matches.
Thanks for visiting my post, Please come again!
Stay well and keep playing Splinterlands!
Want to start playing Splinterlands? Click here