Just when Bitcoin and Ethereum had the biggest rally since last March. Along with them are Uniswap and Chainlink altcoins.
UNI today had a massive trade increase of +14% that's why lots of traders were going frenzy about it.
Here is my price forecast, if you are trading UNI this week.
BUY START: 39
STOP LOSS: 36.95
TAKE PROFIT: 43.20
DURATION: 72 HOURS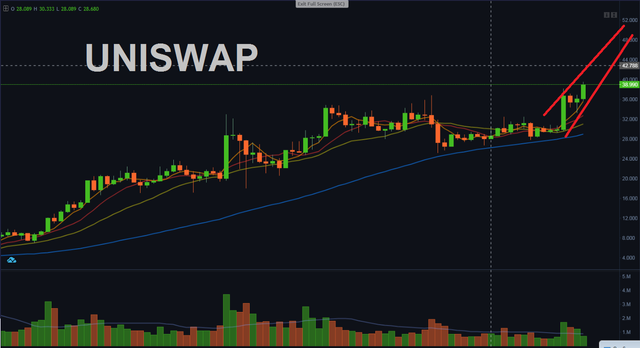 My Image
Uniswap might slightly fall to $36 in the next 24 hours but the momentum of it going higher is still very strong. The current CoinMarketCap ranking is #8, with a live market cap of $20,425,566,326 USD. It has a circulating supply of 523,385,460 UNI coins and a max. supply of 1,000,000,000 UNI coins.
On the other hand, LINK is coursing a similar pattern with UNI. A massaive +18% price increase in 24 hours.
Chainlink is non-mineable, with a market capitalization of $17,811,661,204, which puts it on the 10 place in the global Cryptocurrency Rating. The currently available supply of Chainlink is 419,009,556 tokens.
Given the current trajectory of the price movement, I'm expecting LINK will dip down as low as $41.22. So, it's a safe buy for this token just place a stop loss at that price. I'm confident the upward trend of this coin will hold until the weekend. My price prediction in the following 72 hours below.
BUY START: 43
STOP LOSS: 41.22
TAKE PROFIT: 46
DURATION: 72 HOURS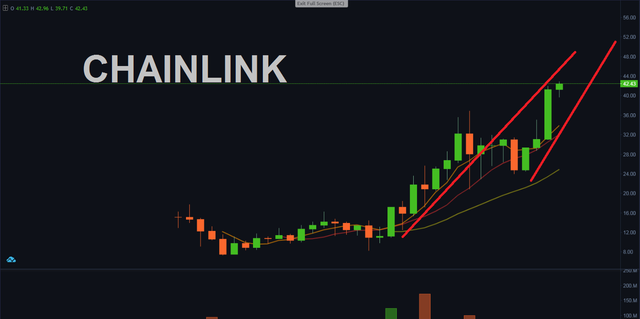 My Image
Buy UNI and LINK at the fastest trading exchange like BitMart.