Around 4 months ago me, and my girlfriend @umulius decided it was about time to leave the coast of Tangalle, Sri Lanka and head towards the tropical mountain town Ella.
Right before we left Tangalle, we managed to score some awesome OG Kush Ice-o-later hash from a fellow festival attendee. It was by far the best stuff we have smoked on our travels in Sri Lanka. 😀
We booked an A/C minivan together with a psytrance producer from France. He goes by the artist name 'Eco Jafar'. Within 3 hours we had arrived in a very different scenery. This place is breathtaking, and it is probably the most beautiful place I have ever been to!
We got dropped off at the 5th-mile post outside of Ella. There our host of our first nights booking in the area met us with his tuk-tuk. He drove us the last 1km down a tiny mountain path to his place "Natures Rest".
We arrived at night so we could not really see our surroundings until we woke up the day after. It was nice and refreshing waking up in a tropical rainforest scenery. The property had fruit trees of different types scattered all over! The host family was very kind and helpful, they cooked us rotties, dahl, and tee even though we arrived late.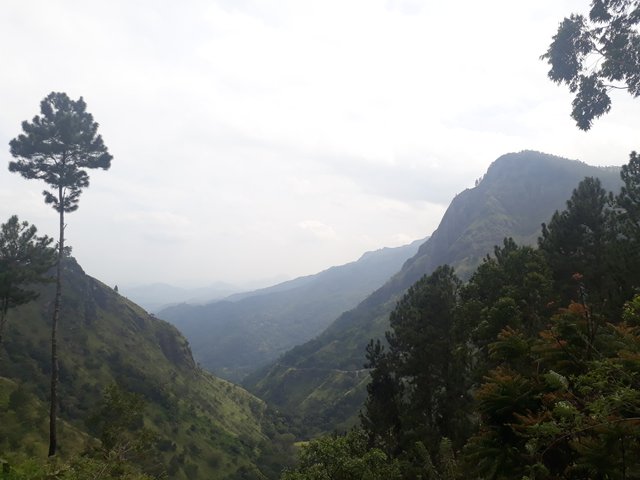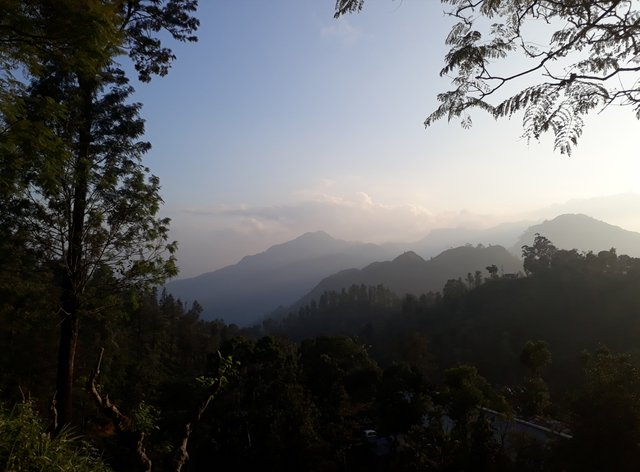 We thought we would arrive at a more private cabana of sorts, not a homestay. So the morning after decided to take a tuk-tuk into town so we could look for a more suitable place to live. We also wanted to find a scooter for rent, so we could get around on our own without paying for expensive tuk-tuk rides... 😅
After eating a good breakfast at Chill restaurant in the main strip of Ella, we went looking for places to stay on booking.com and Airbnb. We found a place within walking distance that we decided to go check out. We never actually managed to find the place we were looking for, but we asked for rooms in several other places along the way. We landed on a deal for 3 days stay with what looked like a decent apartment hotel called 'New Blue Home'.
We took a tuk-tuk back to natures rest and packed up all of our stuff, then drove back to new blue home and checked ourselves in. At first glance, this place looked more private, and that was exactly what we were looking for. We asked the hotel manager for help with renting a scooter, and within minutes we had one.
On our way out the hotel manager asked us if we would be home before 23.00. This was our first red flag with this place. When we asked why he would ask us such a question he responded with that they lock their gates at 23.00. If we were to arrive later we should contact him on Whatsapp so he could open the gates for us. I saved his contact not thinking that much more on it. We left our stuff at the hotel and went out to explore Ella by bike.
After roaming around the "city" for a bit, we quickly discovered what became our second home: 'Café One Love'. You can spot their banner on the right-hand side of the end of the main strip in Ella. You have to turn into a side road to find the entrance. This place is open 24 hours. They play mainly psychedelic chillout or psychedelic techno on their sound system. The place is extremely smoker-friendly; a sort of meeting hub for the psy-scene and stoners in the area!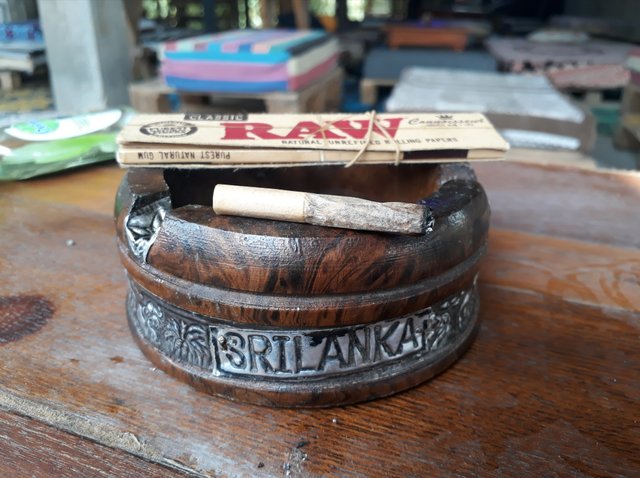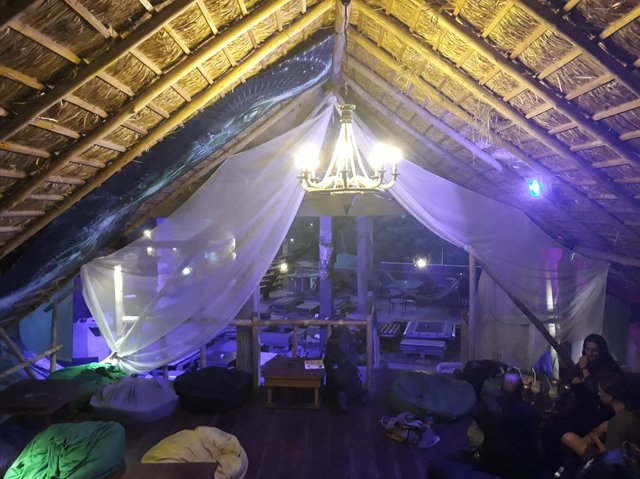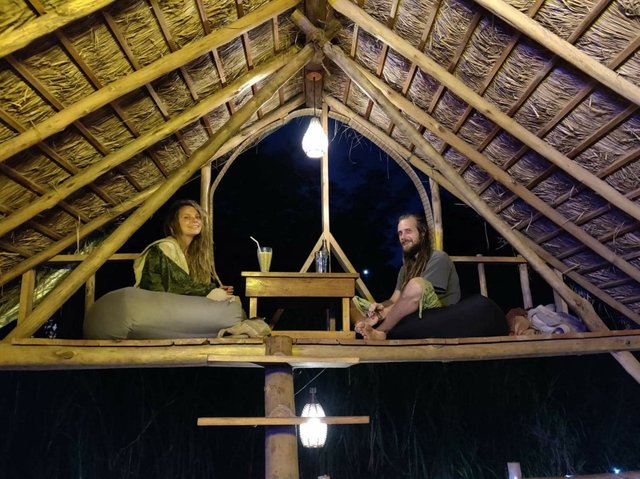 We ended up staying in town until rather late. When I checked my phone right before we set our course towards our bed, I were surprised to see messages and missed calls on my WhatsApp from our hotel manager asking if we would be home soon. At this point, we started to get more of a camp school vibe than a hotel vibe from our place. We got home and decided to have a shower. To our surprise, the hot water did not seem to work. We thought to ourselves that maybe the other guests had used up all the solar-powered water already, and that we would try again in the daytime. We smoked a few joints and passed out before the clock hit midnight.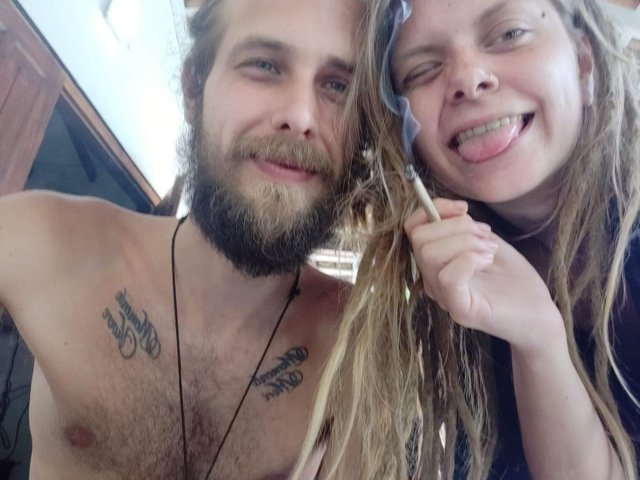 The next morning we are waken up by a racket of other people eating breakfast right outside of our room. We decided to at least find ourselves a more secluded place for the last days of our stay in Ella. After eating breakfast at the hotel, we headed out with our scooter on an adventure to walk a popular hiking trail to 'Little Adams peak'.
We parked our scooter on the bottom of the hiking trail and started walking. The scenery was magical. Steep mountain paths with tea plant fields everywhere you can see. We passed by many local people picking tea leaves. At some point, we decided to deviate a bit from the main path to sit down in the tea fields and smoke a spliff while taking in the scenery. After around 30-45 minutes of walking, we had reached the stairs at the bottom of little adams peak.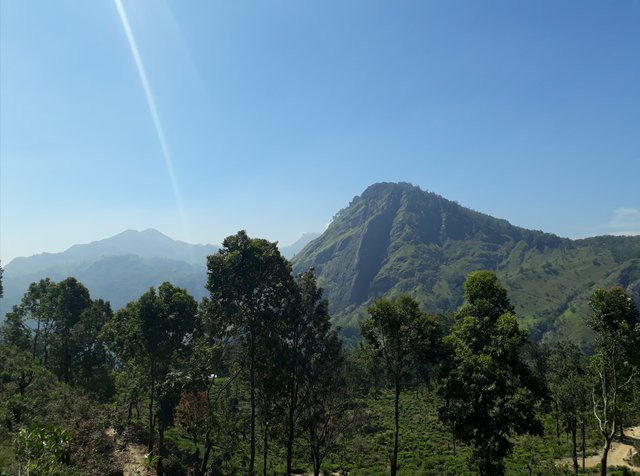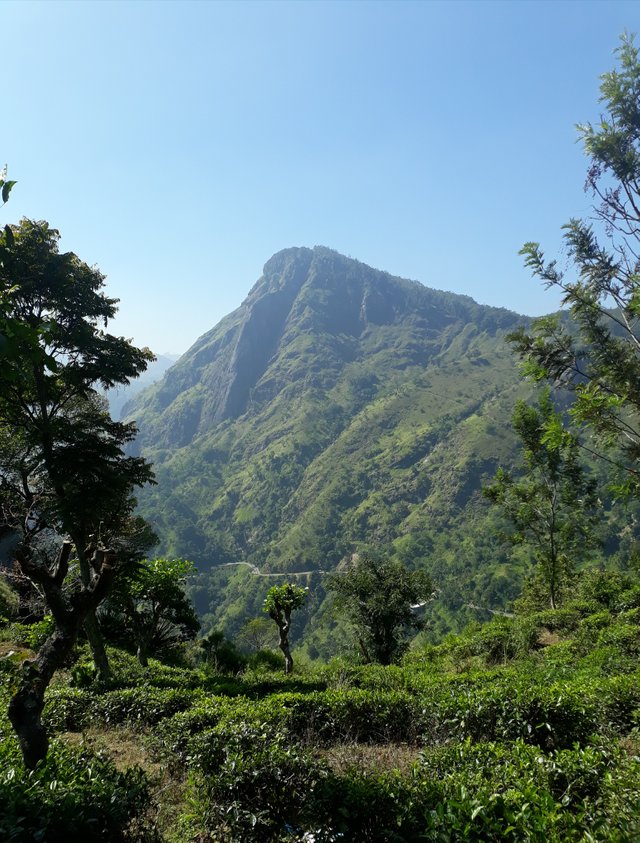 We started the ascent up the stairs, but we did not get very far at all before we were met by other tourists running screaming down the stairs. Apparently, wasps had been attacking people on the top of the mountain, and they can potentially be deadly. We saw several people with severe stings. I am also possibly allergic to wasps, so we decided to head back down and take the hike another day. We later read online that several people had been rushed to the hospital because of the wasps.
We decided to seek refuge in a local psychedelic art café while deciding what to do with the rest of our day.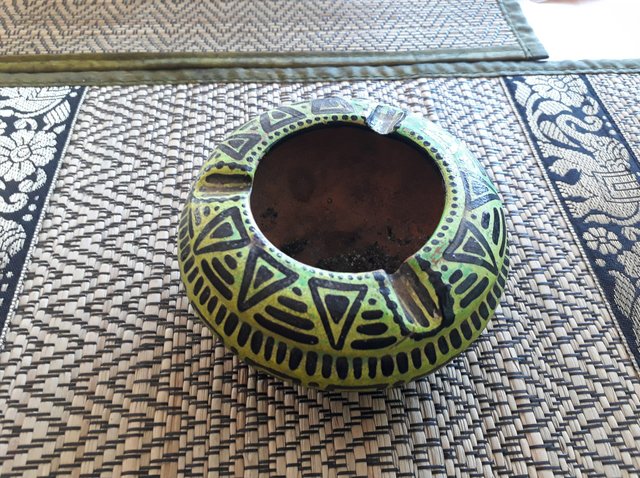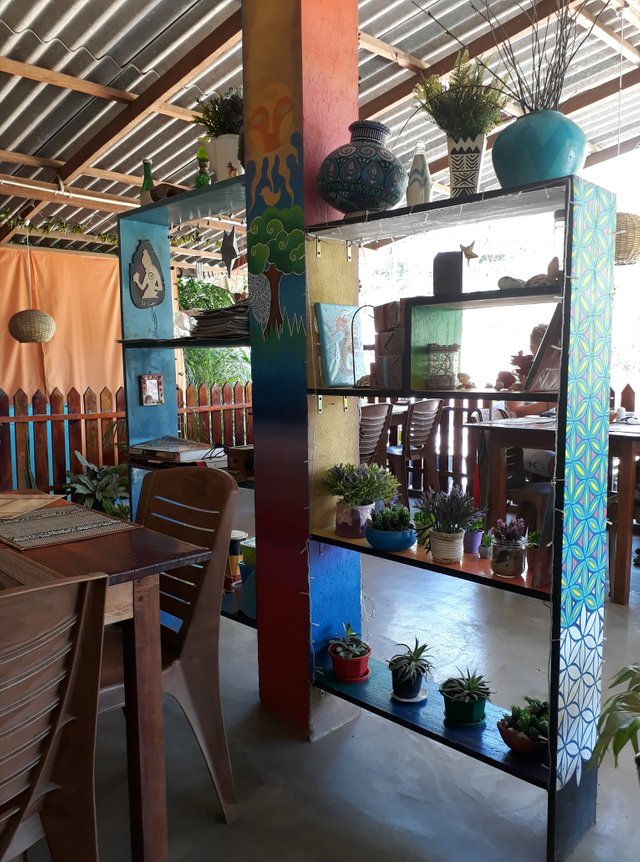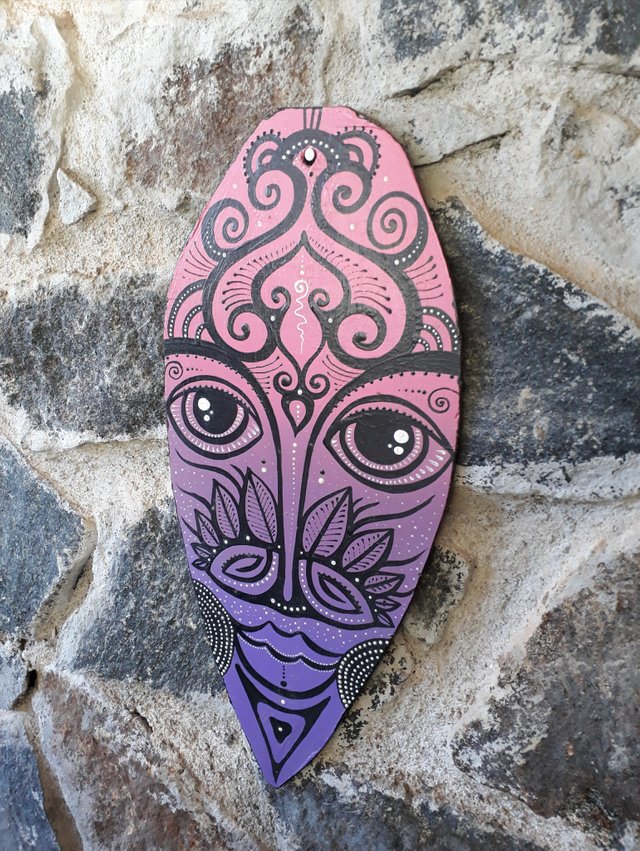 Since the hiking trail to the famous nine arch bridge is located rather close to the path to little adams peak, we decided to head there instead. The path there took us trough a foresty scenery, before finally opening up and revealing the nine arch bridge. The view was almost surreal. We went down on the train tracks on the bridge and shot a few pictures of ourselves. Emilie made me super nervous by balancing on the edge of the bridge. There was probably a 100 meters or more down the side! 😓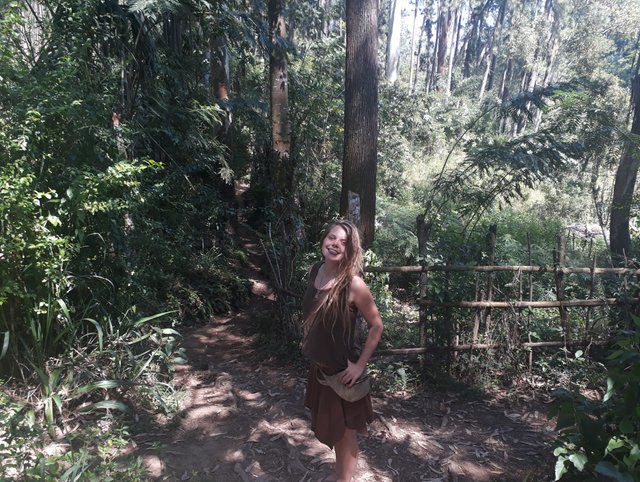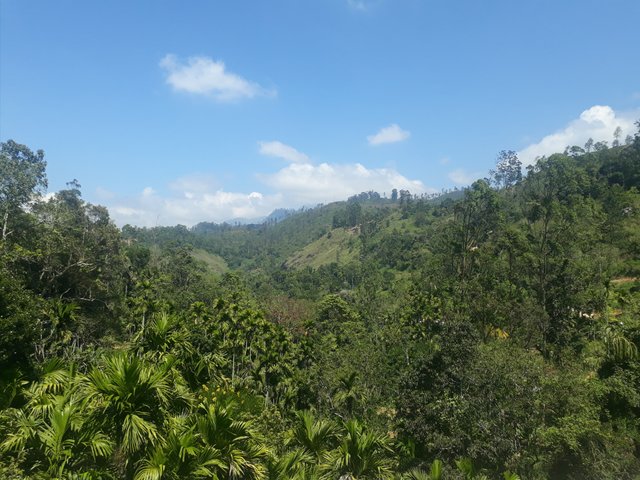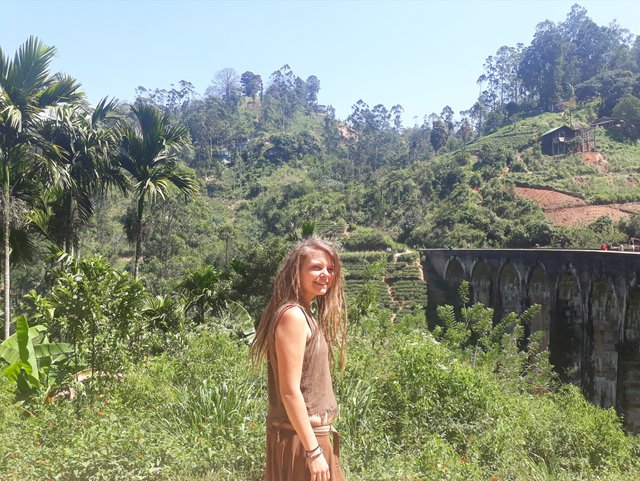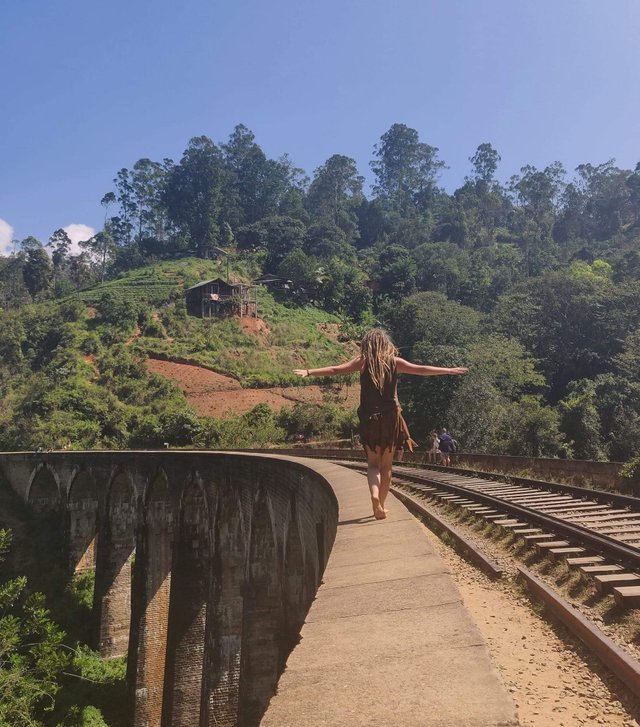 After the adventure to the nine arch bridge, we went out to eat at 'Rainbow In: The Reincarnation' in Ella town. We seated ourselves at their 3rd flood. We both decided to try their Mediterranian wraps, with french fries on the side. Emilie loved their wraps so much that we have been going back there for them two more times. After dinner, we went to chill out and smoked a few joints at one love café, before heading home to bed to watch a movie and pass out.
The morning after we checked out of new blue home and grabbed a tuk-tuk down to one love café with our stuff. The night before we had managed to find ourselves a new secluded place to stay for our final days in Ella. After chilling out for a couple of hours waiting for the clock to hit check-in time, we got another tuk-tuk up to our new home. This time our place was situated at the top of a mountain overlooking Ella town. Our new place had a view in the opposite direction of the town, towards valleys and temples. This time our place was actually a cabana and not a homestay... This place was just what we had been looking for all along!