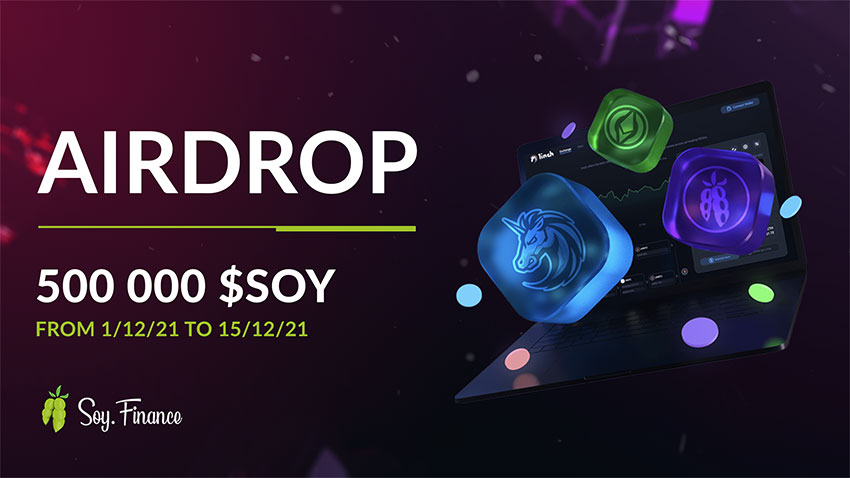 By airdropping 12 million tokens, we aim to distribute the SOY tokens in a fair manner and increase the platform's decentralization.  
Few Words About SOY Finance
Backed by the most experienced crypto-security experts, SOY Finance is a DeFi platform for easy and safe trading. Newbies and casuals alike will appreciate the intuitive technologies such as the "1-Click Swap", while traders will value the high-level security features with a dedicated token standard and a safelist for audited and insured tokens. Users get rewarded by holding and farming their SOY tokens and receive up to 20% of the total trading fees and newly minted SOY tokens as described in the monetary policy.  
How To Enter The SOY Tokens Airdrop?
  Airdrop Eligibility Rules   The fourth phase of the SOY Token Airdrop is specifically for 1inch users. Therefore, to take part in this phase it is necessary to be a 1inch active user between 1/12/21 and 15/12/21. As active users are considered those who perform at least one of the following actions:
  Trade/swap any asset on 1inch using Ethereum, Binance Smart Chain, or Polygon networks.
  Add/remove any asset's liquidity on 1inch using Ethereum, Binance Smart Chain, or Polygon networks.
The list with the eligible users will be updated daily at 00:00 UTC.   How To Claim My SOY Tokens? ​​​  
To claim your tokens, simply go to https://soy.finance/airdrop and connect your wallet. Once connected, the system automatically checks your eligibility for the airdrop, and if you meet the requirements, your tokens will be displayed in your balance. Note:
As the user activity status is updated every day at 00:00 UTC, we recommend claiming the tokens after 24 hours of your activity on 1inch.
A user is allowed to claim once per airdrop phase.
When Will I Receive My Tokens?   SOY tokens are locked for 180 days from the claiming date. At the end of the lock-in period, the tokens will be automatically sent to the wallet that was used to claim them. How Many Tokens Will I Receive? The Airdrop pool for the first phase is 500 000 SOY tokens. Each day, 1/15 of the total pool (33 333 SOY tokens) is divided among the eligible participants, each participant receiving an equal share. By airdropping 10% of the initial supply in seven phases, 12 million tokens in total, Soy token's monetary policy aims to distribute the SOY tokens in a fair manner and increase the platform's decentralization to the highest extent. The details of the next Airdrop phase will be announced on 10/12/21. For more information please refer to the SOY Tokenomics.   Miscellaneous
SOY Finance on Social Media
About Callisto Network