Installing And Running Trust Wallet App In Windows 10

Introduction
Trust wallet is a popular DEX wallet I can truly trust and recommend to anyone looking for uncompromising security and reliability. There is both an IOS and Android version for mobile but no native app built for Windows 10 OS.
Exodus, Atomic and other popular apps have been created for Windows 10 operating system.  Trust wallet was designed for both Android and IOS but not for the desktop PC.
An emulator makes it possible to easily run Android apps in a Windows 10 environment.
Selecting An Emulator For Trust Wallet
The Bluestacks emulator easily outperformed the NOX emulator during testing although the engines in both emulators are an overkill to simply run a light-weight DEX wallet.
Trust wallet performs flawlessly in Windows 10, but so do all my power consuming games high-end games.
My gaming laptop includes 32 GB DDR4 Ram, two solid-state drives, i7 processor and a powerful RTX 2060 with 6GB GDDR6.
Bluestacks is free emulator application that has been around for approximately 7 years. Gaming performance using Bluestacks is much better than other emulators and is the only one that apparently uses Android 7 for the graphics engine.
Installing the emulator is quick and easy procedure.  The application is available at Bluestacks.
Adding Trust wallet to Bluestacks
Although it is possible to source the Trust wallet APK in various locations around the internet, I highly recommend you sign in to the Google playstore and obtain a legit copy from the official site.
A quick search on the store brings up some interesting downloadable apps for the emulator.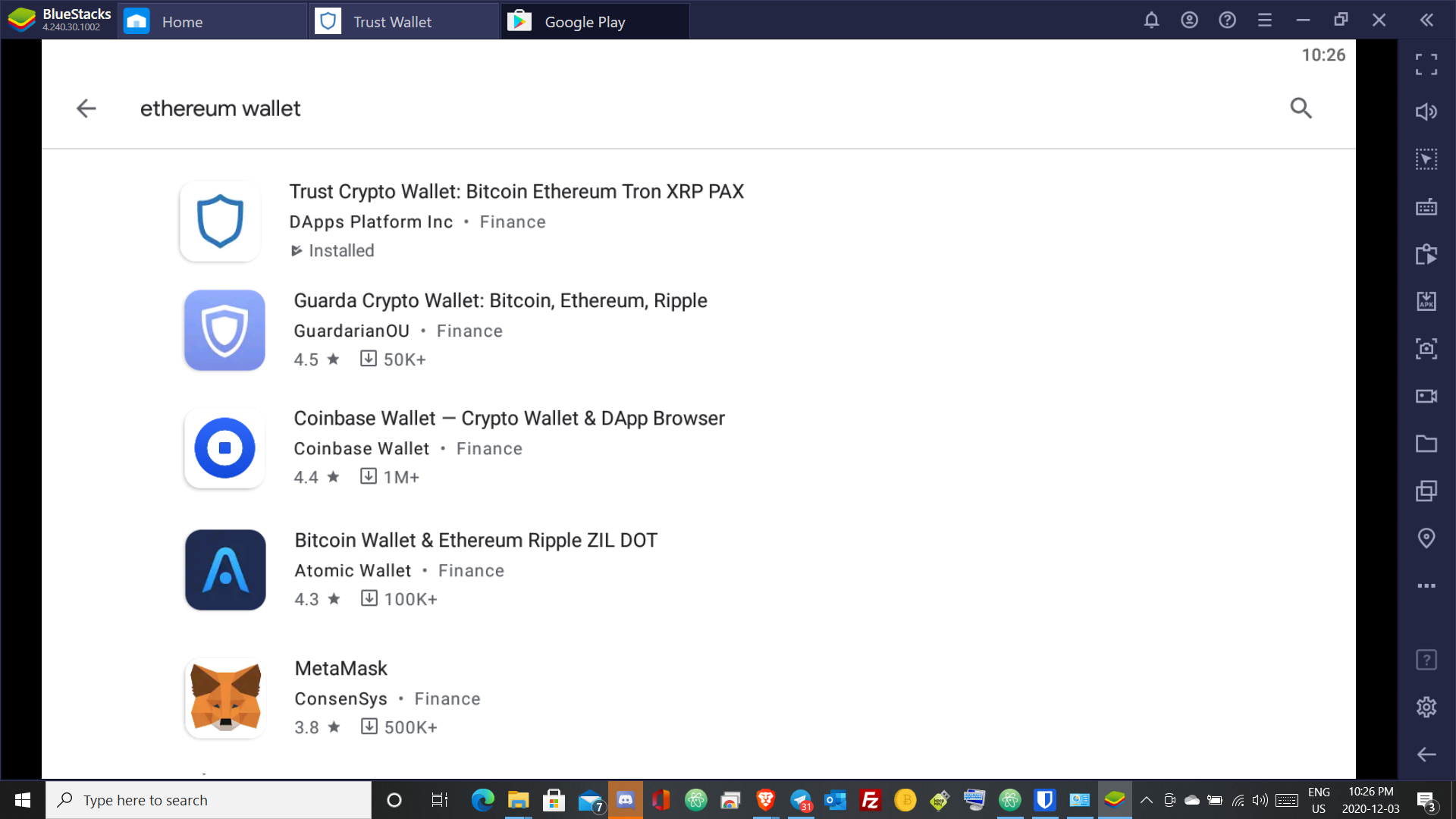 ---
Add the Trust wallet to the emulator by clicking Install.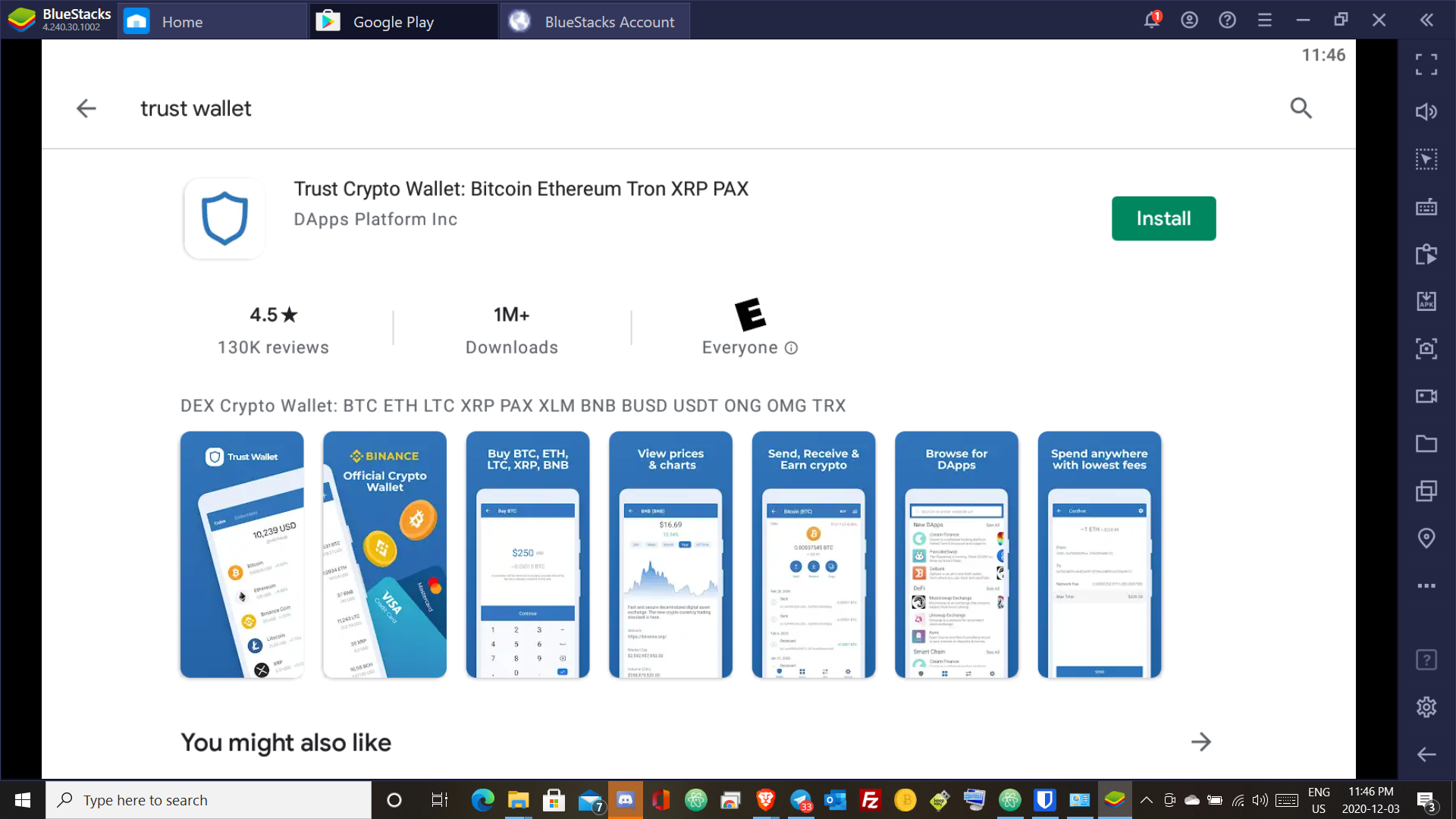 ---
You may either import a wallet or create a new one the same as when you first install the Trust wallet on any mobile device.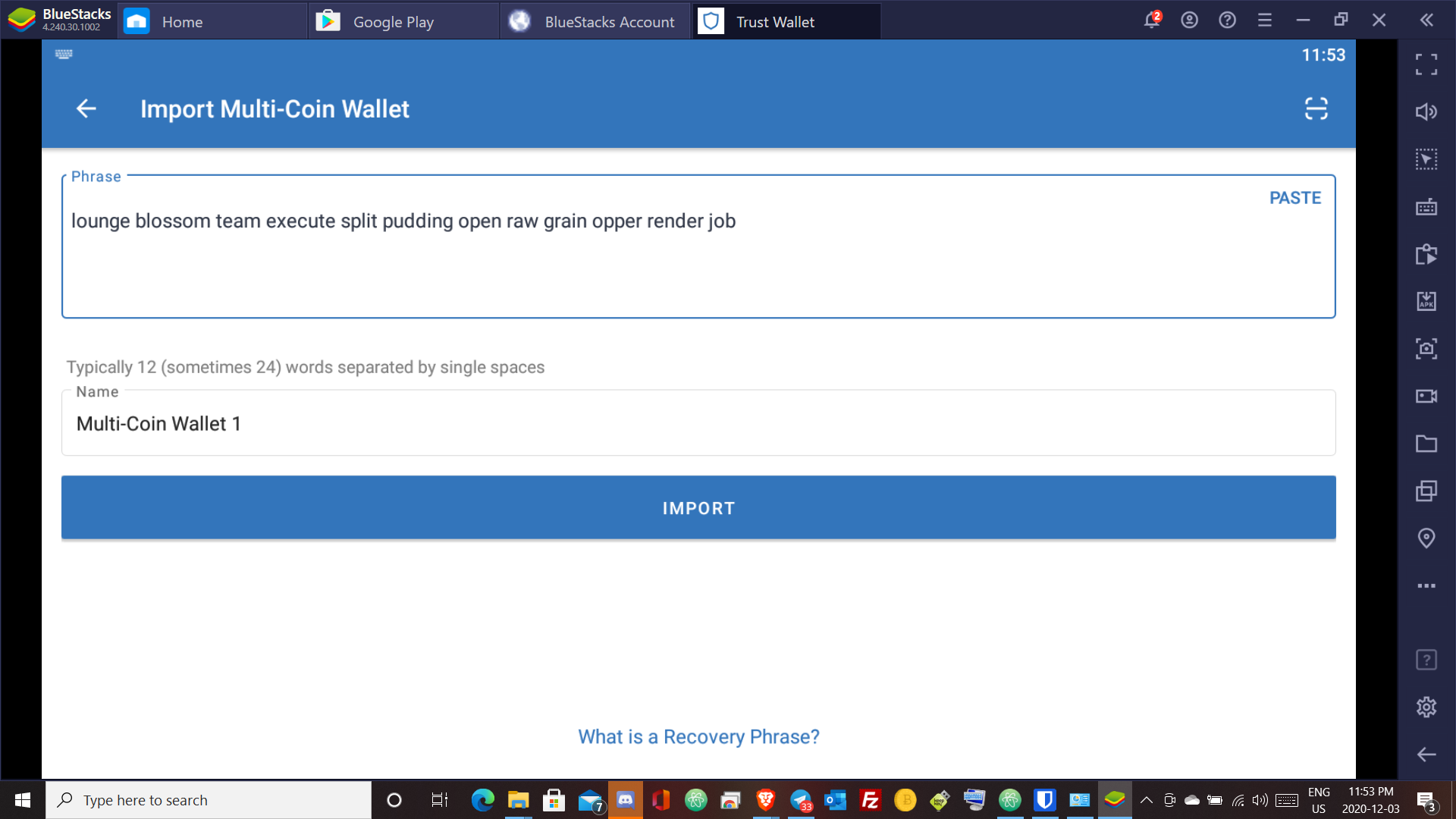 ---
Correctly adding a passphrase will display a successful message.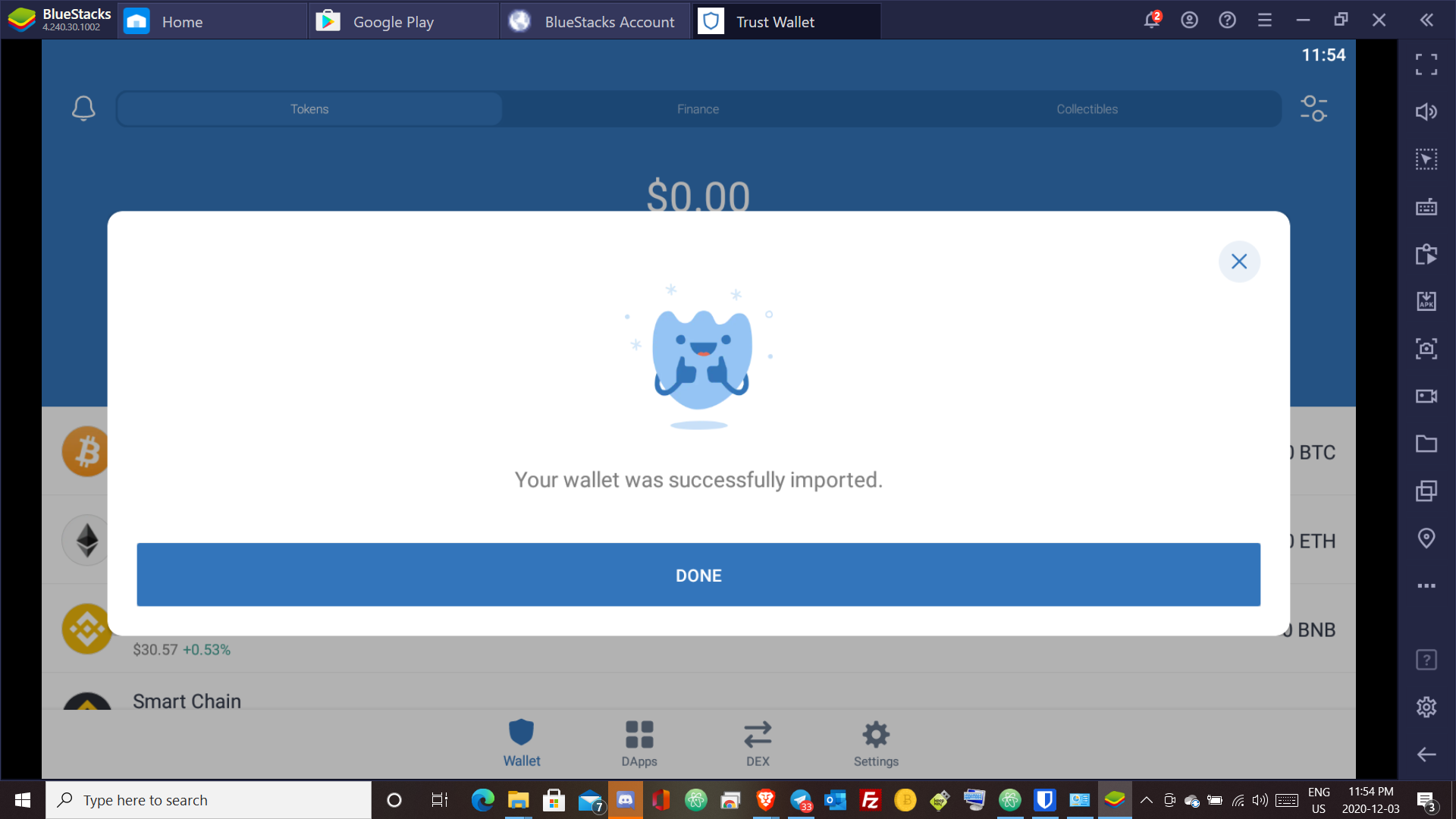 ---
Clicking Done launches the Trust wallet as shown below.
---
Final Thoughts
There are many other apps and possible configurations to consider.  A similar process can be accomplished on other platforms using other operating systems.
There are many emulators on the market.  Bluestacks is even available for the MAC computer.
Updates after December 4th 2020
Virtual and physical deployments of operating systems follow similar dynamics. These are the dynamics that make android emulators safe.
Regardless of the emulator provided by Google in the Android SDK or a third-party emulator such as BlueStacks or Nox, you're relatively well-protected when running Android apps on your PC. Emulation effectively sandboxes things from your primary operating system, which is why virtual machines are awesome for testing the security of an app.
The only risk I can see using an emulator is downloading an app or APK from an external source outside of the sanctioned playstore/google store.
An app obtained outside of the Google playstore could be modified to divulge info.  Using apps from the playstores already have the necessary security built in.
FTX Crypto Derivatives Exchange, built by traders, for traders. Buy and sell BTC, ETH, USDT, BNB and index futures with low fees and up to 20x leverage.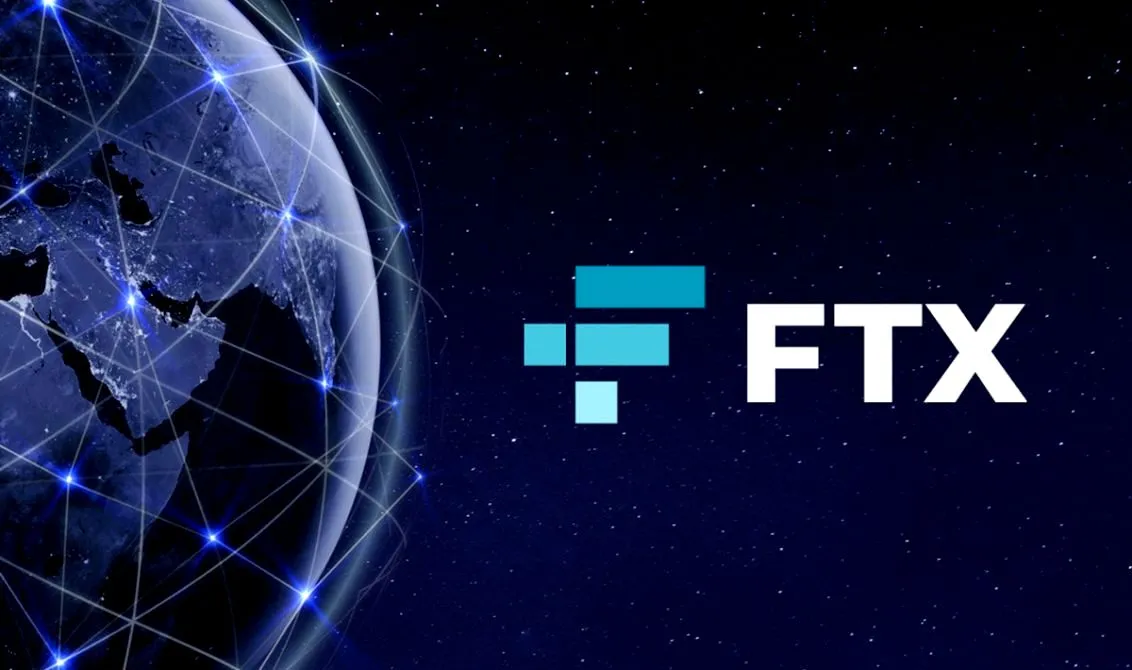 Comments are welcome and thanks for reading!
Feel free to add your Publish0x articles and join the group at Post Your Publish0x Articles Group and the new Facebook page Publish0x Articles.
Publish0x internal links
How It Works contains a list of other important resources. including Publish0x User Account Reference Guide.
Scan QR code or click for NFT collectibles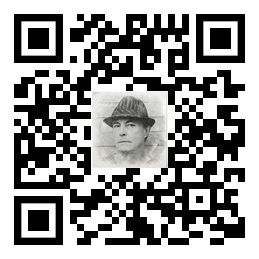 Facebook page - NFT