Binance SEPA changes and Pendle added to Launchpool
Launchpool is one of my favorite methods of earning on Binance, although there is often nothing available in the pool.  The long list of completed Launchpool projects is available by clicking "view more" beneath the currently available items.  Currently, farming of both Pendle (PENDLE) and Maverick (MVK) is available on the Binance exchange.
Here is a brief description of Pendle (PENDLE) and Maverick (MVK) you can find directly on the Launchpool page in the app or website.  Pendle is a decentralized protocol that enables the trading of future yield generated by DeFi assets.  Maverick is a decentralized yield aggregator and optimizer.
Because of my current eyesight limitations, I prefer to use the Windows Binance app and scan the login QR with my iPhone.  Here is a screenshot of the Launchpool page in the app.
Launchpool in Binance Windows App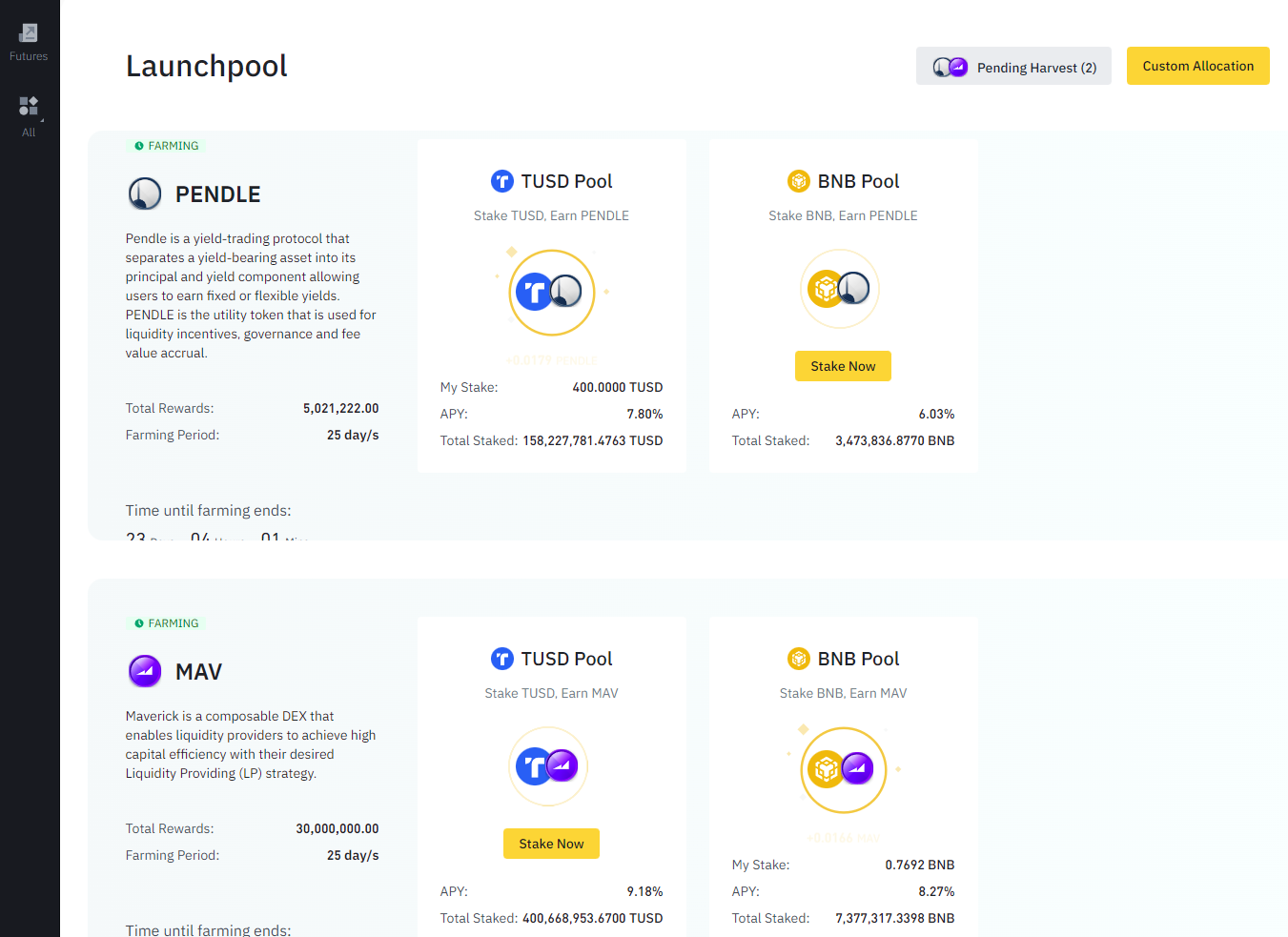 Clicking the individual pools opens the available buy, stake, redeem and claim options as shown in the TUSD pool example below.  Clicking Homepage top left returns to Launchpad homepage and you can also view the BNB pool beneath the Pendle description.
TUSD pool farming Pendle
Clicking the BNB pool for Maverick opens the options to buy, stake, redeem and claim as shown below.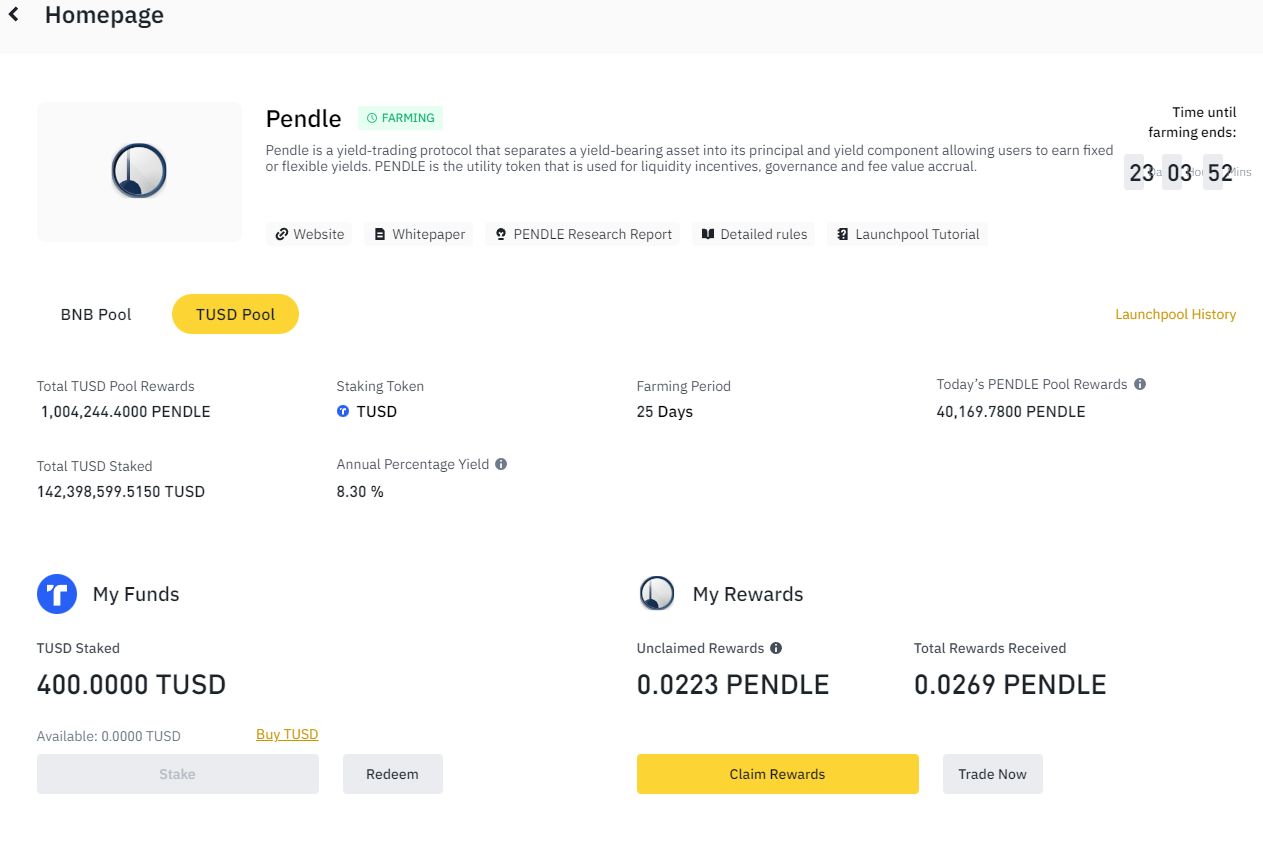 BNB pool farming Maverick
Clicking the BNB pool for Maverick opens the options to buy, stake, redeem and claim as shown below.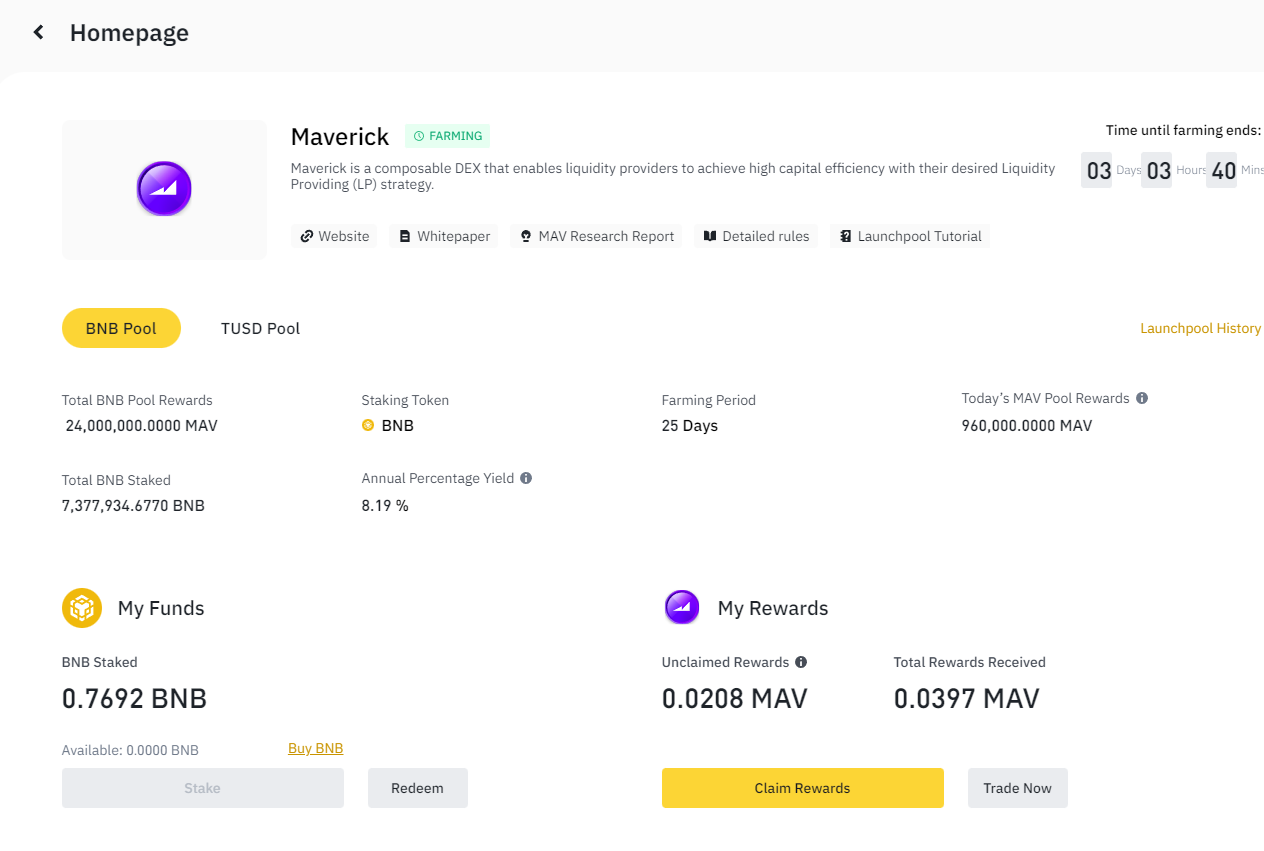 Upcoming SEPA Changes on Binance
Binance will be changing the provider for EUR deposits and withdrawals.  The current EUR fiat payments partner, Paysafe Payment Solutions Limited (Paysafe), will stop offering SEPA deposit services to Binance users from 25th September 2023. 
Following forementioned date, users will be required to use new banking details to make EUR deposits into their Binance Fiat wallet and may be required to accept new terms and conditions.
There will be no impact for existing Binance users until 25th September.  This doesn't affect any other products or services a user has on Binance.com.  Only the EUR deposit and withdrawal functions provided by Paysafe, for example via Bank Transfer (SEPA), are affected.
I previously described problems with the Paysafe payment processor just before the conclusion in my article entitled A Comparative Analysis Of Binance And Kucoin.  I explained that the SEPA problem I had at that time was due to the payment partner and continued a positive relationship with Binance.
The support staff explained they were looking for a new payment processor, but I didn't want to spill the beans prematurely.
So yeah, I am glad they got a payment processor replacement.  I use SEPA to transfer EUR frequently
I am officially on a summer break for two weeks as of now.
My last few articles:
Thanks for reading!
Join and post your articles on the new Facebook group Post Your Publish0x Articles Group.
Publish0x internal links
How It Works contains a list of other important resources including Publish0x User Account Reference Guide.
Play games and earn Litecoin at Litepick

Earn passive income with Honeygain and cashout on Jumptask.


Remember to use Presearch if you value privacy when online.

Get paid to search while defending online freedom.