NFTs (non-fungible tokens) were one of the main trends in the cryptocurrency industry during 2021. But after last year's boom, the market experienced a sharp decline during the first months of 2022. Is it a temporary decline? or the end of the popularity of NFTs?
Sources like Google Trends show that people's general interest in NFTs has also decreased. Searches for the term peaked in January 2022, then dropped sharply in early February, coinciding with a 75% decline in transactions, according to company Chainalysis.

This does not mean that the market has stopped growing, rather, it is a sign that it is stabilizing. The recession of February 2022 gave way to the market recovery by mid-April. There is growth, only it is fluctuating and at a slower pace than was seen last year.
Calmer waters may be the perfect scenario for the application of regulations that protect the consumer from scams, theft and market manipulation, which were quite common during the NFT fever and showed the need to solve security flaws in the system and some legal loopholes.
Trading Volume Increases
According to Chainalysis, NFT transaction volume has grown significantly since the beginning of 2021, but not consistently. Last year saw a total of $40 billion sent to the NFT market, while so far in 2022, $37 billion has been sent. So the 2021 volume is expected to be surpassed in a matter of months.
Keep in mind that the activity fluctuates from month to month, as happened in August 2021 and January 2022, when there were large spikes. The former was likely fueled by the launch of the Mutant Ape Yacht Club collection, and the latter by the launch of the LooksRare NFT market.
After the peak in January, NFT transactions fell sharply, from $3.9 billion the week of February 13 to $964 million the week of March 13. This was the lowest level since August 2021. However, in mid-April the market began to recover to near the volumes of early 2022. This rally was influenced by the launch of the Bored Ape metaverse.
The fluctuations have not stopped the number of NFT buyers and sellers from growing. In the first quarter of 2022, 950 thousand unique addresses bought or sold non-fungible tokens, which contrasts with 627 thousand addresses in the fourth quarter of 2021, as shown in the following graph: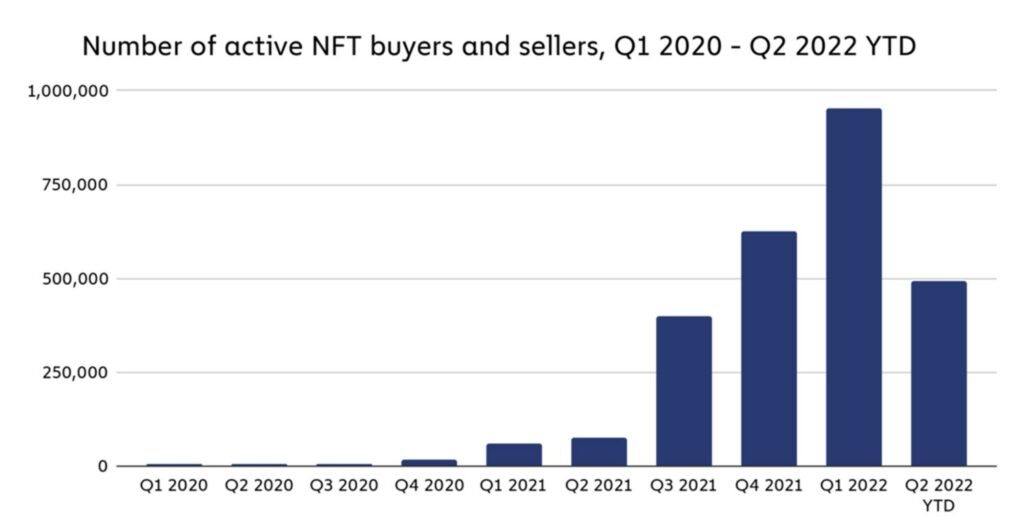 The number of trades on OpeanSea, one of the largest and most important NFT marketplaces, has also increased steadily since March 2021, exceeding 5,000 by April 2022.