Join us in Telegram https://t.me/rubikaventures For Bitmex and Binance.
With the years of experience we have, one of the first major mistakes of traders is to want to place a trend confirmation where there is none. We say this to affirm that in order to have a complete reversal with Bitcoin, the price must primarily break the EMA21.
For now, Bitcoin is shown accumulating between $ 8060 and $ 8220. But to have a reversal confirmation it is important that in addition to breaking the EMA9 hard, it is important that the price reaches an accumulation zone above the $ 8350 punctuated by the EMA21, breaking our downward trend line marked in the triangle of accumulation.
Our Daily Special Recommendation
Remember we are re-accumulating #WANBTC #BINANCE #UPDATE between 2550 and 2850 to sell end of the year.
The Bitcoin Prediction That Drives Us Crazy
A great joy that motivates our heart 🥰💚 Bitcoin Daily Review https://www.coinigy.com/s/i/5dd5f1c0e0fd0/
To close the day we don't want to report anything about the market closing! We want to share a great joy! 🎊 https://www.publish0x.com/rubikaventures/cryptocurrency-market-bitcoin-review-closing-spooky-day-xxvjwm?a=pmbkrGXazJ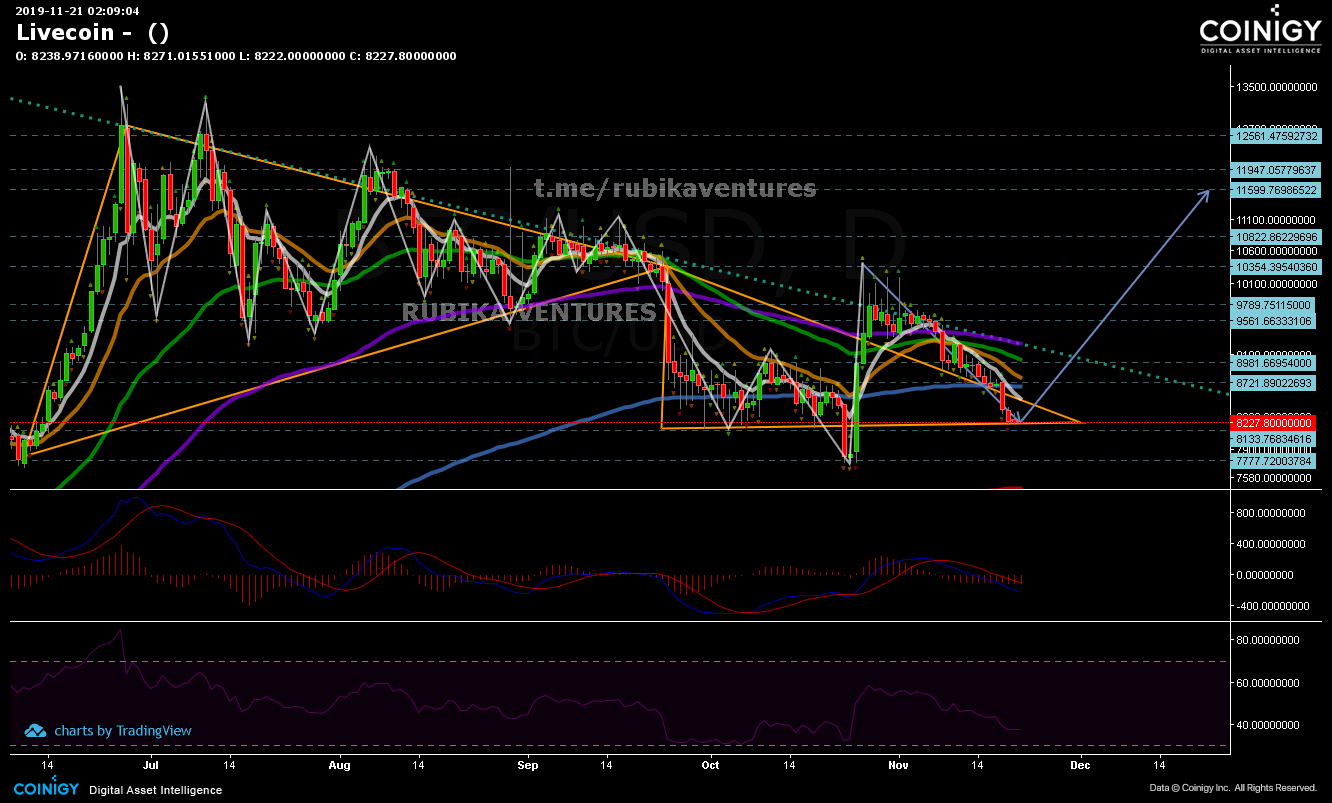 Two months ago we had done an analysis with anticipation for this month and to the surprise of us and reviewing what we had done https://www.tradingview.com/chart/BTCUSD/gzTamOUa-Cryptocurrency-Market-And-Bitcoin-Review-For-Closing-Spooky-Day/ (play here), our prediction made for this date coincided exactly with our technical analysis. ✅
That excites us a lot the heart ❤️. We will continue working with love!
Do you really love this article? please tip (clap) us and comment below to continue producing more content like this.

Join us in Telegram https://t.me/rubikaventures For Bitmex and Binance.