If I was asked to mention two different types of mobile Maps before now, I wouldn't have been able to. The reason being that I am so used to Google Map alone. Right from the first time I started using an Android device, I have always met Google map on it. I'm not blaming Google for including only their app, but I'm blaming myself for not searching for an alternative map just for a whole new experience. I decided to make a new finding of alternative maps after I read that Good has the whole control of their map. I mean, they decide what to display on the map for its users. This is similar to the disadvantages of using centralized platforms. The users don't have a say. The whole thing about Google map is controlled by Google.
Have you ever thought of changing the whole centralized platforms, or apps you use for decentralized ones? If you have been thinking the same line with me, then I am happy to start off with Google map. The only alternative map I have seen that solves the problem of a centralized map is OpenStreetMap.
What is OpenStreetMap?
According to Wikipedia, "OpenStreetMap is a free, editable map of the whole world that is being built by volunteers largely from scratch and released with an open-content license."
The above definition simply means that the users are the real creators of the map. In today's blog post, We will be looking at how to contribute to OpenStreetMap. It's necessary that we contribute to the development of the only map for the people. For this to be possible, the developers behind OpenStreetMap developed a mobile application called StreetComplete. This is an Android application which finds incomplete and extendable data and lets users to correct, or completes them. There are awesome things users are able to do with this app. You will get to know more as you read.
To really understand what to do with this app, here's a brief explanation from the developer;
An Android app which finds wrong, incomplete or extendable data in the user's vicinity and provides the tools to complete these easily and directly on site without having to use another editor.
The found issues are presented to the user as markers on a map (like i.e. in Osmose) that each is solvable by filling out a simple form to complete/correct the information on site. The user's answer is then processed and directly uploaded into the OSM database in meaningful changesets in the name of the user's OSM account. Since the app is meant to be used on a survey, it can be used offline and otherwise aims to be economic with data usage.
The app is aimed at users who do not know anything about OSM tagging schemes but still want to contribute to the OpenStreetMap by surveying their neighborhood (or other places as well). Because of the target group, only those quests are shown which are answerable very clearly by asking one simple question and only those quests are created which contain very few false positives. Source
There are currently three ways to get StreetComplete downloaded on your device. Below are the links provided by the project owners.


On launching it, the first request that popped up was the permission to have access to my location. This was expected as all map uses users location. After I granted it the permission, it then displayed my location on the map. It also displayed incomplete roads that need to be edited.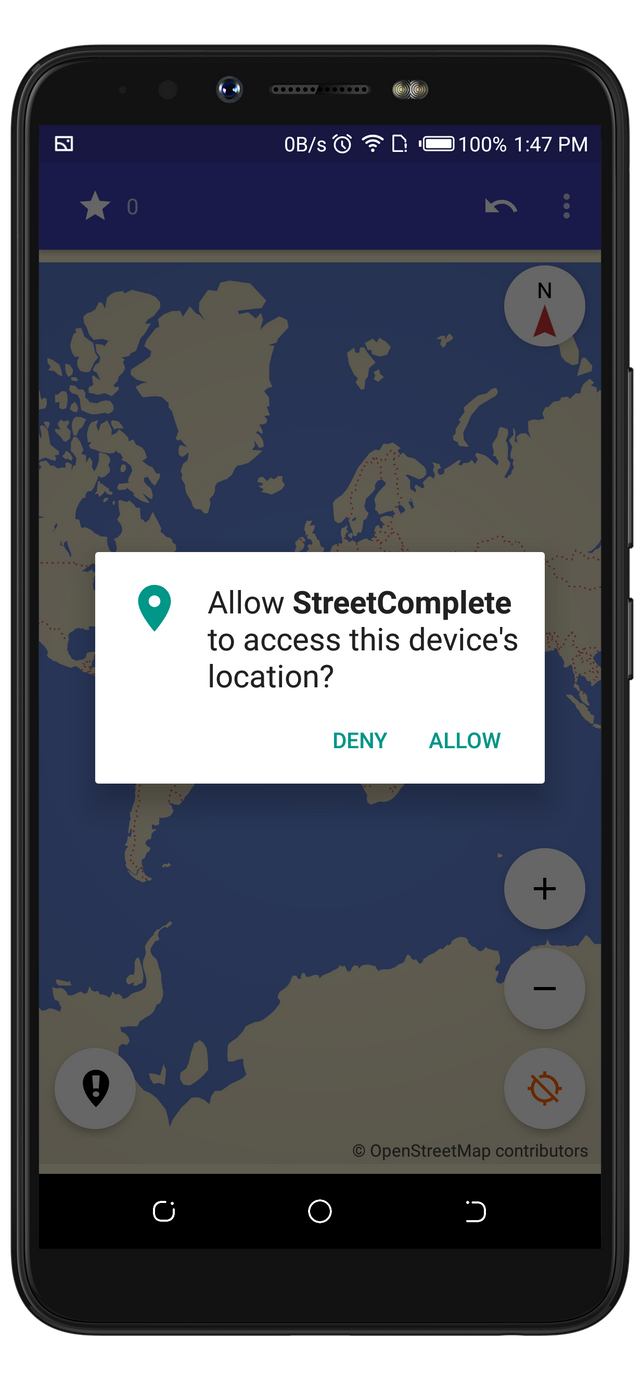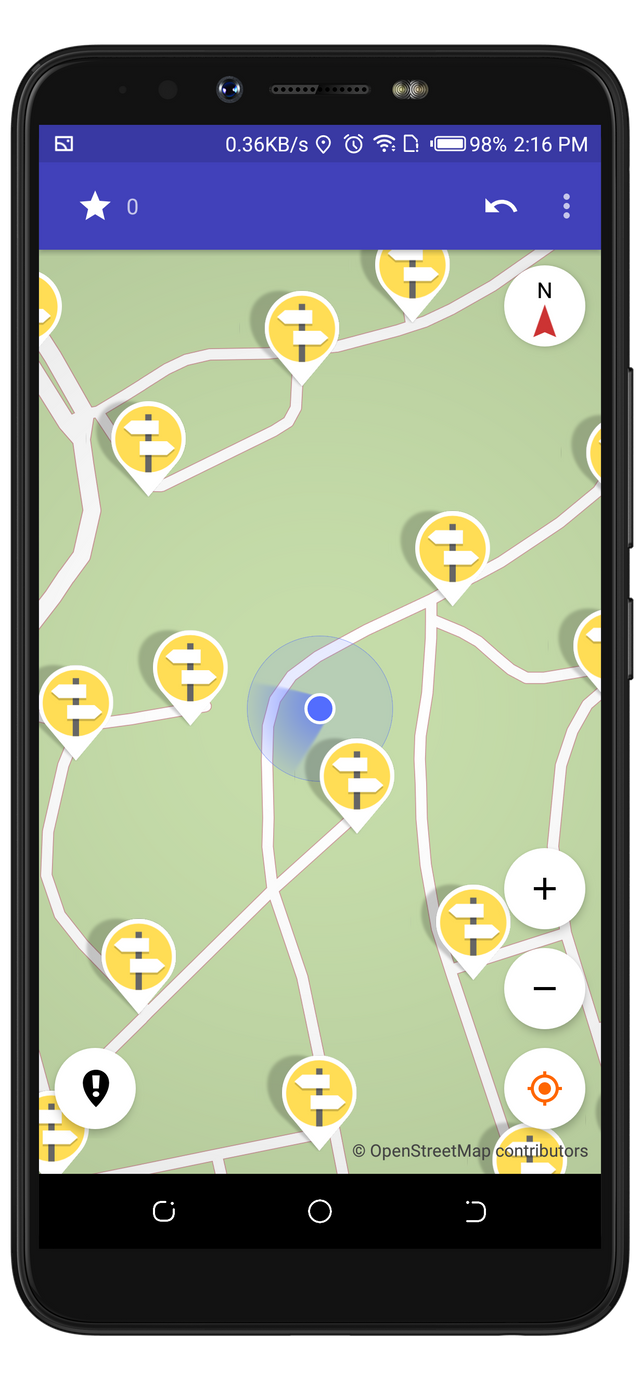 I am expected to answer the questions that are tagged on each of the signs on each road. This is all that is expected from me and other contributors.
Easy To Use
Similar to other maps, contributors on StreetComplete are able to zoom in and out of the map. While I was using the zoom feature, I observed an interesting feature. I wasn't able to zoom in to other locations. I was only able to rotate the map around my vicinity. I believe this feature was implemented because they don't want users to edit other people's location.
Give Answers To The Available Quests
When you look closely at the second screenshot above, you'll notice that there are some signs on the Map. When these signs are tapped, they will pop up questions asking the contributors to complete the quests. The signs that appeared from the screenshot above might be different from yours. Since we are not in the same location.
When I clicked on one of the signs, it displayed the question and a text entry input for the answer to be typed in. The first image below shows how it displayed, and my text input to one of the quests.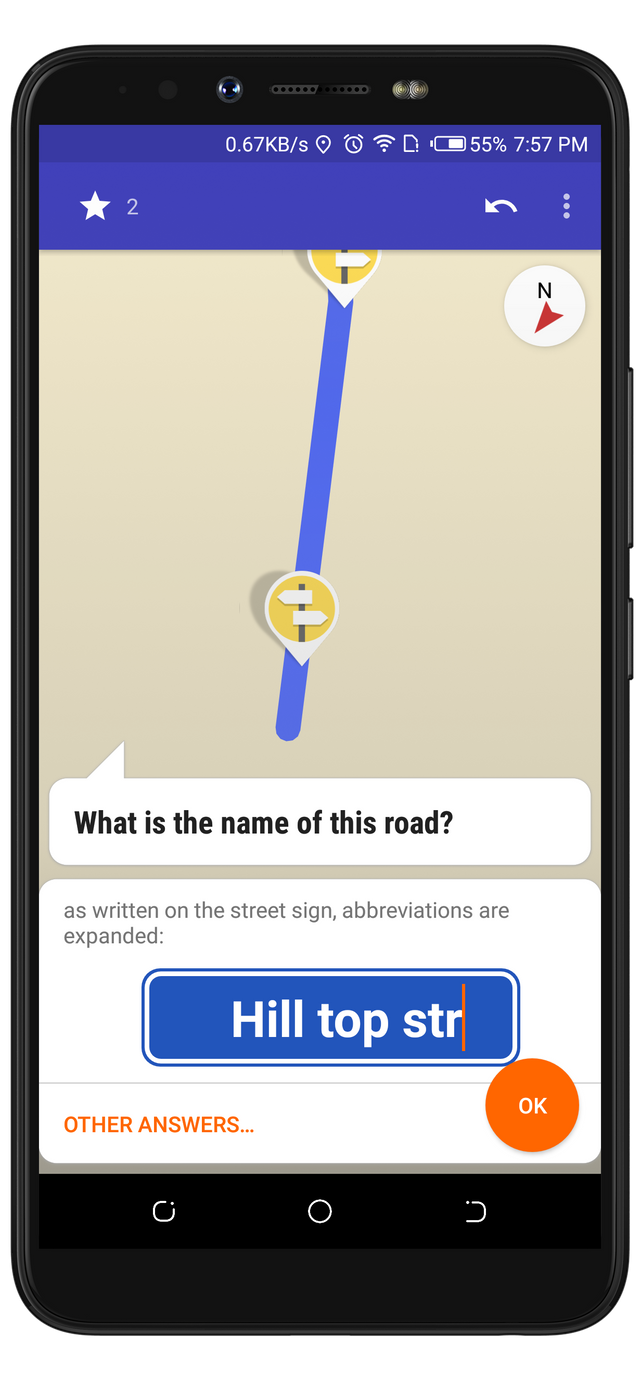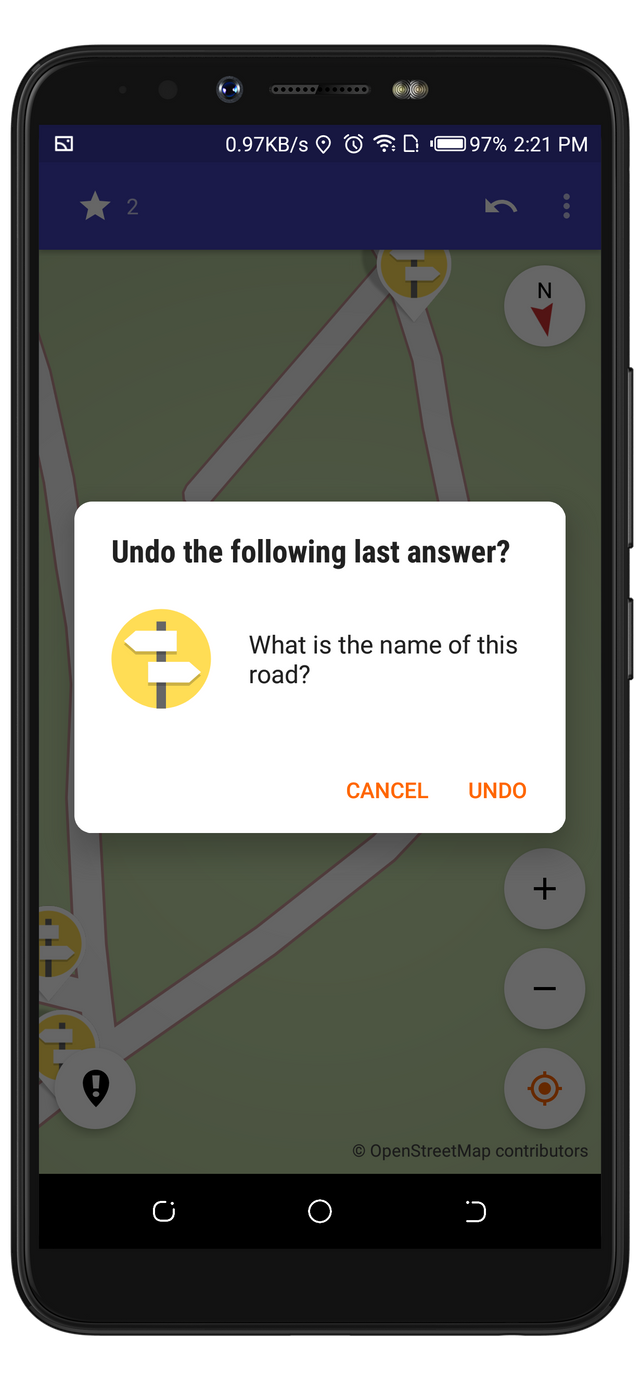 The project owners developed StreetComplete to function as a normal text Editor so that users can have a friendly experience with it. My statement can be proven from the second screenshot above. Even though when I wrongly entered an answer to a quest, I was still able to undo an entry. This was possible because the app has an undo button at the top of the screen, similar to that of a text editor.
In addition, what will you do if the road you are trying to answer has no name? Or if you have no idea? well, There is an option to select if you find yourself in this situation. The button is known as Other Answers. When this button is clicked, it will display the first screenshot below.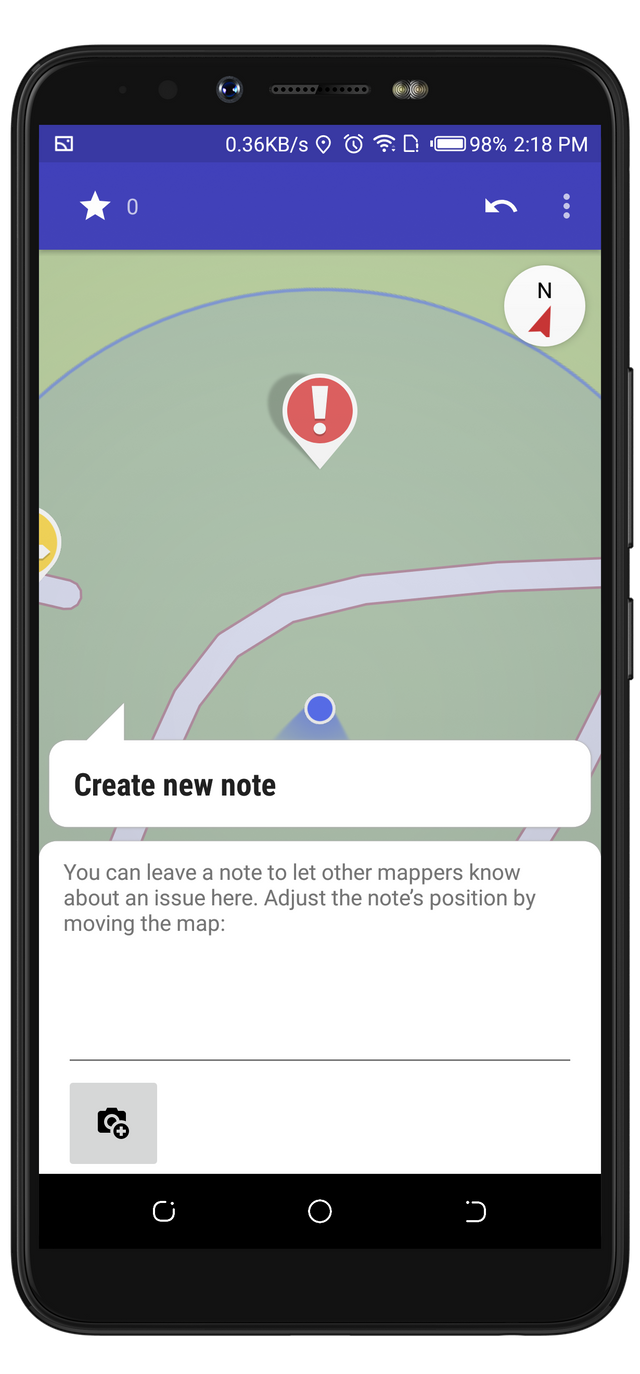 Also, similar to the first screenshot above, if you find an issue about a location in your environment, you can simply create a note of it on the map for other mappers to take note of that area. This can be achieved by clicking on the create note icon. It will pop up a text editor requesting for what the issue is. A well-written description of how to use the note creator is also displayed. This feature is well appreciated as this will be a way to save other mappers from falling into a danger area while mapping.
The Mapping Counter
If you have answered too many quests, and you've also lost count? you don't have to worry because every of your activity is being recorded automatically. The screenshot below was taken when I have only completed two quests.

Types Of Quests & Login page
I don't know why my location only displays quests for incomplete/ wrongly labeled roads. Does this mean the rest of the things in my region are rightly labeled? I still don't know. But, I have got to know that there are even more different types of quests signs than the ones is displayed on my map. Below are the rest of the quests. [first ScreenShot].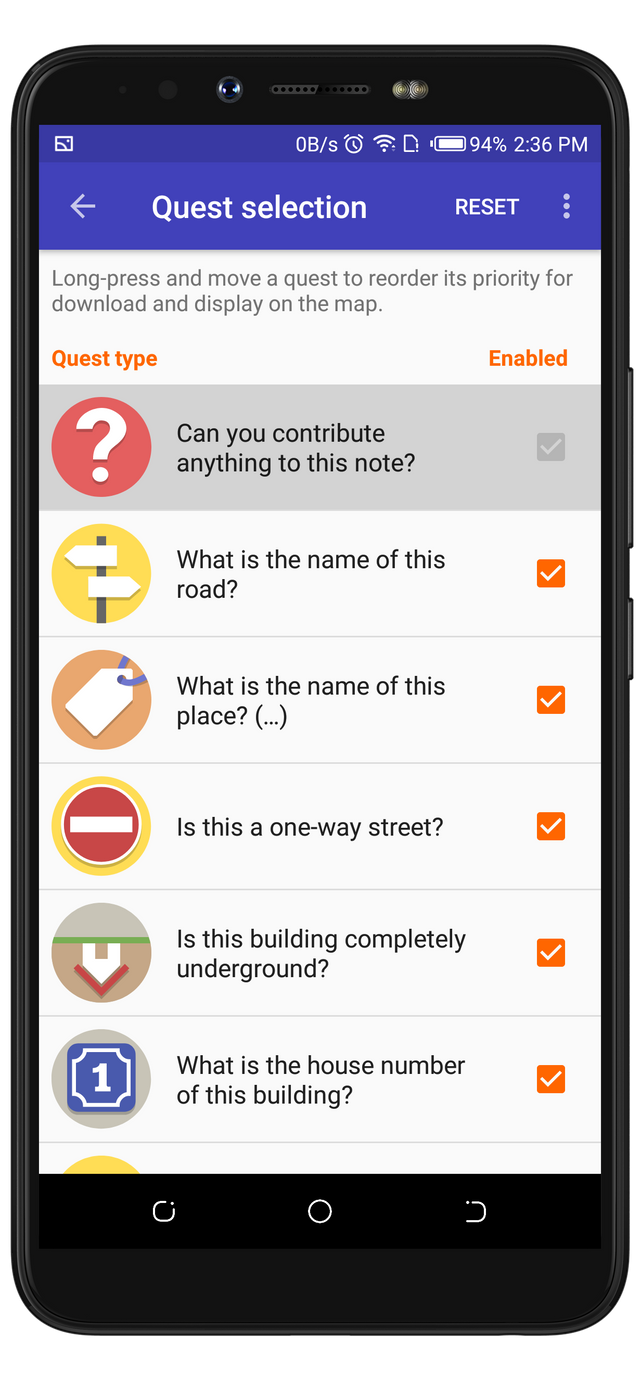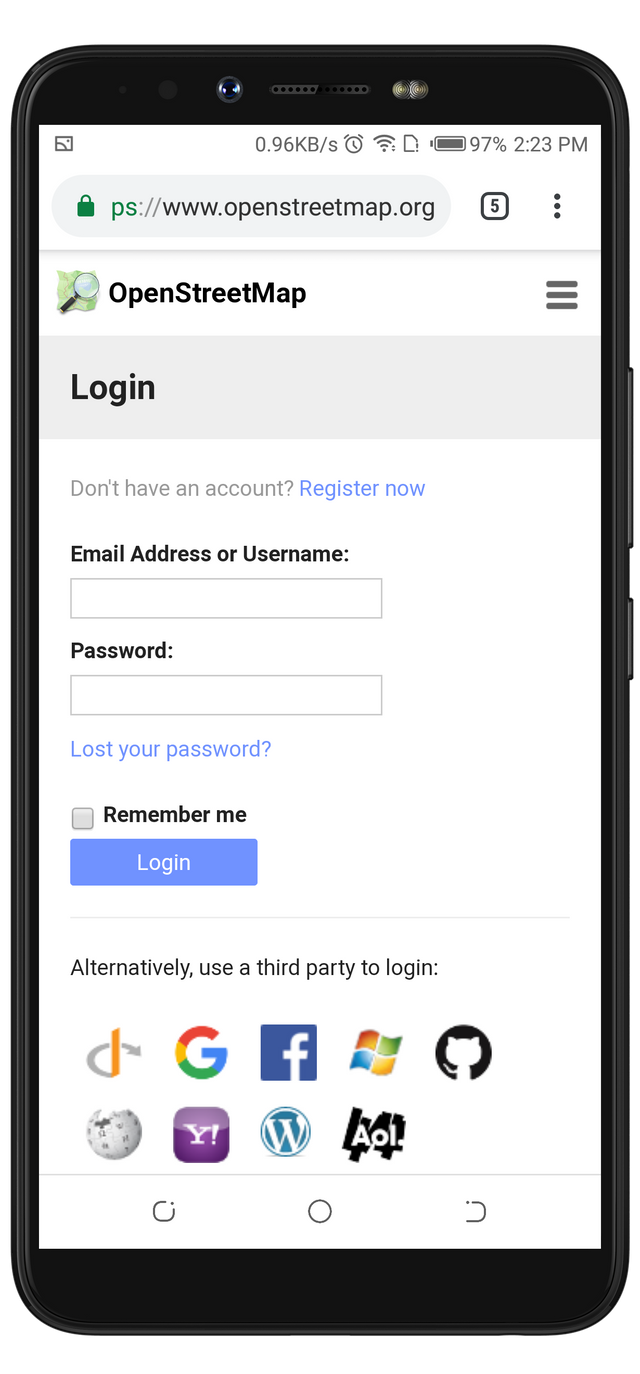 [Second ScreenShot]
I was able to perform all the mapping from the previous paragraphs without logging into my OSM account. You might also decide to log in before mapping. To successfully submit your work, you need to log in. The option to access your account is located on the settings page. You don't have to launch the browser separately. It automatically launches the browser and then opens the login page.
Conclusion
When we contribute to OSM following these simple, and interesting steps, we are equally improving OpenStreetMap to beat most of the popular Maps owned and controlled by some companies. Below is a good comment from a user of OSM.
Can I add that OpenStreetMap has worked really well in India where roads, lanes, byways, and alleys can sometimes all merge, names can change, and there is not very good official data available about them. Getting Google to 'approve' your suggestions for Google Maps in such situations is a pain. For the first time in India, we have a bus routes app (built on top of OSM) which shows us - similar to TFL bus routes - which roads buses traverse. Source.

 

This post was previously published elsewhere.