Quick Background:
Monolith crypto project was born in December 2019 as part of Marbella Chain a blockchain with native tokens (for tourism businesses usage in Spain).
After receiving minimal initial funding, hopes were ok. But there was a first problem, there wasn't any exchange for the tokens in this chain.
Soon things started to get south. The tools we could use stopped working, the Mchain developer embarked on a race to update a certain aspect, leaving out the rest, and the promised improvements never seemed to come.
Meanwhile, COVID hit Europe hard, shattering most of our plans.
Towards the solution:
Creating our own blockchain didn't seemed viable (the required invest and developing time could have killed us). But swapping to a different blockchain was. After considering ETH due to its popularity -and actually creating an ERC20 which is seating in some wallet somewhere-, we were truly concerned on how this change would help the most needed or even facilitate their inclusion. Well, it wouldn't.
Here's what we actually needed:
An asset that no one in the world can freeze.

Very fast transactions to anyone, anywhere, anytime.

Very cheap network fees, one cent or under will be ideal.
Not having to provide any personal information ever.
Bitcoin Cash to the rescue!
If you're familiar with Bitcoin Cash already, you can see why it was the perfect fit. Swap could be easily conducted at the lowest cost, without any technical requirements. We gain not only functionally but we reduced cost fees and waiting times in the process.
The Swap
A swap is never easy to announce, moreover when so many scam shitcoins swap in the hope to regain some value, after they've already put to waste millions of worthless tokens in Airdrops.
So we did 1:1 swap (no matter what the new price would be) for our registered members and investors, so they kept their trust in us.
Then it came out easily to offer our users the best and more profitable deals. If you're wondering which check here.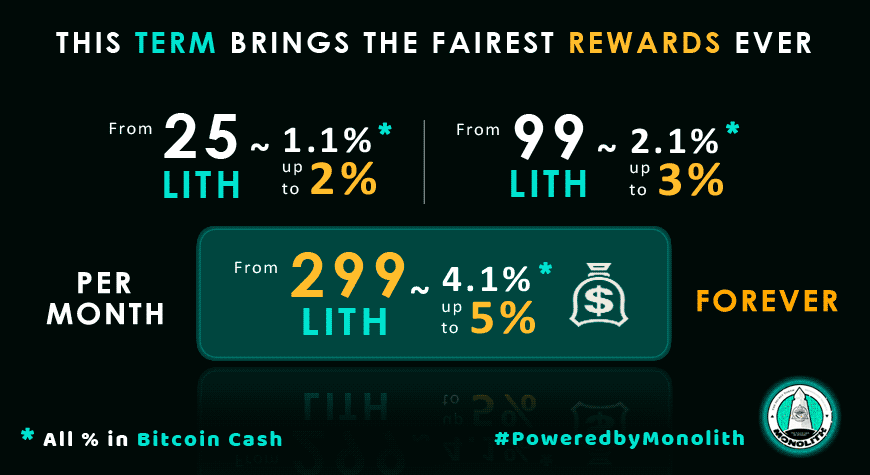 ---
Don't hold any LITH yet?
Don't be left behind. You can access rewards Forever. Get some here!