Brave is the latest unique browser to participate in today's exciting market. This free and open source browser from Brave Software Inc loads fast and has better privacy protection than other competitors. The browser keeps data secure and gives users the ability to save or delete data. Brave has built-in ad tracking and blocking. Unlike most other popular browsers, Brave also helps fight phishing and malware attacks.
Learn Brave browser model
When Brave launched, the market was rocked by the browser's unusual business model. Blocking default ads is considered by many to be a threat to content creators. This feature changes the way traditional digital ads serve. Brave also succeeded in realizing the dream of browsing the web to receive money.
Brave's reward system for content creators and users
Content creators depend on ads to stay active. However, ads are not displayed on the Brave browser. So how does the Brave browser support online advertisers?
The Brave browser takes a unique approach when it comes to "compensating" for creators. The awards are made through the Brave Ads network and user contributions. Content creators are required to register with the network before earning revenue. Registered content creators earn 55% of alternative ad revenue.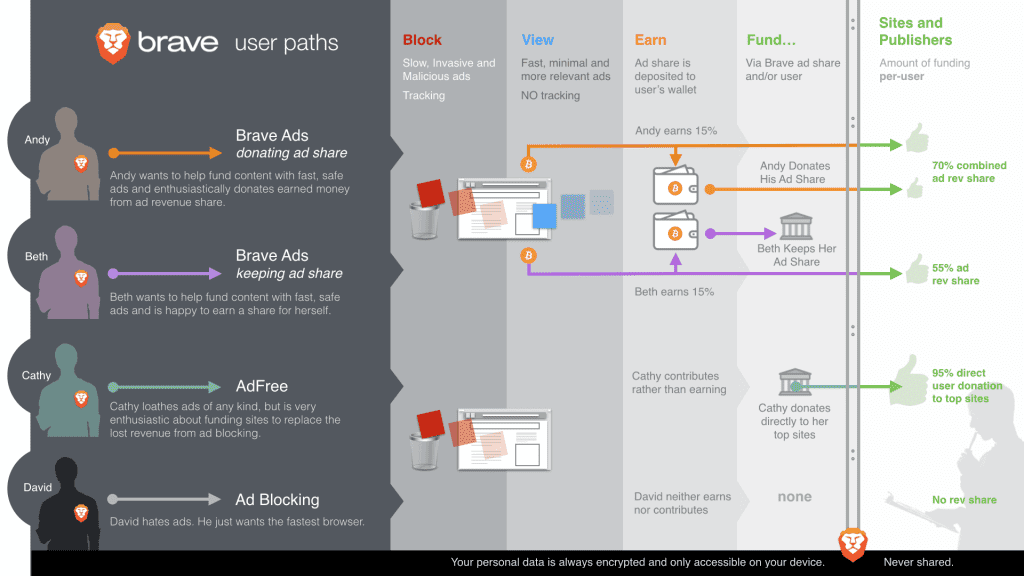 Brave comes with an available BAT wallet. This wallet allows users to support their favorite websites. Users can download wallets and allocate a specified amount of BAT to favorite websites. Wallets can be loaded via Bitcoin, Litecoin, Ethereum and BAT tokens. Credit cardholders use the UPhold payment processor. You can set a monthly BAT budget to be automatically distributed to frequently visited websites. You also have the right to set a percentage to be contributed. You will not have to see any ads but still support your favorite website.
Users can earn BAT by browsing Brave enabled sites. If the user agrees to replace the regular ads with anonymous ads from Brave, they will get paid in Basic Attention Token (BAT). Users will receive 15% of revenue. Revenue depends on the time spent on the Brave browser.
However, you must enable Brave ads because the browser blocks all ads by default. Before receiving any payments, you need to activate the BAT token wallet.
For users who do not want to support any website, they will not earn money nor contribute to any favorite websites. But in return can browse the web very quickly.
Why did Brave accept BAT?
Existing digital ad delivery depends on tracking browsing history, cookies, search questions and third parties. Brave does not support these. Integrating BAT into the browser involves the implementation of the BAT Ads system. The system displays ads to users based on locally stored information. With this data, ad targeting will be performed locally.
This Brave browser model promotes privacy protection. Browsing history is kept private, because all the data needed to deliver appropriate ads never leaves your system.
Making inappropriate ads is one of the reasons many users hate ads. With the BAT model, users can choose the ads they want to see. Brave's BAT platform protects the anonymity of users while ensuring the relevancy of the ads they view.
Therefore, it can be said that the BAT represents a fundamental review of how digital advertising is delivered.
Benefits of Brave browser
Brave browser is becoming popular. Brave has been considered a successor to Google Chrome. Brave seems to be the solution to the challenges that appear in regular browsers. Here are some unique benefits of using Brave.
Default ad blocker
Brave automatically blocks ads. Users no longer need to search for the perfect ad blocker on the web. The ad blocking feature automatically protects the device from malware and tracking by advertisers. Brave is also working on a plan to replace potentially harmful ads.
Brave's ad tracking feature is very accurate. Users are suggested to have appropriate ads because Brave performs tracking using local data. If an ad is unrelated to the user, it will be removed. Therefore, users receive appropriate ads based on this model. User data remains in the device because no third party is involved in this process.
Although Brave blocks third-party cookies, first-party cookies are not blocked by default. Users have the option to block or enable cookies on a given site.
Improve privacy while browsing the web
The automatic ad blocking feature allows users to browse safely. Brave does not have access to user identification data. Data related to anonymous aggregated advertising campaigns is used, but cannot be retrieved back to user devices.
Brave also comes with extra features to enhance privacy while browsing the web. Combining HTTPS everywhere allows you to use web encryption whenever possible.
The Fingerprinting feature prevents third parties from tracking user activity. This feature can be enabled in the Settings tab.
Brave browser loading speed is also very fast. Brave's fast browsing is due to its lack of third-party advertising support. Therefore, there is very little content to download before visiting a favorite website. However, Brave's rendering speed is a bit lower than that of Google Chrome and Mozilla.
You will be paid to browse the web if desired
In the past, getting paid to browse the web was a distant dream. However, Brave browser has made that dream come true. All you have to do is activate Brave ads. Watch ads and get 15% of revenue. Content creators will be supported by users who love the content. All payments are in BAT token format.
Brave browser is available on iOS, Android, macOS, Windows and Linux platforms. Users on these platforms can browse safely and quickly. Brave does its job well without using much computer memory. Unlike most other popular browsers, Brave uses very little RAM (only about 170MB RAM). One important thing to note: Brave is a Chromium-based browser. Browsers built on this platform are "famous" for consuming a lot of memory, but Brave is an exception.
A Reddit user review of the Brave browser after 4 months of use
A Reddit user has been using the Brave browser since 4 months ago, and also uses IE, Chrome and Mozilla in parallel to evaluate which browser is smoother and more perfect. Initially, Brave had a number of problems, but in the new versions, almost all of them were fixed. And after using all browsers every day for 4 months, this user concluded that Brave was the most prominent and No. 1 on the list, for the following main reasons:
In terms of security: Switch from HTTP to HTTPS (so there's no need to worry when paying with credit cards or buying something, because Brave takes care of HTTPS).
Block scripts, trackers and ads: That's why web pages don't freeze, lag and freeze when browsing. This user has encountered many problems with IE, Chrome and Mozilla, in which websites such as Forbes, CNN, Slickdeals and Coinmarketcap did not respond without clarifying the cause. This problem has never happened on Brave. The reason is that Brave blocks scripts, ads and trackers. Brave provides users with extremely smooth browsing experience.
Has a great dashboard, showing how many ads, trackers and scripts have been blocked.
This user has not yet considered the BAT payment factor. As mentioned above, when Brave created BAT Ads, users could earn a little bit in BAT, while contributing to content creators, Youtubers and many websites. This can be considered a revolution.
(Note: see my article at the following link :
How to make money with Brave Browser?
for instructions on how to make money with Brave Browser)