Introduction
In the previous article I started to throw down some ideas for building a framework by which I hope to be able to judge my crypto investments in order to determine if they are a good fit for my goals and portfolio as whole. We looked at the initial stage which was focused on Community/Development, in particular the general trends on social media, press releases and GitHub work. The end result was an overall score in this area of 2.6 (out of 5). This time we'll look at the next stage in the process "Track Record".
As with the previous article I welcome any feedback/suggestions from readers, particularly if you think there are any gaps in the information provided/used. This is very much a work in progress and an opportunity to look at the vast amount of resources out there. The goal is to try and use these methods to give a bit more of an objective review of a project in order to help make decisions about future investment. Remember that this isn't financial advice nor is it technical price analysis, you'd probably want to get that information from someone more qualified!
---
Current Framework
Before we dive right in, I wanted to quickly show the overview again of the process and the grading system. The goal of grading the 4 individual elements is to be able to bring them together to give a general score that can be used to help determine if it is best to Hodl, Sell or Consolidate (HSC) an asset (basic framework below).
To achieve this goal we're going to be grading each item that is reviewed on a scale of 1 to 5, then take the mean value of these to give us the element that would go into contributing to the overall HSC-Score.
5 - Very Favourable
4 - Favourable
3 - Neither Favourable nor Unfavourable
2 - Unfavourable
1 - Very Unfavourable
---
Category 2: Track Record
In this category we're interested in looking back at some of the historic data for the project. Ideally, what we're looking for in a project is a balance of reasonable goals (set out in a road map) that are both achievable but also innovative and stretch the project (helping it to stand out in a crowd). We're also looking at organic growth and the rise of it through the ranks, both in terms of market cap and in terms of user base. We're interested in any key partnerships and the historic activity on the network to try and gauge wider adoption (we want to see these increasing over time).  
Road-map Achievements
The road map, one of the most common visual aids in the crypto-project play book. This should, at the start of the project lay out a solid path by which the team hope to execute the necessary stages of development in line with the project white paper. However, looking back at the road map and when achievements were made we can get a sense of the momentum behind a project. Often, projects start out with quite a bit of fanfare but can in time slow down. Let's look how Electroneum (ETN) does in this area.
2017:
So back in Q3/Q4 2017 ETN kicked off an ICO at ($0.01), we'll come back to that value later in the cost/value category, which was terminated early as they reached the $40m cap sooner than expected.
Now this looks good on paper, though we must remember that at this time there was a lot going on the crypto-sphere and a lot of FOMO. Yes, it is a great achievement to hit a target quickly, but in the context of the time this isn't unexpected or extraordinary. The google trend plot below show the search term "cryptocurrency" in 2017.
2018:
Next up with a little digging (it is important to do this), we can find and compare the 2018 goals against the reported (via their site) achievements for both Q1 and Q3 (projected on left and achieved on right).
What we see here are the goals being relative short and general in terms of their target (leaving it open for achievement). We see some milestones hit which is good.
2019/2020:
From the projected goals in 2018 it gets a little hazy and finding 2019/2020 plans aren't as clear. However, there is a nice summary of achieved items on the main Electroneum site showing 2019 and 2020.
https://electroneum.com/road map/
Key achievements were:
Q1 2019

Listed on Huobi exchange
Atomic Swap
Top-ups (South Africa)
Mining App

Q2 2019

Change to proof of responsibility (centralization of mining via Non-Governmental Organisations 'NGO')
Block reward reduction

Q3 2019

Top-ups (Brazil, Turkey)
NGO partnership announcements

Q4 2019

Top-ups (Uganda, Nigeria and Tanzania)
AnyTask Beta

Q1 2020

AnyTask Launch
Listed on Biki exchange
Top-ups (up to 140 countries)
Beyond:
Market Cap/Price growth
After looking at the road map for a project it is important to look at what was happening to the position in the market over this time. It is all well and good have achieved all your goals but if you're not moving up in the very busy crypto-crowd then you run the risk of stagnating and being left behind. CoinGecko gives us a nice way to do this by going to the overview section and looking at general and selecting Market Cap and Price.
Note here that I've presented linear scale for reference. The problem with linear is that the severe jumps back in 2017 really confound any later trends. It is much easier to see these trends on a logarithmic scale.
User base
So we've got an idea of the historic goals and achievement, and an idea of the price action/market cap over time. Now let's see what the user growth has been like. This will tell us if a project is closer to achieving that all important adoption. 
In the case of ETN, we can see from the road map some of the planned/achieved user base count, however, since there is an app we can also look at these downloads as well. I've found a really handy site that does this:
Also, fortunately for this review, the Electroneum team recently wrote an article looking at their user base where they present the chart below from "Statista infographic". This does indeed look impressive, though I'd always take something like this with a pinch of salt. A company would never actively publicise data that didn't look good. The key thing I think here is, to take a look at a couple of sources if you can.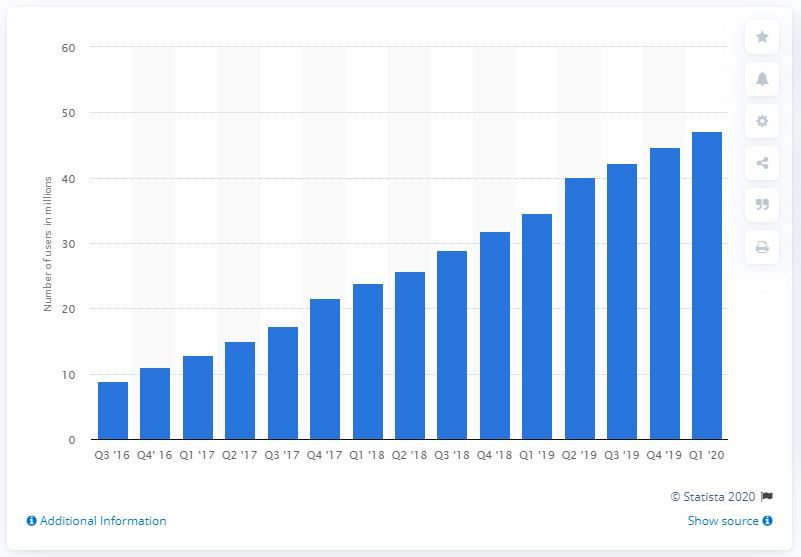 Partnerships
The final section we're going to look at today is the partnerships. Now normally I would go straight to List3r or MuyAsk or Mr.CryptoWiki, but sadly they have not covered this project. So it is out to the wider internet we go looking for proof of partnerships. For ETN there is some information on their road map, but a consolidated list isn't clear. At the moment we're not going to consider exchanges as direct partners. I think that will fit better with part 3 (cost/value).
Effortel (marketing)
BMedia (marketing)
GMSA membership (mobile communications industry)
redONE (mobile network provider)
Mobile Streams (marketing)
Hong Kong Joy Telecom Co., Limited (mobile network provider)
One Development (marketing)
The Unlimited (mobile network provider)
Ubuntu Pathways (NGO)
Project Child (NGO)
Wonder Foundation (NGO)
Turkcell (mobile network provider)
Vodafone (mobile network provider)
Turk Telekom (mobile network provider)
Africell, Airtel, MTN and Telecom (mobile network providers)
9Mobile, Airtel, Glo Mobile and MTN (mobile network providers)
Airtel, Halotel, Smart, TTCL, Tigo, Vodacom and Zantel (mobile network providers)
In addition to the partnerships above it is worth including the ETN Everywhere counts, in dark blue, (these are smaller scale businesses signed up to accept ETN) and AnyTask numbers, in orange, (these are the freelancers on the AnyTask platform).
Last of all it is worth noting the advisors the ETN team have added, these are deemed important enough to go on the team site and/or road map so we can consider these an extension of their partnerships.
---
Discussion/Summary
Awesome, so looking back over this category and how it has developed I can see many links with the previous article "Community/Development", in fact I think that will be a general theme throughout the development of this HSD-Score framework. This makes sense since nothing happens in a vacuum so quite often there is a grey area between sections, in this case user base is a clear overlap with community as is partnerships to an extent. To go back to my initial thoughts for this section we're looking for history trends rather than relatively recent, so I think that is where the separation can be made. Indeed, we're looking for consistent setting/meeting goals and a reasonable increase price growth, along with partnership development. In short, we want to know a project is going places but that it has been places as well. Let's see how our test case did.
Road-map Achievements: 5
Starting off this category strong, there appears to be clear vision and direction. Importantly, as well the road map has continued to be developed and added to by the team giving a nice summary of where they have been and where they plan to go next. 2018 goals for user base growth didn't quite meet their initial targets and the Q3+beyond goals (while realised now) were still some way off at the end of 2018. Since then there has been consistent regular achievements in adoption projects which helps solidify their position somewhat and follow up with a future goal focusing in these areas.
Market Cap/Price growth: 2
Next up we can move on to the historic trends in price action and market cap. This area definitely doesn't give us a clear image of a project accelerating, unfortunately. In fact, initially, we can see a steady decline from the FOMO peak in 2017 and would likely follow the peaks and troughs of the whole Bitcoin linked market fluctuation. That said something, it isn't all doom and gloom, seems to have changed direction since the move from just a mining app to a freelance transaction platform. The last few months have seen an uptick which could signal a change in direction, though give that it is now beginning to dip again it is hard to know if this is a permanent shift. 
User base: 3
Definitely looking at the numbers shared by ETN we can see what appears to be a consistent increase in the user base, indeed since 2016 there is a suggestion of up to a 5 fold increase. That said, as I indicated earlier we need to take it with a pinch of salt I think as where exactly this data is coming from and how it is measured isn't clear. Lots of empty new addresses to wouldn't indicate active increases in the user base. For the App store we can see the apple version has been steady, maybe even declining in recent months. This is not quite mirrored (except the drop) with the Play store where we can actually see a slow but steady increase, until the recent dip, in uptake from between 2018 and 2020. I can only hazard a guess here as to why this may be; it could be related to the target markets (aiming at the unbanked regions) which may correlate with easier/affordable access to android devices. However, without further analysis it is hard to tell, hence the score for this subsection.
Partnerships: 4
Finally, partnerships (when looking back over the road map) have actually been consistent. There was an initial drive in marketing, as you would expect from a fledgling company, afterwards it seems there has been considerable focus on cornering a crypto-mobile space with consistent partnership with major provides in key areas of operation. The addition of NGO's to lead the mining side of the business (while it creates centralization) it does seem to show that the team wants to separate out the profit driven mining ethos of other big currencies while maintaining network security and stability. Finally the advisory partnerships as well can speak volumes with a focus on community and charity, the project is definitely keen to align itself with positive global efforts.
Track Record: 3.5
Whereas, the previous category saw a sub-optimal rating in community and development the track record for this project seems to have been quite good, leaning on the favourable side.
---
Thanks again for reading, as with the previous article, I'm open to any suggestions/ideas. Point out any gaps, or incorrect assumptions, it is difficult to review your own work critically sometimes. If you are aware of any other resources by all means share them.
Hope you enjoyed the article and it gave you some food for thought, good luck y'all!