US$ Going to Zero - It Has Already Happened

One of the funniest videos circulating the web is one of an old fart yelling that Bitcoin is going to Zero! See the video below.

Kind of funny to think that the one thing he measures his wealth in, which is the US$, has gone to zero against Bitcoin during the time this fart stood on a stage yelling that Bitcoin will go to zero. Starting out in 2009 you were able to buy 20Bitcoin for 1US$ and 10 years later the table has turned and today you can only buy ~0.0001Bitcoin with 1US$.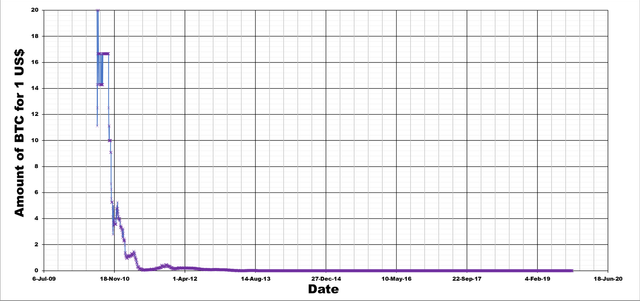 You actually have to plot the data on a log scale to see to what level of zero the US$ has fallen.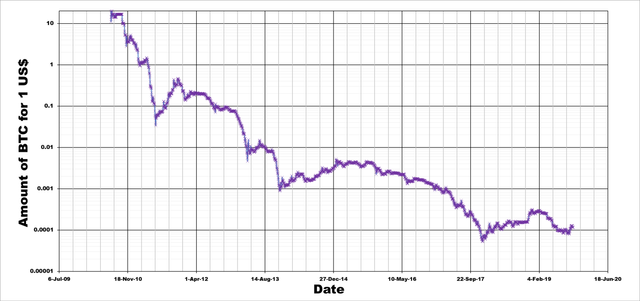 I for one don't think the trend will stop and within the next 2 years the US$ will be one decimal place closer to zero (vs BTC) and this is excluding the potential effect of inflation on this fiat currency.
I took a stab at where the price of Bitcoin will go in the next year or two, before we go into the next bull run, which is based on the cycle two trend. This is shown in the graph below and most of the back-work to get to this graph has been explained in my previous posts.
The current trend we are in seems to be almost exactly the same as the previous trend if you were able to remove the manipulation. It seems that we are on the path to hit the all time high at the start of 2021 and if the whales can help it this will happen a lot faster.
Currently BTC is a bit overpriced but this will change with time. As the days pass even the current price will  become undervalued. A blowup of the above graph is shown below.
I will leave you again with some old tragic twitter posts :-)