Image Source - Tampa teen accused of being 'mastermind' behind Twitter hack
Everyone has heard of this historic Twitter attack that rocked the social network in July of this year. An unprecedented Bitcoin scam, tricking celebrity account subscribers into paying BTC to double their stake. A technical feat which ended in a very meager booty in the end. Here is the reason ...
Barack Obama, Bill Gates or even the Apple company asking its subscribers to pay a sum in BTC to see it double instantly… The pitch of  this attack  had nothing to envy  the basic scams  that pollute the networks as soon as it is question of cryptocurrencies. The real difference here is the target and the dissemination medium of this scam. A massive intrusion and hijacking of VIP accounts from the social network Twitter platform . 
But despite the technical prowess the loot quickly turned out to be very small with just over $ 117,000 received on a BTC address. Which in the end turned out to be good news given the exceptional scope of this cutting edge scam .
In any case, the problem was no longer there , when Twitter revealed that this intrusion had also been an opportunity to steal private data present on the accounts of the personalities concerned.
Several joint arrests
And it seems that this case of hijacking personalities' Twitter accounts has just taken an unexpected turn . Indeed, three people have just been arrested as part of a joint investigation of all available police services, secret services included. These are three individuals located in the territory of the United States and the United Kingdom. The brain of this operation being none other than a 17 year old teenager . This brings the average age of the gang in shorts to 19.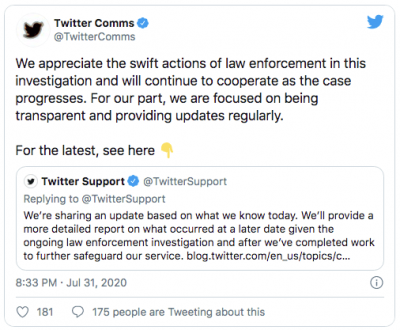 The information available makes it possible to understand how the two right (left) arms of hacker Kirk # 5270 - the mastermind of this case - got caught. And this concerns  the Bitcoin  earned during this  Twitter attack . Indeed, it seems that the two little geniuses  went to the Binance  and  Coinbase platforms in order to transfer part of the loot  obtained. This on  personal accounts requiring a KYC that  they had achieved using their (real) driver's licenses.
The 17-year-old, presumed mastermind of this case and  suspected of being the hacker by the name of Kirk # 5270,  risks big. Just like his two accomplices who could  spend between 5 and 20 years behind bars .
---
Please feel free to subscribe to CryptoPlanet360 on Youtube to get the latest videos about Crypto projects and Blockchain
Subscribe here: https://bit.ly/2NSkrOU