Everything related to DeFi seems to be turning into a record high and new ATH right now. This is largely due to the fact that this project was born recently. The latest news concerns MakerDAO's DAI stablecoin. The latter has just crossed a new record for units in circulation (supply). And a nice comeback in the ranking of its category. 
When it comes to DeFi, DAI is never far away . This is the decentralized stablecoin dedicated to this universe and developed by  the MakerDAO protocol . A token that has suffered greatly from  the fall in prices on Black Thursday  at the height of the coronavirus crisis . A vertiginous drop in the price of ETH had then led to a cascade liquidation of contracts making it possible to generate - and collateralize - this stablecoin. 
But  the solidity of DeFi and its community  has gone through this, sweeping  an inventory then mixed  to know its current explosion which is approaching  1000% over the last twelve months . Currently,  $ 4.72 billion  is blocked in its various protocols. For a dominance of  MakerDAO  which is slowly coming back from a rapid passage to second place with  30% of the market  at present.
An offer of 400 million DAI
The demand for DAI  has increased sharply  since the start of this year. This is in large part due to the ongoing DeFi bubble and  liquidity mining  that is whipping up appetites. Its market capitalization  jumped 200% in July alone, placing it in 32nd position in the ranking of cryptocurrencies by capitalization. This allows it to climb on the stablecoins podium in 3rd position , just behind  the USDC  and  the Tehter (USDT) .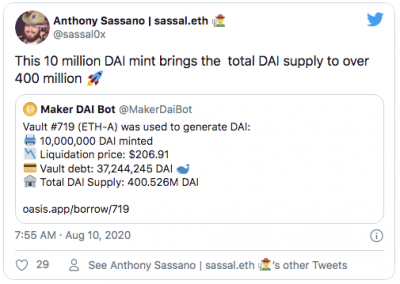 The current success of the DAI is also partly linked to its difficulty in positioning itself stably against the dollar  (like the USDT). This allows DeFi liquidity providers to carry out arbitrage operations on  platforms like Curve , specializing in the field of stablecoins. It is currently trading in a range between $ 1.01 and $ 1.03.
Please feel free to subscribe to CryptoPlanet360 on Youtube to get the latest videos about Crypto projects and Blockchain
Subscribe here: https://bit.ly/2NSkrOU