This is the second part.
You can read the first part from HERE
---
Receive and exchange your cryptos
In order to receive cryptos on your account just use an address which is generated for each crypto. As with any blockchain transactions, you give your address to the person who should send you the funds. You can also generate a QR Code if you prefer this method.
Thanks to the service provided by Atomic Wallet and its partners, users can exchange one crypto with another. Let's be concrete. You may have won a few different pieces of crypto for free via faucets, internet surfing or various purchases. If you want to combine and add all these small sums in Bitcoin it is possible.
It is also possible to exchange cryptos with other users without going through the rate defined by the wallet, thanks to the technology of the Atomic Swap . I refer you to the handling to set up (quite simple, but there are several steps and my post is already quite long). In principle, you simply exchange one asset for another with a person interested in the reverse exchange. The ratio between the 2 assets may not suit you, you are free to make your own proposal, but in this case the exchange will only be made if there is a buyer interested in your crypto at the price requested. The supply and demand market.
Earn free cryptos
When you download the software and verify your email address ( Settings -> Airdrop ), you receive a code and 10 AWC tokens (see what they are used for below) ). By sharing your affiliate link or code with those around you, you will receive 5 additional AWCs for each registration. Please note these bonuses are only offered if you and your friends have a minimum of $ 10 (or equivalent) on your account on the 1st day of the month following your registration.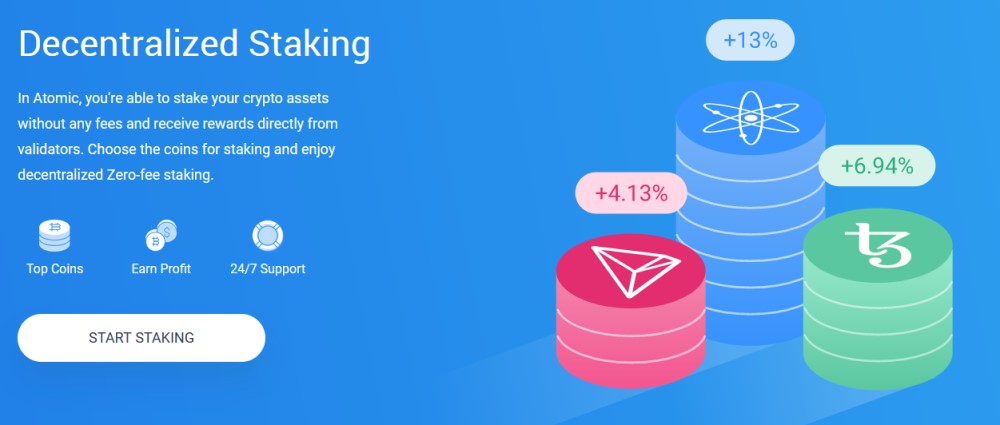 The tool also offers the staking of certain assets. To make it quick, "staking" its cryptos is locking them to assist operations that take place on a blockchain. Basically you store your cryptos for free in a kind of virtual safe without touching them for a certain time and in return you receive a little bit of cryptos as a reward. A kind of interest for not having touched it (or dividend on a stock market share). The percentage of gain varies from one crypto to another and for the moment Atomic Wallet supports ten assets ( Cardano, Tron, Neo, Tezos, Vechain, Cosmos, Komodo, Ontology and Algorand). A good point about AW is that you can at any time decide to withdraw your stored funds, they are not blocked until the end of the chosen staking period.
This staking option is used by some investors to generate passive income, without doing anything. Komodo offers for example a return of 5.1% annually. Imagine that you have 10,000 KMD and that you place them for 3 months, this will bring you an additional 126 KMD. You can then stake your 10,126 KMD for 3 new months which will bring you 128 KMD, and so on. The exponential effect will allow you to earn more and more. If the price of the asset goes up in parallel it is double profit, and if it decreases you make up a small part of the loss of value with your tokens gained in addition.
The AWC token
AWC is the acronym (ticker) for the Atomic Wallet native token (AWC for Atomic Wallet Coin). AWC is the internal currency of the wallet. If you decide to buy some, you will have some benefits: lower transaction fees, better affiliate rewards, additional trading options, etc. And you can stake them (see above).
If you decide to become a member, each exchange on the software will allow you to earn a small sum of AWC tokens as a reward ( cashback principle ). There are several levels and at most you can receive up to 1% of the amount of your exchange directly in your wallet. To be eligible you must have a minimum of 1000 AWC in your wallet (0.25% cashback and up to 1% for 10000 AWC in your account).
The pros and cons
Atomic Wallet aims to be simple to use and secure. Even if you have no idea how things work in the backroom, or you don't see the value of the blockchain, you will still be able to use it easily and will have access to accessible features. If on the other hand you are more comfortable with the technique, you can add your own ERC-20 tokens and exchange cryptos in peer-2-peer directly from the wallet.
An advantage which is also a disadvantage is that you are the sole holder of your private key. Big advantage in terms of security, but on the other hand everything rests on your shoulders. If you lose your words, it catches fire, or someone else has access to it ... you can permanently lose everything, with no recovery method available.
Future developments
In the future AW plans to continue adding support for new cryptocurrencies as well as staking new assets. But also to add support for the Lightning protocol (which allows faster transactions), support for hardware wallets such as Ledger or Trezor, a system for borrowing / lending assets, price alerts as well as new partnerships with other exchanges & Co. In short, they have their work cut out for them.
---
Please feel free to subscribe to CryptoPlanet360 on Youtube to get the latest videos about Crypto projects and Blockchain
Subscribe here: https://bit.ly/2NSkrOU