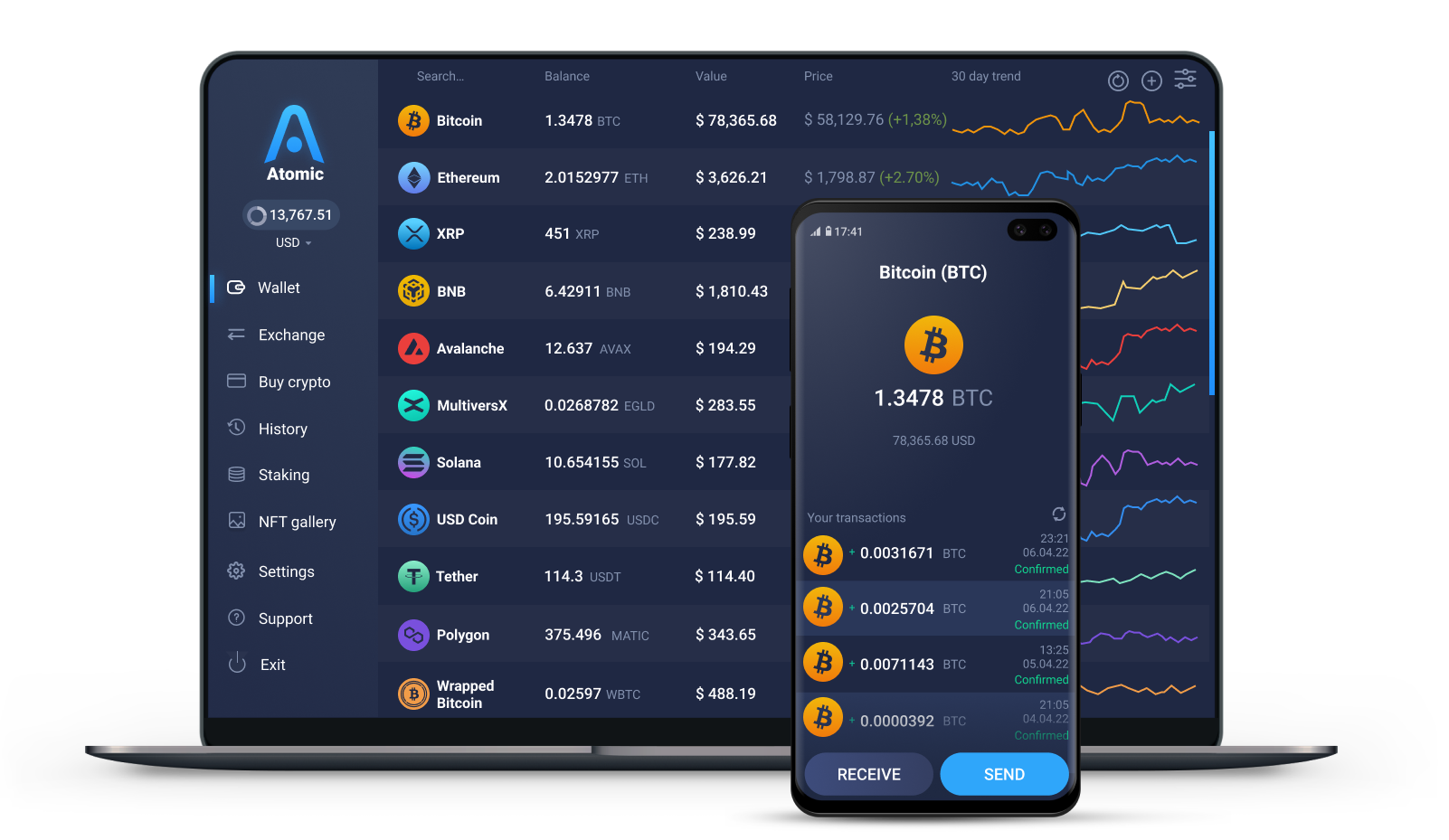 ---
Hi guys, this is NassiroV with CryptoPlanet360,
Today, I will be talking in great details and reviewing Atomic Wallet. I started learning about Atomic Wallet over a month ago at Publish0x, and after I have done my research, read a little bit about this project and watched a couple videos in their official channel on Youtube, I decided to give it a shot and downloaded the Windows version. After a month of using it and browsing its features, I decided to write about this great project and share with you my experience. Be patient with me as I go through all the details and functionalities of this Wallet, and then I will show you how Atomic Wallet saved me a lot of of time and effort. And, They gave me 15AWC for using the wallet, AMAZING RIGHT?
SO LET'S GET STARTED
---
But first what is Atomic Wallet?
AW is a cryptocurrency wallet (cold wallet type) which is decentralized and anonymous. It is therefore an open source software that will allow you to buy, manage, trade, and earn crypto (Staking and Airdrops for holding certain Cryptos), all from a fairly easy to use interface. The wallet is available on Windows, macOS, Linux, as well as in Android and iOS.
This is a quick video from AW official channel on Youtube introducing their wallet. 
In simple use mode, there is no need to fill in KYC and you are the sole holder of your private keys (which are encrypted on your machine), so your anonymity already exists a little more than on exchanges like Coinbase and Binance for example. Remember, if you do not own your keys, you do not own your coins, and this is the first reason that pushed me to love AW. You will be able to download and save your private keys somewhere safe.
What cryptos does AW support?
Currently, AW supports more than 300 crypto assets, including of course all the best known like Bitcoin, Ethereum (and ERC-20 tokens), Ripple, EOS, Litecoin , Binance Coin, etc. For the full list, you can visit their website: Atomic Wallet Website
Another advantage is therefore to be able to manage your different cryptos in one place, and this is the second reason why I like AW. I am able now to buy, trade, stake, and store my cryptos in one place instead of managing all the different wallets and exchanges that I use, can you imagine the headache?
AW therefore saved me a lot of time and effort, because now I can manage my assets in one platform. 
How to install Atomic Wallet?
To install the software, it's very simple, just get the version you need from here, and install it like you would install any other software (Remember, AW is also available as an App on IOS and Android). When you create your account the first time you will receive a list of 12 keywords (seed/backup phrase). Remember to write them down on a piece of paper and keep it preciously, this will be the only way to regain access to your account and funds if you lose your phone or your computer.
This list of keywords will therefore also be used if you decide to install the software on a new device. And this is the third reason why I love AW. I am able to get a new phone or a new computer, download+install AW software, enter my 12 keywords, and Hooray, I now have access to all my data and coins in my new device. 
Other cool features
The price of cryptos is updated every minute
Export of exportable transactions history in CSV format
The tool is updated very regularly to add new tokens and new features.
BTC, ETH address creation, etc.
Customization of transaction fees
Ability to "graft" applications onto the ecosystem (such as Walletconnect, which allows trading on the decentralized Loopring exchange, etc.)
…
How to buy cryptos on AW?
Okay, So now that you've installed the software and you've secured your access, it's time to start adding cryptos to your account. You can send them from another address (if you already have one elsewhere) or buy them directly on AW using your Visa or Mastercard bank card.
For the latter option, go to the left menu of the AW interface and click on Buy Crypto . In the right panel you then choose your currency, the amount to spend and the crypto to buy. You click on "Continue" and then you complete the rest of the steps as for any conventional online shopping site. Each transaction is managed by Simplex, which offers online payment processing and exclusive fraud protection. This company (founded in particular by 2 PayPal alumni) is also a partner of Binance, Kucoin, Bithum and other very large companies in the crypto industry.
However, it should be noted that,to buy crypto using Simplex, it will be necessary to verify your identity via a photo ID. This is where anonymity ends. Sorry, but nothing is 100% perfect except GOD.
I know you can find a work around, Let's move on. 
This video from AW on Youtube quickly explains how to buy Bitcoin using a credit card. 
Fixed fees are around 2% (minimum $ 10) and each transaction is validated on average after 30 minutes (Bitcoin is getting old LOL).
---
You can read the second part HERE
Please let me know what are your opinions (in the comments section) about my post or about AW. 
Thank you for reading, and do not forget to follow me if you did not do it yet.
---
Please feel free to subscribe to CryptoPlanet360 on Youtube to get the latest videos about Crypto projects and Blockchain
Subscribe here: https://bit.ly/2NSkrOU