The awakening of Bictoin (BTC) is starting a real race for investments at the moment. It must be said that this movement was expected and that its engagement upwards reassures, while everyone feared it once again downwards. Now is the time to give way to the excitement ...   
Everyone seems to agree on the long-awaited triggering of  the Bitcoin (BTC) bullish movement  following its recent halving. A fact that reassures and which finally allows the price of BTC to enter the historical charts that promise fortune to its lucky holders. This after a  few weeks of waiting  which seemed interminable. But that will at least have allowed a nice alt-season to find room to engage . 
BTC futures explode
This return of Bitcoin to the world of volatility is  good news for investors . All  indicators light up green  to announce  the discovery of new heights . A reality which is seen very clearly confirmed by  the record increase in the number of futures contracts  opened on Saturday August 1st.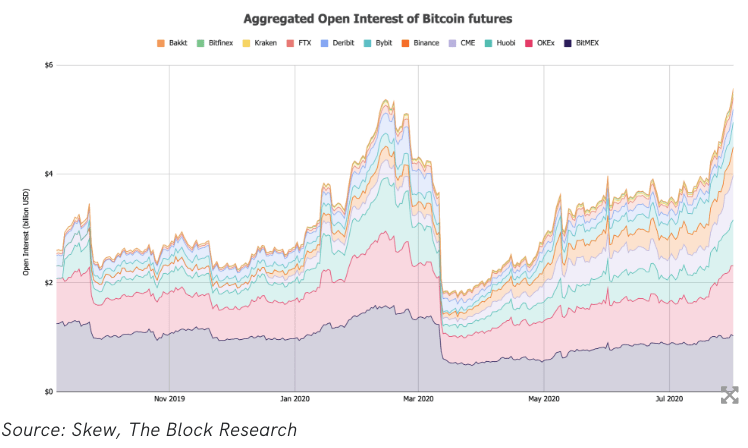 A fact evidenced by the analytical structure of the crypto markets The Block Research. The latter points to the fact that the amount of  futures contracts  outstanding on that date has literally exploded , as seen in the chart above. These are contracts in progress that have not yet been liquidated .
It is possible to see that their total number has indeed surpassed a new record, with a total value of 5.575 billion dollars. . The previous ATH was $ 5.369 billion and was recorded on February 14. 
But this weekend's Bitcoin flash crash happened there. And that number has  fallen sharply to reach $ 4 billion . This following the cascading liquidations that fueled BTC's fall of over $ 1,400 within minutes. 
Either way, the number of open contracts is on the rise again . Which suggests that investors were not discouraged by Bitcoin's moods . The total open value is currently just below the $ 5 billion mark . But beware, these investments are very risky and must be made with full knowledge of the facts and without putting in more than what you can afford to lose.
---
Please feel free to subscribe to CryptoPlanet360 on Youtube to get the latest videos about Crypto projects and Blockchain
Subscribe here: https://bit.ly/2NSkrOU