Complete list of working best bitcoin cards in 2020
Coinbase Visa Debit Card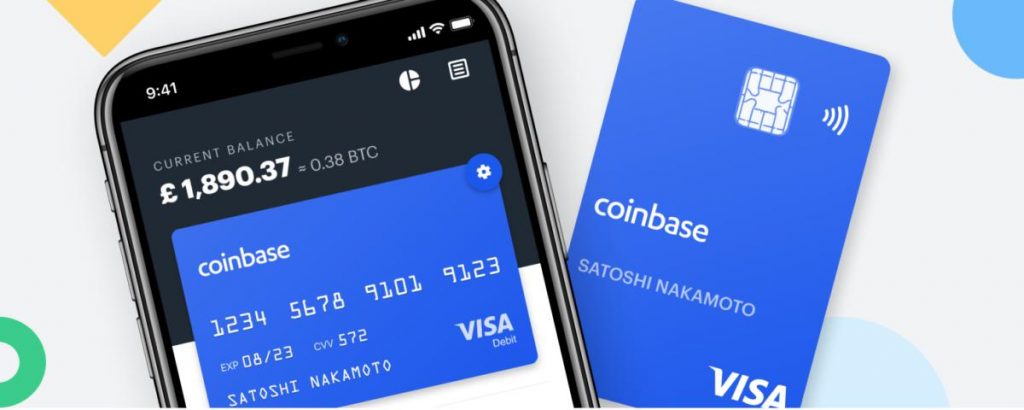 The new Coinbase Card is directly tied to a person's cryptocurrency balance in digital wallets managed by the eponymous digital currency exchange. This is the latest product launched by the leading crypto exchange – Coinbase.
Coinbase Bitcoin Debit Card Availability UK, Selected EEA Supported Currency EUR, GBP, BTC Card Options Physical Card Type Visa Fees Medium Native Token No Perks/Bonuses No
The card will be associated with a users Coinbase account via a separate Coinbase card app that is available for both iOS or Android. The cards can be used to withdraw cash at any VISA-supported ATM's worldwide and make point-of-sale (POS) payments with either 'chip and pin' or contactless technology.
Availability UK, Selected EEA Supported Currency EUR, GBP, BTC Card Options Physical Card Type Visa Fees Medium Native Token No Perks/Bonuses No
There's a 2.49 percent fee charged for each transaction using the card – made up of 1.49 in conversion fees and one percent transaction fee. However there are no maintenance fees and no additional cost for ATM withdrawals – but you will need to withdraw less than £200 per month.
Apply for the Coinbase card --> Coinbase 
---
Crypto.com MCO Visa Card

This is a card offered by the formerly known Monaco Coin team – it works in pair with the MCO wallet. You can then spend  cryptocurrency seamlessly at the over 40 million retailers globally who accept Visa.
MCO Bitcoin Debit Card Availability Singapore/USA Supported Currency USD, BTC Card Options Physical Card Type Visa Fees Low Native Token MCO Perks/Bonuses Cashbacks & Discounts
The list of advantages for Crypto.com card holders rivals that of any of the best Visa rewards cards. Users can use this Visa card with no annual fees, get free shipping, receive up to 2% cashback on purchases, and select cards get unlimited airport lounge access.
Users also have the ability to spend overseas and receive interbank exchange rates. And with the Platinum Referral Reward Program it's possible for users to receive up to $10,000 sign-on bonus!
The biggest drawback – it currently works only in Singapore with EU zone next on the waiting list. USA and the rest of the world are not even in the queue as of right now.
If you want more details you can find my article about Crypto.com here 
For those eager to sign-up to the app, feel free to use the Crypto.com referral code hj8kfw2dgv(copy the code without spaces) to receive a $50 USD equivalent free sign-up bonus in MCO tokens.
How: Insert the promo code during installation of app .
---
Wirex Visa Debit Card
Wirex is a card company that offers its users USD, EUR and GBP and cryptocurrency debit cards to ease the use of traditional and digital money. They are one of the most established providers of crypto cards and their piece of plastic can definitely be considered as one of the best bitcoin cards.

The cryptocurrency debit card allows BTC, ETH, XRP and LTC deposits which can be converted to fiat currencies at live rates. The cards are delivered free worldwide on order, users will pay $1.50 USD management fee per month afterwards to cater for the operational costs.
Wirex Bitcoin Debit Card Availability EEA Supported Currencies USD, EUR, GBP, BTC Card Options Physical/Virtual Card Type Visa Fees Low Native Token WXT Perks/Bonuses 0.5% Cryptoback
Other Wirex debit card fees include $2.50 USD for any ATM withdrawal within Europe and $3.50 USD for withdrawals outside of Europe. Online and offline payment for goods and services is not charged.
Bitcoin users are eligible to the Cryptoback program that returns 0.5% of your Bitcoin every time you punch in your pin, swipe, or use contactless pay with the Wirex VISA debit card. The Wirex cryptocurrency card can be accepted around the world anywhere VISA is accepted.
Apply for Wirex card --> Wirex 
---
---
---
What i use (also earn free crypto !!)
➡️ Brave browser --> https://brave.com/uto274
➡️ Crypto.com (50$ bonus using the code: hj8kfw2dgv )
click this link -> https://platinum.crypto.com/r/hj8kfw2dgv
➡️ Coinbase (10$ bonus)
click this link -> https://www.coinbase.com/join/conti_cd
➡️ Wirex card click this link -> https://wirexapp.com/r/creatore