The topic of transhumanism seems to be coming up on many platforms these days whether in relation to your health or spiritual believe.  We aren't talking about either of those today.  Fortunately we are looking at the 3rd leg on the stool of life and that is finances and how to automate some different revenue streams in your life.  That's right we're talking about trading bots:  The Only Transhuman Crypto Option You Should Think of Allowing Is the KuBot.
The Robots of Today
Now first things first, there are many options out there from the automated options of cryptohopper to more sophisticated and custom jobs where you need to have the skills of a programmer to operate.
Recently I came across an option that is equally powerful for beginners and OG traders alike. It is the trading bots on the KuCoin exchange, commonly referred to as the KuBots.
Currently I have 5 different bots running in KuCoin that are trading different USDT pairs including ETH, BAT, BCH, LRC and DOGE. Other numerous pairs exist but the first pair I started with was ETH/USDT and I just decided to keep things consistent.
In the next few paragraphs, I'll give a quick description of what is entailed and my experience to date and what this all looks like in the wild world of bot trading.
3 Steps to Making Passive Income
The title of the article in the Kucoin blog article couldn't be more correct. I have to admit when I first read it, I was completely skeptical of the ease and simplicity that was being touted.
Besides, having just been introduced to KuCoin in a more operational way as Publish0x started providing tip payments via KuCoin, I was approaching the situation eyes wide open.
Already having a few coins on the exchange having received them from Publish0x, I figured that it could not hurt to investigate further about the bot capabilities and functionality.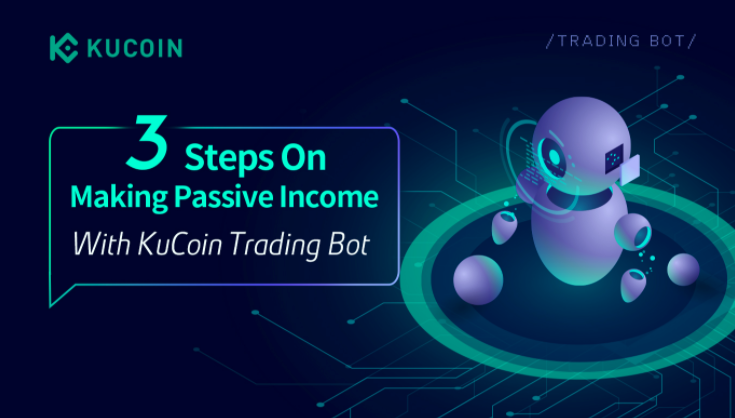 This is where it gets really interesting. You see, the trading bot feature is only available on the mobile app. That's not terrible, but if you're working off the desktop browser access to the exchange it might come as a bit of a surprise.
So as the article lines out, once you have your exchange access and you are operating from the mobile app you can head straight to the bot section and move pretty quickly.
Obviously you need to have the crypto that you want to work with. Fortunately there are many options, so odds are that if you have coinage on the exchange it is most likely tradable with the bot.
Strategy is Important
So when you first set up one of the bots, the very first thing you will do is choose the type of strategy. There are
options to choose from. For this article we will focus on the first choise, grid as it is the most common strategy and simplest version to begin with.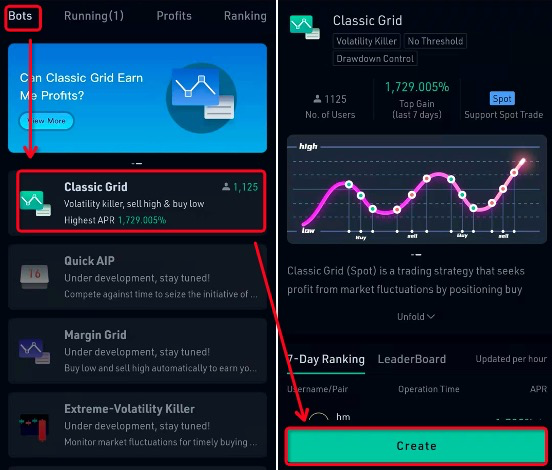 After you pick grid, next choose your currency pair from the drop down. You will be able to search and identify which pairs are available.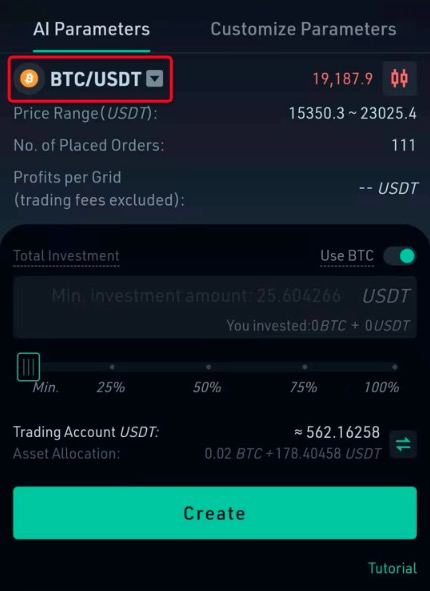 To start with I only had about $48 worth of ETH. I list it as $48, because as you start the bot, it will convert your part of your ETH in USDT (as USDT was the pair I chose) to begin the arbitrage process.
You can literally set up one of these bots in just a few minutes.
For the more advance traders you can set more specific parameters of the grid which is basically the high and low box of price that the bot will work within. The default setting is an AI level that works just fine when you are starting out.
You can always refer back to the Kucoin Article which provides more detail into these steps, but this is the quick and dirty and will get you up and running really quickly.
The Meat of the Matter
So remember I started out with about $48 worth of ETH/USDT, but various pairs will have different lower required levels. For example the DOGE/USDT pair only required about $9 to start the bot which makes this feature accessible to just about anyone in the crypto space.
With a low entry point, I started out being more curious about percentage returns as opposed to actual dollar amounts. Remember the trading fee assessed by KuCoin is .08%. Not 8 percent but eight tenths of one percent.
What I found in the first 12 hours was astonishing.
The ETH/USDT bot had amassed nearly 2% returns. Remember I had taken a nominal amount of ETH and took less than 15 minutes to set up the bot and cut it loose. As it works behind the scenes in the cloud, I would check occasionally on the progress to better learn the outcomes and was always intrigued to find a flurry of activity.
At any given time there was 30-40 actions on both sides of the buy and sell line. The line up of micro trades at multiple levels was very impressive.
After the first 24 hours the return was nearly 3.5%. Now I know this isn't the staggering BTC return of leveraged bliss in minutes, but for not having to monitor the situation and just putting the capital to work, 3.5% in 24 hours was nothing to shake a stick at.
When you pan that out into an APR level the number could end up as high as 600% annually. Uhuh, I about fell out of my chair when I read that too. 600% for just letting it ride on the trading bot? WOW.
There are Still Questions
For sure, there are still questions to test that projected APR amount. For instance, what does consistency look like during the trades day after day?
According to KuCoin's literature on the bots, the efficiency and returns produced by the bot are improved with each day letting it run consecutively.
Other questions that will be answered in later articles as we dig deeper into the topic are;
How do the fees affect the overall performance of the portfolio growth?

What happens with maintenance or downtime?

Updates and Edits to the bot parameters?
Just to name a few, those are the things that we are starting to look at. Let's not forget taxes too. With potentially thousands of micro transactions lining up, what will be the best option to address the triggering events.
Thanks to Publish0x
There's a little part of me that says Thanks A Lot Publish0x and then there's another that says Thanks A Lot Publish0x for turning me onto KuCoin.
I am glad they were able to mitigate the costly fee issues with providing tips to authors and readers alike. It surely is a good situation for KuCoin as well, as how many others like me now have a reason to check-in at least once a week to collect readership perks & now with another service. Win Win right?
Stay tuned for upcoming articles about the adventure using the trading bot and what returns look like as well as any other challenges along the way.
Be blessed!
NOTE:
If you haven't accessed KuCoin yet, my link will get you there right away. If you go there on your own and are able to add a referral directly it would be great for both of us. You can use this one. rJMAMTZ
Also, if you enjoyed this article be sure to let me know with a thumbs up or comment. Those are the best feedback you could give AND I would love it if you subscribe to my newsletter that I send out once a week with the occasional second letter a week.... Emphasize occasional.
I focus on mindset & energy because if you're like me, after hours in front of the charts or creating content, there is nothing more important than keeping a mindset of abundance and growth!
You can subscribe here: Energized Life w/ BryRi